Gelnhausen, 23.11.2010
by Marie Schäfer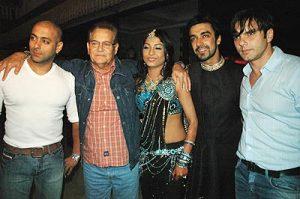 India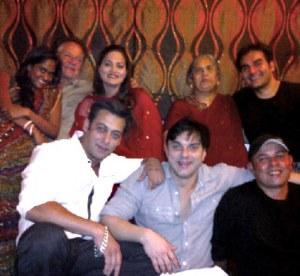 Khan family
Salim Khan was born at 24 November 1935 in Indore, Madhya Pradesh, India. His father was a police officer and his mother died when he was still young. He starts his career as Indian scriptwriter and actor. He wrote at many screenplays for Bollywood films. He frequently collaborated with writer Javed Akhtar; the duo is credited as the famous Salim-Javed. With 45 years he has with his wife Salma four children Salman, Arbaaz, Sohail, and Alvira. In the late 1970s, Salim marries a second time the famous dancer/actress Helen. They adopted the daughter named Arpita.
Salim-Javed was a scriptwriter duo who wrote a number of commercially and critically successful Hindi films in the 1970s and early 1980s. Salim started his friendship with Javed during the making of the film Sarhadi Lootera. He was a small-time actor, and Sarhadi Lootera was one of the last films he acted in before he turned his attention to writing. They lived in Bandra and write stories together. Since their personal work was flopping, they decided to team up.
Through the Film Slumdog Millionaire paid homage to the duo Salim-Javed by showing a montage sequence where two "brothers jump off a train and suddenly they are seven years older".  How is that possible? Not many know that "Slumdog Millionaire" is not directed by Danny Boyle alone. Loveleen Tandon is the film co-director and so is the limelight internationally.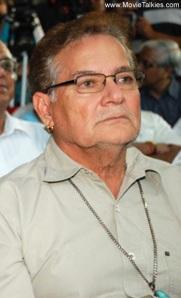 big Writer Salim Khan, born 24.11.1935 India
I send to Salim Khan my blessing and greetings to his 75. Birthday. May he life along with his lovely family.