I am a Japanese soccer fan. So I should write a bit about this topic here, with the Women's World Cup Soccer in Germany just over.
Owing to some colleagues' big kindness, I got a chance to see the final match at Frankfurt stadium. How many people do you think can see their mother country's winning moment of the World Cup? I was so lucky. And I made bets with some friends. As a result of them, some were to study Japanese and I was to hold a Sushi party

Of course, they have reasons to win, however, it was quite amazing.
In the stadium there was one impressive thing different from the Japanese behaviour: German people supported only one of the two teams (in my eyes, many of them were cheering Japan, very good!). If the same situation happened in Japan, we would support both at the same time. This is slightly different.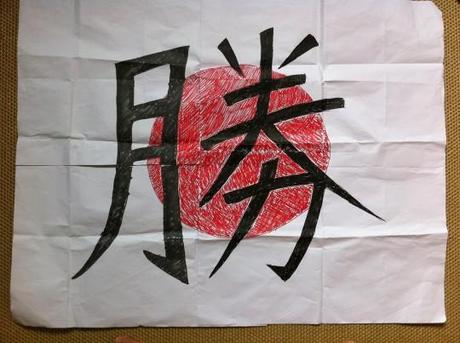 Japanese sign for victory
We cheered Japan with a self-made flag. The Kanji("勝") on the national flag means "victory". This is also the name of the team organized at the global training sessions in Germany to show a strong intention to win a victory in the global marketplace. It would be great if the Japanese victory in the World Cup would imply NTT DATA Group's future.
The team's never give-up spirits were moving and very much energizing. That is definitely a memory that will remain for the rest of my life. In Japan, the situation surrounding female soccer players has been not good. But I hope this will change. Then soccer would be more popular and the men also could win the World Cup sometime.