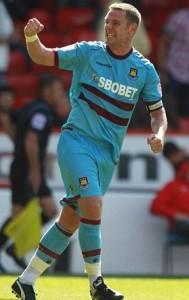 Or is it time to improve what we have got?
West Ham has already made nine new signings this summer, the last of them youngster
Brian Montenegro
- a striker, not from Southern Europe, but from South America – and oldie "The Wardrobe"
Papa Bouba Diop
, the proven (but out-of-contract) midfielder with 60 caps  for his home country Senegal.  It isn't unlikely that West Ham manager
"Big Sam" Allardyce 
is going to sign another player today, on the most silly day of the season. But in my opinion it's time to improve what we have got.
A large part of the money which will be generated by Scott Parker's imminent transfer to Spurs, has already been spent for the bunch of signings the Hammers have made this summer.  I think nobody at the club will get mad today and splash out another large amount. 
The business the club has made in this window has been good, and I think we shouldn't be sad if West Ham does not play a major part in today's transfer frenzy, though it is reported that West Ham still chases French midfielder Eric Mouloungui or a certain Henri from Arsenal (Henri is only his first name).
The inevitable departure of Hammer of the Year and English PFA Player of the year Scott Parker will be compensated by summer signing Kevin Nolan who has inherited the club captaincy from Matthew Upson (now Stoke). The new skipper should be able to lead and drive on the squad, something his predecessor as skipper was unable to last season. It has not really been a mistake when journalists wrote that Parker was the West Ham captain last season.
But this season things have to change. The captain has to be a real captain, and when Kevin Nolan signed for West Ham in the summer it was generally regarded as a coup for a club in the Championship. He is a great buy, but after securing the long-term deal he was after, a very good wage and the captaincy, we have every right to expect more than he has produced so far.
Nolan has not started badly for West Ham, Leo Spall writes in the Daily Mail, his stats show that he has scored twice in six games from midfield but however, "he has not looked a cut above the rest – at West Ham or in the opposition – and, with his talent, he should". Maybe he is still some way short of peak fitness and that culd be the reason why he is not running games from midfield as he can.
Especially at home, Nolan can't stay more or less anonymous in midfield and if West Ham wants tostart winning at home, Nolan needs to show that he is the leader we all hope he will be. The Hammers must dominate their opponents at home and control the games also in the final minutes, and I'm sure it is not only Leo Spall and me who expect Kevin Nolan to be the new midfield general this team needs.
It's time to work hard during the internation