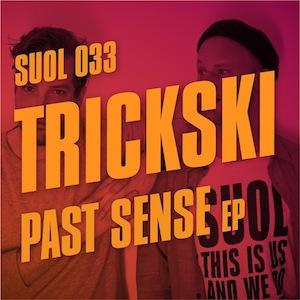 Trickski
melden sich mit der
Past Sense EP
auf
Soul Music
zurück. Nach ihrem Longplayer,
Unreality
aus dem Jahr 2011, ist die EP ihre erste Veröffentlichung auf dem Label von
Chopstick & Johnjon
für 2012. Die EP ist seit dem 18.Mai im Handel erhältlich.
Soul 33
So viel lässt sich sagen, gelungen und abwechslungsreich fällt die EP aus. Da ist es auch kein Wunder, dass die Liste der DJs die diese Veröffentlichung supporten mehr als lang ist.
From Above
zum Beispiel, ist ein wunderschön harmonischer Track, mit all seinen Vorzügen, wie einem tiefen, dominierenden Bass oder dem liebevollem Vocal und den spacigen Samples, welche dem Track erst die richtige Stimmung verpassen. Dagegen ist
Past Sense
wesentlich rockiger, mit einer starken Fläche und ravigen Chords, also bestens geeignet für die Peaktime.
Brazzavillage Dance Commando
wiederum ist toolig und verspielt.
Fazit
:
Wie schon erwähnt eine sehr abwechslungsreiche und gelungene EP, vor allem From Above und Past Sense gefallen sehr und sind Kandidaten um im Club oder auf dem Open Air die Bombe loszulassen.
Trickski - Past Sense EP (Soul Music) 1.Trickski - From Above (Original Mix)
2.Trickski - Past Sense (Original Mix)3.Trickski - Brazzavillage Dance Commando (Original Mix)  Label: SoulRelease number: Soul33 Artist: Trickski Title: Past Sense 
Format: Mp3, Wave, CD, VinylSource: Soundloud SnippetCat#.:  Soul 33
Trickski is back on Suol for 2012 with 3 exclusive new tracks for your summer. After releasing
the very much respected longplayer "Unreality" last year the guys are back for more.
Starting of with "From Above" we have a beautiful summer slammer on our hands. Typical reduced Trickski groove with all the music, harmonies and vocal snipps you need to chill in the sun or let it rip on the floor.
"Past Sense" is the second to come but second to none. It seems like the guys looked up their skits from good old "Members Of The Trick" times... rave chords with laid back trickski grooves.
Last but not least we have "Brazzavillage Dance Commando" - great name - great tune. Some weirdness paired with some rave sounds and an amazing groove. Trickski at its best!
DJ SUPPORT
Axel Boman – "From above is just gorgeous!! This release makes me believe in love again..
thank you!"
UNER - "Nothing to say... SUPERB!!!! Gonna be trying them all!"
Peter Kruder - "Wicked Stuff again from Trickski. Love From Above!! Will play this 12"."
jozif - "Something for every occasion here. PERFECTO!"
Greg - (Catz n Dogz) - "Great ep from Trickski… BIG fan, Past Sense my fav!!!"
Soul Clap - "From Above is smooth deep house vibes like there used to be. Morning plays!"
Aeroplane - "Overall good EP as always! I'm an old school Trickski fan..."
Jimpster – "Trickski are the fucking boys! This is banging it. Lovely twisted grooves but full of
pump
n raw energy. Me likey!!"
Voitek - (Catz n Dogz) - "This release is ridiculous… seriously guys WOWERZZZ!"
Ptoile - "From Above gets my full support here guys.. !"
Jef K - "Super class EP from Trickski I like all tracks!! will defo play ...thx a lot."
Ali - (Tiefschwarz) - "Another great package of music from Trickski & Suol - danke schön!!"
Alex Niggemann - "Trickski...brilliant as always! Full Support from me on this EP! The whole ep
is great!"
Rampa - "Wooow! Straight shit from the future! <3!!!!!"
Till von Sein - "From Above is cool..will get the plays straight away. Past Sense sounds like
some old Yannick Labbe jam. haha, me likee. Solid ep all over...good stuff!"
Deetron – "From above is beautiful for the late/early hours and I love the heat of Past Sense!"
Marco Resmann – "Past Sense and Brazzavillage Dance Commando are rockin' it here for me.
Great ep!"
Christian Prommer - "Great stuff Trickski!!! Deep and…. I luv it!! Past Sense and Brazzavillage
my picks! Thanks."
Anthony Collins - "From Above is soooo DOPE!!!!"
Sasse – "Quite a banger EP - will play for sure - gimme vinyl please!!"
Sven von Thülen - "Mächtiger Badabumm, Trickski ziehen die Daumenschrauben an. I like it!!!"
Kiki - "From Above sounds refreshingly different and "Past Sense" will surely rock every party!"
Alex Barck (Jazzanova) - "Very nice EP. One of my favorite production teams. Thank you
Guys, Past Sense is standout."
The Revenge – "Oh yes… Past Sense is a good'un alright!! Will play this!"
Carl – (Uncanny Valley) - "Huge disco battleship trapped in a dark red light basement waiting
for Trickski's instructions! Cool record! Kisses from Dresden."
Dyed Soundorom - "From Above is really quality and Past Sense has the power for the floor!
Will use them both, thanks!"
Dairmount - "An ep of floor fillers with wall of sound production involved. Will surely play all
over the place by many this summer."
Luca Bacchetti - "Always been into their sound! Summery vibes here! From Above is such a
gem!"
Alland Byallo – "Past Sense is super, super dope!!!! Love me some Trickski and Suol!"
Nick Chacona – "This is excellent guys! The Trick does it again! Love all tunes!!"
Stassy – "Nice ep from the Suol gang again. My pick here is past sense. Like the pumpy
groove. Thanks!!!"
Richy Ahmed - "I am totally in love with this EP!!!"
Eats Everything - "Really REALLY nice stuff guys… Love all 3 tracks!!"
Rocco (Rodamaal) - "Great Track on this ep. Brazzvillage is the one for me, also with Past
Sense ! Thank you."
Monty Luke – (Planet E) - "Trickski has ALWAYS been one of my favs....always the tastiest
synth work....."
Rodriguez Jr - "I am liking the Brazzavillage thing VERY much!"
Ben Westbeech - "Past Sense! Yes yes and erm YES! Massive!! Love it..THANK YOU!"
Alix Alvarez - "From Above is so tasty. Space disco vibes. Really nice fellas. Diggin'."
T.Williams – "Totally wicked vibe across this ep! Past Sense maybe my fav, but all good!"
Valentin – (Die Nacht) - "Brazzavillage Dance Commando is a GREAT one!"
Homework - "Big ♥ for Trickski's ever-evolving originality!!!"
Huxley - "Wicked EP!!! All three tracks offer something different! Good work."
Gerd – "3 GREAT tracks from Trickski. This is a BIG release!!!"
PRESS & RADIO SUPPORT
Tassilo - (FAZE Magazine Germany) - "A great EP guys!!!"
Tsugi Magazine France - "Nice, as always with Suol!!!"
Scan Mode - (DJ Magazine Spain) - "Absolutely nice tracks!!!"
Lukas - (Raveline Magazine Germany) - "Love it! <3"
Sergio B - (deejay.es) - "Good time to dance with Trickski."
Laurent N. - (Nice Radio France) - "NIce release : I really love this label. Here is great stuff by
Trickski as always. Will play & TOTAL SUPPORT !!!"
Victor - (DJ Magazine Spain) - "Great EP and as always, original music to the max. Thanks."
Raphael (Partysan Magazine) - "I love the Trickski stuff!!!"
Paul Corey - (Resident Advisor) - "NIce EP, very stripped-down with a little going on behind
the grooves, GREAT FLOOR FODDER!!!"
Club Madnezz Radio Holland - "Past Sense is a lovely tune!!!"
David - (Magnetic Magazine USA) - "I love the retro vibe 8 bit sound."
Colin Perkins - (Spin 1038 Dublin) - "3 very different quality tracks."
Makossa - (Radio fm4 Vienna) - "Past Sense, solid stuff."
Martin - (Raveline Magazine Germany) - "Big release... full support!!"
Soundwall.it - "From Above, great sound!"
Wollion – (Faze Magazine Germany) - "From Above is a monster! Support."
Louisahhh – (Magnetic Mag USA) – "Incredibly exciting and beautiful stuff from Trickski!!"
Diversions - (CHRY 105.5FM Toronto, Canada) - "Diggin' the deep bass and raw energy of
oddly titled Brazzavillage Dance Commando!"
Kiko Martínez - (DocePulgadas Radio Show Spain) - "Impossible to choose one! Total
Support!!"
Jimmy Posters - (Pulse Radio) - "Very Solid release. Big look, especially on Brazza!"
Agus - (deejay.es) - "Suol at his best! Love this kind of stuff!"
Si
Quick
- (soundshelter.net) - "From Above is really nice. Trickski stuff always sounds so
warm."
Stylistberlin - "Past Sense indeed reminds of MOTT sounds - works for us and we love it!"
Tim Sweeney - (beatsinspace.net) - "YES!! From Above!! Big Trickski fan."
Released by: Suol
Release/catalogue number: Suol033
Release date: May 18, 2012