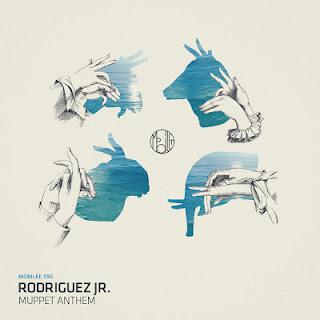 Mobilee
schickt sich offiziel an die dreistellige Zahl bei Releases zu erreichen, damit nicht die Qualität darunter leidet ist für die Nummer 95 Mister
Rodriguez Jr.
erneut verpflichtet worden. Das Release wird leider nur rein digital ab dem
16.Juli
erhältlich sein und trägt den Namen
Muppet Anthem
.
Mobilee 095
Acid Tech House der feinsten Sorte erwartet uns hier, 4 starke Tracks zwar mit ähnlichem Muster produziert aber genau soetwas macht eine EP auch aus. Pumpende Synthie Basslines, dazu starke Vocals abgerundet mit verträumten Flächen. Muppet Anthem und Ocean Drive sind bestens Peaktime geeignet. Satelite ist mit viel Liebe gefüllt und Palo Alto rundet die EP mit seinem Disco Touch wunderbar ab.
Fazit:
Bilderbuch EP von Rodriguez Jr. auf Mobilee.
1. Rodriguez Jr. - Muppet Anthem
2. Rodriguez Jr. - Ocean Drive
3. Rodriguez Jr. - Satellite
4. Rodriguez Jr. - Palo Alto
Artist: Rodriguez Jr.
Title: Muppet AnthemRelease Date
:
Jul 16, 2012
Label: mobileeCat#.:mobilee095Format: Mp3, WavePreview Source: Soundloud
Only five releases away from the 100th, Rodriguez Jr. delivers on the 095 with a generous 4-track, digital only edition titled "Muppet Anthem".
The self-titled number makes up the first track on the EP with a pleasant array of upbeat house-party elements and groovy vocals making this piece of work totally dance-floor worthy in the heat of the summer.
Seething down to the second track, "Ocean Drive" takes it down a notch by starting the track with exotic and tropical elements as it progresses into a high peak of faster beats and steady keyboard strikes. Its a number that will leave your feet grounded as your swaying shoulders and bobbing head lead the dance.
"Satellite" comprises the third number an emotional hymn bursting with soulful vocals and periodic tambourine jingles and jangles. Enjoy this eye closer preferably with your head back and arms reaching towards the sky.
Closing out the set is "Palo Alto", a high tempo number with various calculated beats one setting off the next. Crying vocals wrapped in multi-faceted elements will leave even your goosebumps dancing.
The French producer/DJ has a stupendous track record with mobilee and its sister label, Leena. In 2011 he released his very first album titled "Bittersweet" on the mobilee imprint. The summer of 2012 has seen weekly gigs throughout Europes favorite beach bars and waterfront clubs with Rodriguez Jr.
Released by: mobilee records
Release/catalogue number: mobilee095
Release date: Jul 16, 2012