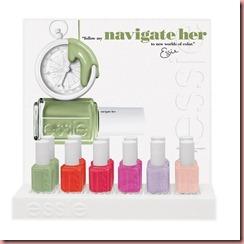 What will come:
The collection has a financial theme, "a woman of action who isn't content to play it safe and hedge her bets during the wintery economic climate" says Essie founder Essie Weingarten. "2012 is all about the color green, there's something really special about it, so you're going to see a lot of it." She is pointing out the pretty pistachio in her collection. Essie's spring 2012 collection features six new nail polish shades with a bold, optimistic vibe.
What to expect:
The Bold's and Bright's are a stunning spring awakening, the pale pastel are the more traditional spring colors. The whole collection is opaque, classy and elegant:
Navigate her, a pale pistachio green
A crewed Interest, light peachy hue
To buy or not to buy, pastel lavender
Orange, It's Obvious, a saturated bright orange
Ole caliente, bod red coral cream
Tour de Finance, a vivid shimmery fuchsia.
What I think:
I love Essie, always did and I am sure this spring I will wear all the colors of the collection. I already love "Navigate her". Green will always be my favorite color! But orange on nail…honestly there's nothing better and "Orange, It's Obvious" is surely a must have for me.
Essie will be launched in Switzerland on March 2012
Stay tuned…
… And remember, have always nice manicured hands, think pink and just be wonderful as you are!!
Spezialisiert auf die Bedüfniss natürliche Nägel. Specialized on natural Nails.