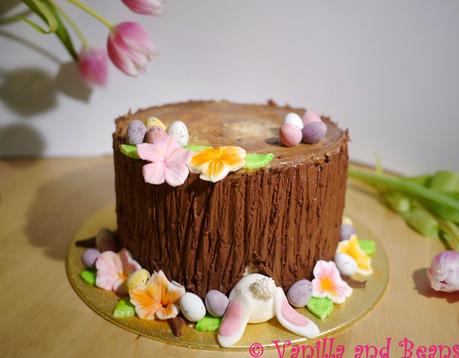 Hi everybody,
let´s cut my talk short: here is our cake for Easter Sunday!
Hi ihr Lieben,
ohne viele Worte: Hier ist unsere Torte für Ostersonntag!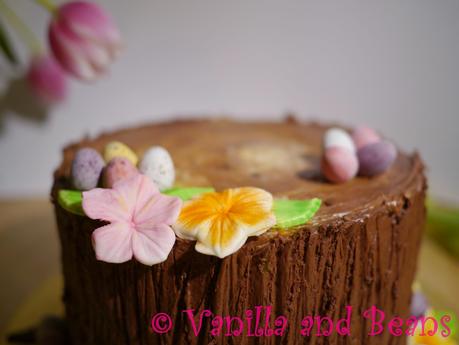 Ingredients | Zutaten:
For an 18 cm cake |
Für eine 18cm-Torte
250 butter (at room temperature) | 250 g Butter (bei Zimmertemperatur)
280 g all-purpose flour | 280 g Mehl 
200 g granulated sugar | 200 g Zucker 
4 eggs | 4 Eier
170 ml milk | 170 ml Milch
50 g cocoa | 50 g Kakao
2 1/2 teaspoons baking powder | 2 1/2 TL Backpulver
Recipe according to "Zoes Vintage Cakes" by Zoe Clark. |
Rezept nach "Zoes Vintage Cakes" von Zoe Clark.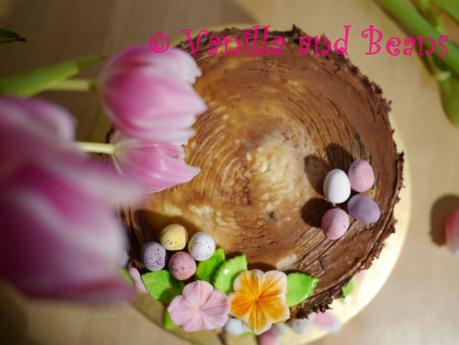 For the buttercream frosting | Für das Buttercreme-Frosting:
250 g butter (at room temperature) | 250 g Butter (Zimmertemperatur)
250 g confectioner´s sugar | 250 g Puderzucker 
3-4 tablespoons cream | 3-4 EL

Sahne

2 teaspoons vanilla extract | 2 TL Vanilleextrakt 
  For the ganache |
Für die Ganache:
200 g dark chocolate |

200 g Zartbitterschokolade

150 ml cream  |

150 ml Sahne
Additionally | Zusätzlich:
1 cup mixed berries (frozen) | 1 Tasse Beerenmischung (gefroren)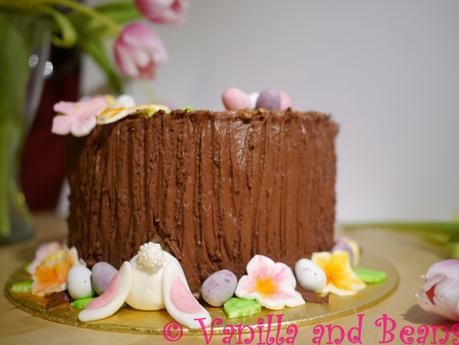 Instructions | Anleitung:
Preheat oven to 160°C. Line pan with baking sheet or grease it. In a bowl mix flour, baking powder and cocoa. | Heizt den Ofen auf 160°C vor und fettet eure Form ein. Vermischt Mehl, Backpulver und Kakao in einer Schüssel. 
In the bowl of a mixer beat butter and sugar until foamy. In another bowl beat eggs until foamy. |

Schlagt die Butter mit dem Zucker im Mixer schaumig. Schlagt in einer separaten Schüssel die Eier schaumig.

Carafully fold the eggs into the butter mixture. | Hebt vorsichtig die Eiermasse unter die Butter.
On low speed alternately add the milk and the flour mixture until fully incorporated. | Gebt die Milch und das Mehlgemisch abwechselnd bei geringer Geschwindigkeit hinzu.
Fill the batter into the pan and bake in preheated oven for about 30 minutes (check the cake regularly) at 160°C. | Füllt den Teig auf das Blech und backt den Kuchen für etwa 30 Minuten (überprüft den Kuchen regelmäßig) im vorgeheizten Ofen bei 160°C.
 Let the cake cool in the pan for about 5 minutes, then remove it carefully and let it cool on a rack. | Lasst den Kuchen für 5 Minuten in der Form abkühlen und nehmt ihn dann vorsichtig heraus, um ihn auf einem Gitter abkühlen zu lassen.
Now start with the frosting: Cut the butter into pieces and put them into the bowl of your mixer. Beat until light and fluffy.| Nun beginnen wir mit dem Frosting: Zerteilt die Butter und schlagt sie im Mixer bis sie leicht und fluffig wird.
Add the confectioner´s sugar and vanilla and beat. | Fügt den Puderzucker und die Vanille hinzu und mixt die Masse.
Add the cream, one tablespoon at a time, and beat until creamy. | Fügt die Sahne hinzu, jeden EL einzeln, und mixt bis die Masse cremig ist.
Now the ganache: |

Nun die Ganache

:
Melt the dark chocolate on top of a bowl of boiling water. Let it cool a little bit afterwards but don´t let it get to hard hard.  Add cream and beat it in your mixer. | Schmelzt die dunkle Schokolade im Wasserbad. Lasst sie hinterher etwas abkühlen, aber nicht bis sie komplett hart wird. Gebt die Sahne hinzu und mixt die Masse im Mixer gut durch. 
Cut the cooled cake into three layers. Spread the buttercream frosting and the berries in between the cake layers and put them together. | Schneidet den Kuchen der Länge nach in drei Scheiben. Verteilt die Buttercreme und die Beeren zwischen den Kuchenschichten.
Cover your cake with buttercream frosting (use a spatula). Smooth it well. | Verteilt die Buttercreme auf dem abgekühlten Kuchen (nutzt eine Winkelpalette). 
Now cover the buttercream frosting with ganache. Use a knife or a zigzag spatula to get the bark look. | Verteilt die Ganache auf der Buttercreme. Verwendet ein grobes Messer der einen Zick-Zack-Spatel um die Rinden-Optik zu erhalten.
Decorate the cake with fondant flowers and chocolate eggs. | Dekoriert die Torte mit Fondantblumen und Schokoladeneiern.