DJ Haitian Star (a.k.a. Torch) zu Gast bei Oonops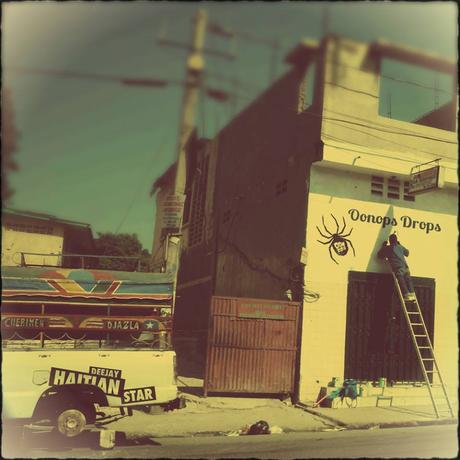 Bei seiner " Oonops Drops"-Mixtape-Sendung auf Brooklyn Radio hatte unser Homie Oonops dieses Mal seinen Homie Torch unter dem Alias DJ Haitian Star zu Gast. Zusammen haben die beide eine, wie ich finde, sehr gelungen Mischung aus Jazz, Funk, Soul, psychedelischen Sounds und nicht zuletzt HipHop gezaubert. Das beste daran: Diese knappen zwei Stunden feinster Picks gibt es zum Free-Download!
Oonops Drops - World Trail by Brooklyn Radio on Mixcloud
Seht mal, wie schön sich die Tracklist liest!
1.TRACKLIST OONOPS:
2.Intro by Jeru The Damaja
3.Taxi Damaja by Jstar
4.Doc Devin by Dude26
5.Unknown Kings by Figub Brazlevic
6.My Name Is by Nostalgia 77 featuring The Fiction Band
7.Safari Park by Roger Roger
8.Sadi Soul by Redmo
9.The Meeting by K-Def featuring Blu
10.Sitar Juke Boxes by Philippe Sarde
11.Right Now by Mel Torme
12.The Word For This Is Cool by Mike-L
13.Hold Fast (Boca 45 Edit) by Gizelle Smith And The Might Mocambos
14.Waiting For Your Love by Usje Sukatma
15.Blunts With My Crew by Suff Daddy
16.Fou De Toi by Bajy & Electrical Haitan Orchestra
17.TRACKLIST DJ HAITIAN STAR
18.Jade East by Ramsey Lewis
19.Good Day Bad by Meshell Ndegeocello
20.My Blood by Neville Brothers
21.Estarabim by Erkin Koray
22.Carpet Patrol Theme by Carpet Patrol
23.HM...
24.Do What You Like by Blind Faith
25.Zanzibar by Sergio Mendes & Brasil 77
26.Homme d'affaires by Rodrigue Miller
27.This Is My Life by Kid Creole & The Coconuts
28.Chevrolet by Taj Mahal
29.Requim Pour Un C by Serge Gainsbourg
30.Rhodesian Girl by The Poets of Rhythm
31.Funky Train by The Poets of Rhythm
32.Miss Millie by Dennis Coffey
33.Nights Over Egypt by The Jones Girls
34.WELL...
35.W/As My Girl by Maxwell
36.Milwaukee by Al Jarreau
37.She's Just Another Woman by 100 Proofed In Aged Soul
38.Ghetto Love by School Of Hardknocks
39.KOREA
40.Edith And The Kingpin by Herbie Hancock & Tina Turner
41.Black Man by Tashan
42.Brooklyn Style by Choice MC
43.Happiness Is Easy by Talk Talk
44.Abstrutions by Max Roach
45.UHM...
46.This Could Be Us by Prince
47.Hard To Tell by Young Galaxy
48.Mama Dadŭ by Vŏdû 155
49.Cocktail Marathon by Kool Koor
Immer wieder eine Freude!