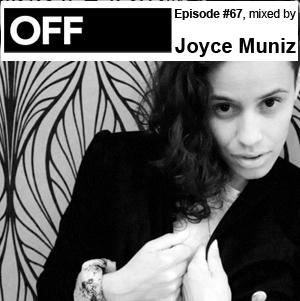 Der neue
Off Recordings Podcast
kommt dieses Mal von einer Dame,
Joyce Muniz
von
Exploited
mixt die Episode 67. Die in
Wien
lebende Brasilianerin liefert mit ihrem Mix eine weitere Folge bezaubernden
Deep House
, ganz im Stil von Off.
Empfehlung
Stil: Deep House
OFF Recordings Podcast Episode #67, mixed by Joyce Muniz
Download
Contact & Radioshows:
www.facebook.com/JoyceMunizOfficial
www.off-recordings.com
Tracklist:
Joyce Muniz - its all Right
Angelo Draetta -  You Are in My Soul (Original)
Andre Crom - Reality
Erica Rhone - Sabotage (Talkback Remix)
Flat 4 Three - Like That (Original Mix)
Alton Miller & Amp Fiddler -  When The Morning Comes (Joyce Muniz Remix)
Ante Perry - No Changes (Original Mix)
Patryk Molinari - 7 Pimp 
Mr.Ho - Mothra
Marc O'Tool - Party 1994
Ruben F - I Can't Change (Original Mix)
Willie Graff, Tuccillio - Set Me Free (Original Mix)
Andre Crom - Hyponotizing
Gorge - Henrietta - Original Mix
Hector Couto - Ado Sado (Original Mix)
Dashdot - Dripping
About:
Joyce Muniz is a Vienna-based, Brazilian Dj, vocalist, club promoter and producer, who is currently one of the leaders of a new undefined musical style which fuses European club sounds with tropical rhythmic influences from Brazil, South America, Africa and the Carribbean, while built on a solid foundation of percussion and heavy bass.
Born in 1983 in Sao Paulo, Joyce Muniz arrived in Vienna during the mid nineties and was soon introduced to the vibrant Viennese electronic music scene. Short after her first DJ gig at the tender age of 16, she began collaborating as a vocalist with Markus Dohelsky aka Shanti Roots (Vienna Scientists) and I-Wolf (Sofa Surfers/Klein Records). In 2006, Muniz teamed up with Stereotyp for the first time and together, created the first Funk Mundial 12" "Uepa/Jece Valadao" (Man Recordings) and Ku bo Ep 1 and 2. In 2007, she and Shanti Roots started producing under the name of Monte Laa Prod and released their first 12".
In 2008 she contributed her vocals to the Cusmos (Herwig Kusatz ad Karl Möestls) track "Garoto," which is was released on the Kruder & Dorfmeister label G-stone. Joyce Muniz also did some collaboration with Flore, Buscemi and Skero. The "Get Your Conga On" EP released on Top Billin Rec in June 2010, immediately jumped to the top 20 on Juno download site. In August she released the "Cumbia Madness EP" with production partner Shanti Roots, on NYC based label Sol*Selectas, which held a top 10 position for the several weeks on Traxsource.com, resulting in #9 position for the entire month of August. Her next solo release "Party Over Here", which debuts in mid November on Shir Khan's well known label Exploited, has already received massive DJ support throughout Europe, and DJ Mag has hailed it "the electro single of the month".
In addition to her DJing and production work, Joyce earned an Amadeus (Austrian equivalent to a Grammy) for her vocal work with Austrian rapper Skero on the hit single "Kabininparty", which won the "Best Song of the Year" award, as well as 2 other nominations.
With a full schedule of international gigs, Joyce's funky percussion based DJ sets provide a unique and diverse sound taking the listener on a musical journey through Afro beats, Tropical Tech, Electro, and House, and guarantee serious sweating on the dance floor.