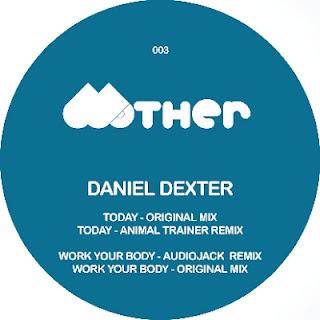 Am
06.06.
erscheint auf dem Berliner Label
Mother Recordings Daniel Dexters Today & Work Your Body EP
. Released wird
digital
und als
Vinyl
. Wie auch im letzten Release sind
2 Originale
und
2 Remixe
enthalten. Als Remixer standen dieses Mal
Animal Trainer
und
Audiojack
bereit.
Mother Recordings 003
Das Release wurde mir als Hit angekündigt, natürlich ist man da besonders gespannt. Beim hören von
Daniel Dexters Today
stellt man aber sehr schnell fest woher diese Begeisterung für das Release kommt. Ganz harmlos fängt es an und dann setzt dieses Saxophone ein zuerst fällig entspannt um dann im einsetzenden Break den Track richtig loszulassen. Tolle Stimmung die der Track ab dieser Stelle bekommt. Der
Animal Trainer Remix
von
Today
ist wesentlich elektronischer als das Original, wärmer und flächiger fällt dieser Track aus. Der
Remix
von
Audiojack für Work Your Body
ist genau das, was die Jungs am besten können tiefer, groover Jack'in Deep House, sehr schön anzuhören wie sie mit dem tiefen pumpenden Bass und dem anschlagen Riff spielen,
Work Your Body
im Original fällt dabei etwas entspannter im Gesamtbild aus.
Fazit:Daniel Dexters Today
und der
Audiojack Remix
von
Work Your Body
sind absolute Garanten um diesen Sommer die Open Air hoch und runter zu laufen.

Daniel Dexter Work Your Body & Today EP MOTHER003
Tracks:
A1: Daniel Dexter - Work Your Body (Audiojack Remix)A2: Daniel Dexter - Work Your Body (Original Mix)
B1: Daniel Dexter - Today (Original Mix)B2: Daniel Dexter - Today (Animal Trainer Remix)
Label: Mother RecordingsRelease number: MOTHER003 Artist: Daniel Dexter
Title: Work Your Body & Today EP  Release Date: 06.06.2012Format: Mp3, Wave, CD, VinylPreview Source: SoundloudCat#.:  MOTHER003Distribution: Intergroove 


Our dear family friend, DANIEL DEXTER, is coming to visit and we couldn't be happier! We throw our doors wide open to welcome him into our backyard to start the festival season 2012 with this charming summer record. Spark the barbecue, put the drinks on ice and let our brand new; and so far most sunny release, MOTHER RECORDINGS 003 spin on your turntables…...Oh - in case you forgot: Summer is just around the corner!
A1. Work Your Body (Original Mix)
This one starts out with a pumping
chicago
bass and is driven pitched black vocals and swirling Rhode chords.
No doubt
you will end up with a feeling of standing in a warehouse back in the infamous nights when the Roland TR 808 and 909 gives off clouds of smoke. Daniel Dexter managed to create a gentle and subtle tribute to heroes like Lil Louis, Adonis or Steve Silk Hurley giving the track an advanced touch by turning it into a mélange with modern UK sound.
B2. Work Your Body (Audiojack Remix)
We knew that Audiojack is always a sure shot but this time they outdid themselves. They boys from the industrial allyes of Leeds made a killer track topping understated coolness with hard drums and short crisp synthie steps that pierce your brain, two goose bump moments included that will keep you wanting to just go "yippeah yeah!!!" over and over again.
B1. Today (Original Mix)
Daniel Dexter, well-known for his expressive productions, presents this classical piece of house music that has one undeniable influence: Jazz. The sample might evocate a 90s Hip Hop feeling, reminding of that summer of our youth when girls still tasted like ice cream and music still came out of your portable ghettoblasters. But combining very earthy old school drums with the
sax
playing its intriguing twirling melody, Dexter's
focus
on the pure essentials gives the track an inimitable contemporary sophistication.
B2. Today (Animal Trainer Remix)
Who could put warmth into a track with long stretched bass sounds better than a Swiss? That's why we have Animal Trainer straight out of Zurich aboard, emphasizing the track's laid back summery feeling by accompanying it with lots of ear tickling tinkling, dreamy synthie pads, and hand made drums. It all builds up, little by little, towards the ultimate break that will put you to the state of complete madness.
_______________________________
http://facebook.com/DanielDexterakaDEX
http://www.facebook.com/audiojackmusic
http://www.facebook.com/AnimalTrainerMusic
http://facebook.com/motherrecordings
Released by: mother-recordings
Release/catalogue number: 3
Release date: Jun 6, 2012