Title: Love Letters to the Dead
Author: Ava Dellaira
Released: April 1st 2014
Pages: 327
Rating: 5/5 ★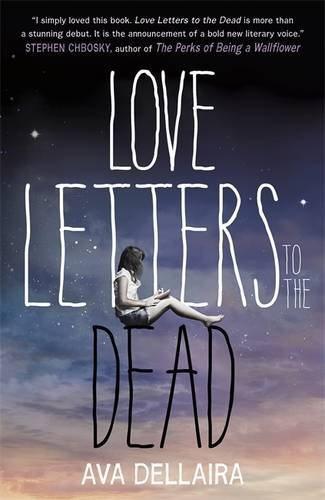 Summary
"It begins as an assignment for English class: Write a letter to a dead person.
Laurel chooses Kurt Cobain because her sister, May, loved him. And he died young, just like May. Soon, Laurel has a notebook full of letters to the dead-to people like Janis Joplin, Heath Ledger, Amelia Earhart, and Amy Winehouse-though she never gives a single one of them to her teacher. [...]
Opinion
It's not until Laurel has written the truth about what happened to herself that she can finally accept what happened to May. And only when Laurel has begun to see her sister as the person she was-lovely and amazing and deeply flawed-can she truly start to discover her own path."
from Goodreads.
I should probably admit that it didn't got me from the first page. I was warily and unconvinced because the main character - Laurel - was so young and I didn't believe that I could connect with a 14-year old girl.
But I was wrong. This has nothing to do with age itself, more with "coming of age" and the problem nearly everybody faces: to find yourself while you're losing yourself in other people.
My english isn't developed enough to describe the beauty of language, music and story in this book but I'll try.
There are three things I really liked: The way Laurel spoke about music and art (the Letters she wrote to Kurt Cobain and Amy Whinehouse), the way she made me understand that music and biography of the artists aren't two different things and how everything that's broken can be fixed - not perfect & neat, but glued together and beautiful.
There are a few lines I'd like to quote:
" [...] He plays the guitar so well, you wouldn't believe it. But he doesn't have a band. And he doesn't try really hard to get one. He mostly plays alone in his room instead. That's what Kristen says.
I think he does this for the same reason Hannah doesn't turn in her work when the teachers say she is smart.
I think a lot of people want to be someone, but we are scared that if we try, we won't be as good as everyone imagines we could be."
Bam. There you have it. One of my biggest fears and it seems that everyone else is afraid, too.
This is just a tiny piece of what I was touched by and I really recommend you to look into this beatiful book.
Also, I've started to listen to Nirvana and Amy Whinehouse again, because I feel ... connected.
However, the lesson I'll remember from this book is simple: Don't think about what life is supposed to be like and look at what it could become. Life is not perfect that's what makes it so real.