On October 15th in Düsseldorf in Germany, "Japan day" was held and I visited it.
In Düsseldorf are living about 8,000 Japanese people (at the time of 2008). This is the biggest Japanese community in Germany and third largest in Europe, next to London and Paris. I sometimes visit Düsseldorf to go to an office of NTT DATA and to see my old friend. On a certain street (Immermanstrasse), there are so many Japanese that I feel as if I were in Tokyo. Japanese supermarket, Japanese Ramen (a noodle restaurant), and many Japanese business persons in suit. If I would live there, I may not be able to feel I am in Europe.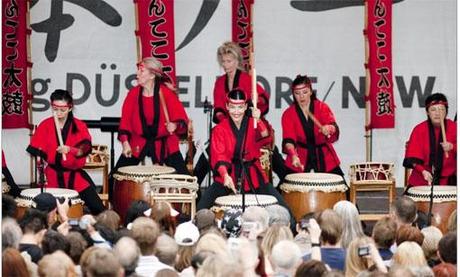 (Quelle: Düsseldorf Marketing & Tourismus GmbH)
Japan day is held every year. But this year it was special, because it was the 150th anniversary since Germany and Japan have established diplomatic relations. About 700,000 people visited the festival. I will introduce some of the many events:
Japanese drum (Wadaiko)
Wadaiko is a Japanese traditional drum.
Some Wadaiko players with fundoshis (loincloth: an old Japanese men's underwear made of a long, narrow cloth which is rolled around the loin) hit drums energetically. The sounds and the vibrations directly reached our stomachs.
It is interesting that similar events in Japan sometimes cannot collect such many audiences and it was the first time for me to  be attracted so much with a Wadaiko event.
Cosplay
Many people in costumes of Japanese animation and Manga characters were all around Düsseldorf. And also some were in "Visual Kei" appearance.
Karaoke
A Karaoke competition was held on the special stage located on the riverside road. Many participants sang Japanese songs – and their Japanese was very good. I was very surprised.
Japanese fireworks craftspeople
In Japan, many fireworks events are held in summer. Going to a fireworks event in Japanese traditional clothings (Yukata) brings us the real feeling of summer in Japan.
That fireworks were the climax event of Japan Day. It was really crowded with people seeing colorful fire flowers blooming in the sky.
Other events
I couldn't see them, but many other events were also held, such as martial arts shows, calligraphy show, ikebana show.
These days, Japanese economic influence is gradually falling down. However, the number of people interested in Japanese culture is going up. There are many reasons for this, but sub cultures like Manga and Animation have certain roles. Some very popular TV animation programs are broadcasted in Germany, such as "One Piece" and "Naruto". I suppose it helps us make common ground naturally.
Vice versa, because some – nine in this season – Japanese players play in soccer Bundesliga, many Japanese come to stadiums and become interested in Germany.
Japan Day will also be held next year, probably in May or June. Please visit it if you are interested. Besides, to know and enjoy the culture, it is the best to come to Japan. The huge disaster made tremendous influence also on tourism; however, those cultures are not easily wounded. It's a good place to spend some days/weeks.