Mark Lazenby is an inspiring artist based in England. He makes Collages for almost twenty years and we are exited to present an interview with him. Enjoy!
How did you get in touch with the art of making Collage and what kept you fascinated for almost 20 years?
It was a gradual process. I always loved drawing as a child and knew from an early age that I wanted to be an artist.
The collage started with my graphic design studies, before computers using cut out type from Letraset books and images to create book jackets and logos etc.
Then at College I really found that I connected with the language and feel of Collage, and ever since it's what I do, what makes me tick.
I have had times where I've felt that I should do other things as well, but I just can't, there is no escape from this affinity that I have with paper, scissors and glue and now I am very happy to 'just' be a collage maker.
My fascination with collage is all bound up with the early Graphic design work I did, my love of old books, beautiful old miss registered print and also to a large degree my collecting habits.
I have always been a bit of a magpie and this collecting started almost as soon as I could walk. I would carry bags around with me filling them with my favourite things. These collected things would then become part of my World, my rooms and these collections would be positioned, moved around but basically become an assemblage/collage just not stuck down.
I'm sure that this then translated into me making Collage. This collecting then spread into me collecting just for my collage work and I have a vast collection of old paper, be it antique books, bits of rubbish picked up from the street.
All my work is about the juxtaposition and Collage is the perfect medium for this.
Mixing the old with the new, moments of profound clarity and beauty amongst the everyday red herrings. It is about nostalgia, salvation, longing for the past and for the future, about fragments and building worlds from these fragments.
I love the random chance mistakes and marks that happen while making a Collage, the control but I also love the lack of it.
My collage is the spilling out of the internal, and is totally vital to who I am, an extension of self, affirming and comforting. It is essential; it gives me clarity and hope. Imbuing paper with feelings and energy.
My work is born out of a necessity to make, I Love it, I just feel better for doing it. I don't feel myself if I haven't made a piece for a while. It also is how I think, I process things, be it emotions, situations, relationships. I have often started a collage with no idea of what I was going to make or what it was about. Usually after completing it I notice things in it that often affect me deeply.
What do you prefer: digital or handmade collages?
Because of my affinity to real paper and the process I have to say I prefer creating an actual handmade collage, but my digital work also gives me great satisfaction and in many ways more freedom and flexibility. Especially in terms of source material the ability to get that juxtaposition with resizing, the changing of colours with the digital collages is great, but I work in exactly the same way as I do with an actual handmade piece, I really try to not manipulate or use effects. Both hand made and digital are made using the layering, cutting our, flattening etc.
Which topics do you treat in your works?
This really depends on whether it is personal work or commissioned.
With the commissioned stuff I do a lot of editorial work so it entirely depends on the brief and text, this is great as it takes me in directions/topics that I naturally wouldn't go and this really does push me and keeps me working hard. I really like getting a brief on an area/idea that I know very little about and having to immerse my self in it, understand it as well as I can and then come up with a solution for final artwork. Recent commissioned topics have ranged from Cannibalism to Cycling Regulations!
I also do private commissions for people that are predominantly about their lives and interests which I approach much in same way as the editorial work.
My personal work ranges all over the place topic wise as well.
Most of it based on emotion, faith, love and longing. Others are just pure play with abstract shapes and isolated images and are not about anything essentially.
I have recently finished a series called "Make Mountains", this started as a one off piece and turned into over two years of work amounting to about 70 collages. I had no intention of making a series but it just kept on pulling me in and growing, I really enjoyed this process of a series, knowing I had that to work on every day was really liberating in a strange way.
The "Make Mountains" idea was all based on where historically (in Britain) people have gone to meet with God, or replaced God with something else. What the Church should be offering the world. The incredible power of healing, love, hope, accepting communities, Joy, infinity and on and on!
I want to make new worlds out of fleeting discarded fragments. These discarded items are my language, speaking of beauty, of truth, of passing, of mortality and divinity.
I want to make work with my soul.
On one level I want all my work to be beautiful, visually alluring and then to reveal itself/the ideas and narrative gradually (it will tell different stories to individuals).
There is so much beauty and truth in the things we disregard.
I want my work to whisper, to sing.
How has your style developed in the last 20 years?
When I first started I was often happy with the idea/thought process but often the final piece I felt let it down. I think since then more often than not I am pleased with the final results.
Over the years I think I've learned to simplify and just trust my instinct on what and where things should go. The more you do something the better you get (hopefully!)
I have also started working on larger Collages where as before most have been no larger than A4.
Apart from these points I'm not sure it has changed very much.
Thank you for the Interview!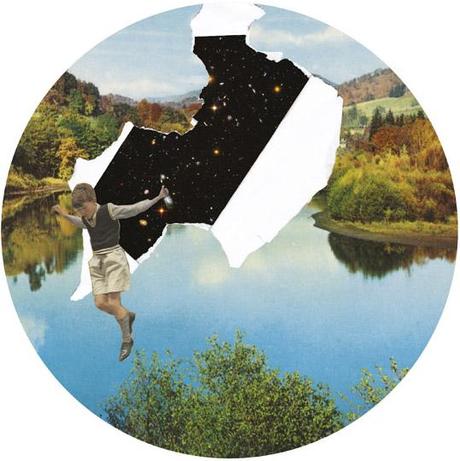 Eternity © Mark Lazenby
Eternity II © Mark Lazenby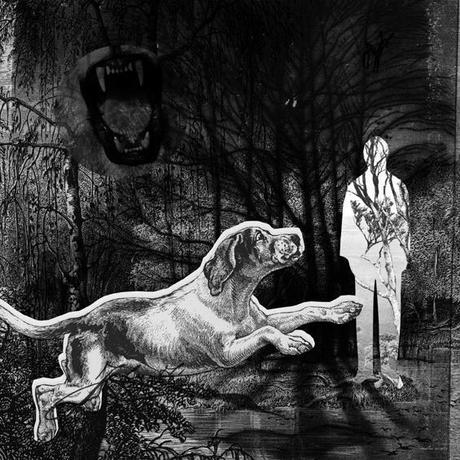 Animal © Mark Lazenby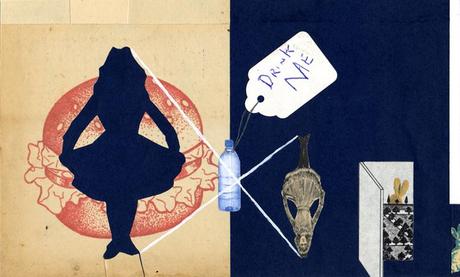 Drink Me © Mark Lazenby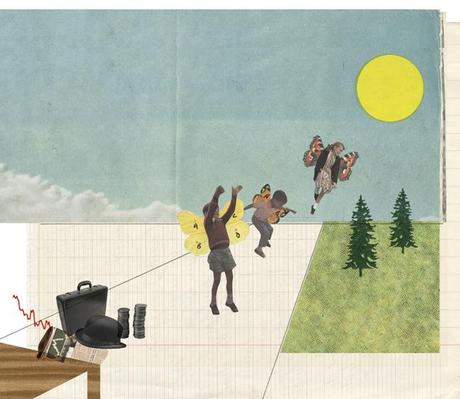 New Horizons © Mark Lazenby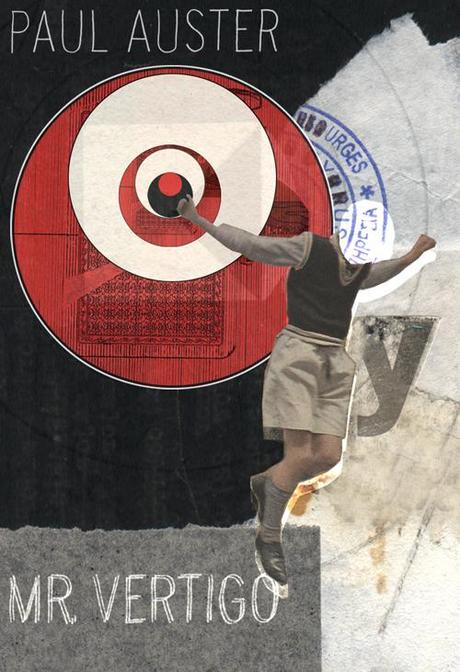 Paul Auster Mr. Vertigo © Mark Lazenby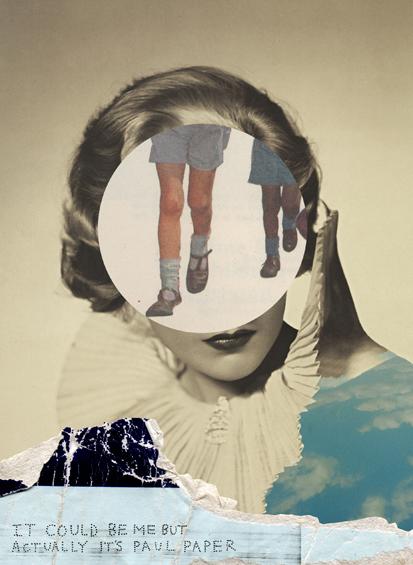 It Could Be Me © Mark Lazenby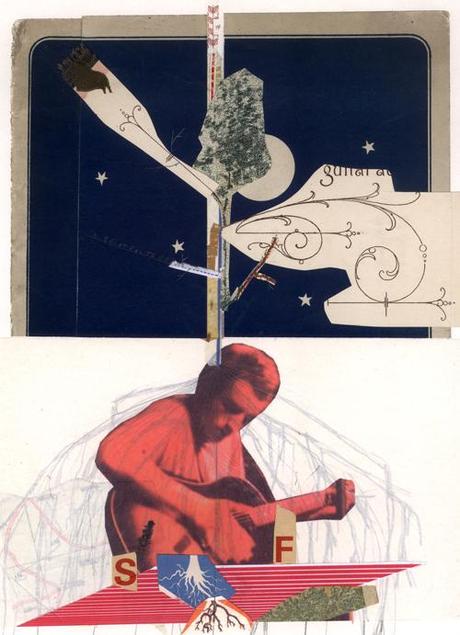 Beautiful Tree © Mark Lazenby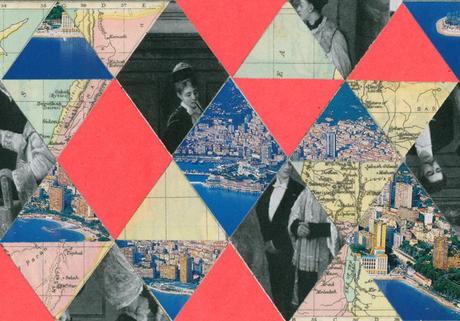 Heart Plea © Mark Lazenby