Converse Inc announced the opening of its first specialty retail store in Manhattan, opening just weeks after the company's launch of their first-ever specialty retail store in the Newbury Street neighborhood of Boston, Mass. The new SoHo store located at 560 Broadway and Prince Streets will open Friday, November 26.
The heart of Manhattan's vibrant SoHo shopping district provides an ideal backdrop to showcase Converse's independent spirit and diverse product offering, including one-of-a-kind footwear, a brand new collection of women's and men's apparel and accessories and unique product customization capabilities.
"The Converse brand was first in sports and first in rock 'n roll so we're extremely excited to bring our fans the first Converse New York City specialty retail store," said Michael Spillane, Converse Chief Executive Officer. "Converse has deep roots in New York City culture from basketball to the influential underground music scenes of the 80s and 90s. The newest Converse store will allow visitors to immerse themselves in a unique Converse experience. The varied product assortment will amaze and delight consumers looking for new and exclusive ways to engage with our brand."
The SoHo store will offer the largest offering of Converse footwear in the world, showcasing the breadth of the brand's collections including Chuck Taylor All Star, Jack Purcell, Star Chevron, One Star and Converse by John Varvatos, as well as other premium footwear collaborations. Additionally, a new line of men's and women's apparel and accessories grounded in the company's American heritage of sports and rock 'n roll will give consumers a true head-to-toe innovative shopping experience.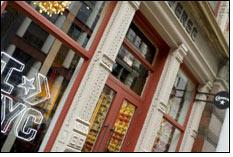 converse retailstore
via: http://www.fibre2fashion.com