"Kill Husband Cake" aka Num Plae Ai.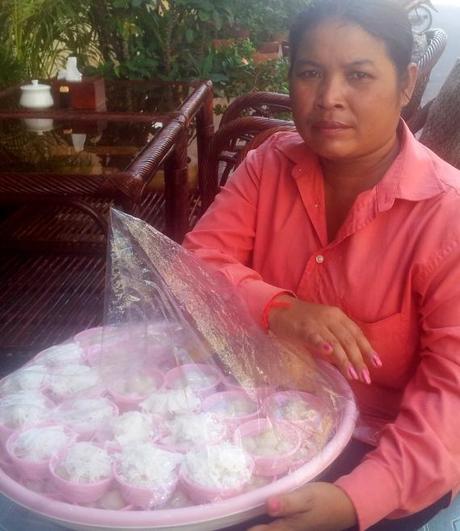 Num Plae Ai - Khmer Traditional Sweet, sold in the streets of Phnom Penh. - copyright by awmeier.
Num plae ai (ផ្លែអាយ) or glutinous rice balls with sugar candy filling is a kind of Khmer traditional sweet. The cake is made into small slippery rice balls with palm sugar filled. It is a kind of special sweet for sugar lovers.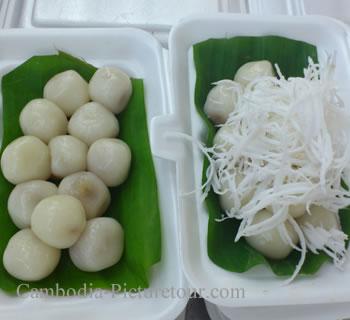 Num Plae Ai – Khmer Sweet aka "kill husband cake".
The origin of its name is uncertain. Num means cake, plae means fruit, and ai is just a word of name.
According to a Khmer legend, num plae ai has a another name as 'kill husband cake'. A wife preprared num plae ai for her husband to serve in order to kill him because he has betrayed her by having a love affair with anther woman.
The filling of num plae ai is very sweet and the sticky rice flour cover is slippery, so it's easily get stuck in the husband's throat and cause him to choke. However, the reality proved that there is no such danger serving num plae ai.
Recipe for Num plae ai.

Num plae ai is very easy to prepare, here is how.
- 250 g sticky rice flour
- 100 g palm sugar candy: cut it into small cube pieces (about the size of your finger tip)
- young grated coconut
Mix sticky rice with about 100 ml of water, then the flour turns into a form of soft that we can make it into any shape. Now make it into balls of about 1.5 cm in diameter, then insert the sugar cube into the ball as filling.
Have a pot of boiling water ready on fire with moderate heat. After the ball is inserted with sugar cube, put it into the pot, when the balls float up, they are cooked. Take it out to another bow of cold water. One minute later, drain it out to a basket with holes. The process is continuosly like this.
Num plae ai is usually packed up in a package made of banana leaf which look very nice. Each package contains 5-7 balls and is top with young grated coconut.
Break the ball with one bite, you will immediately feel the special sweetness of num plae ai.
Source:
11.567293
104.929032