Banteay Chhmar, one of Cambodia's grandest monuments, is slowly awakening after eight centuries of isolated slumber.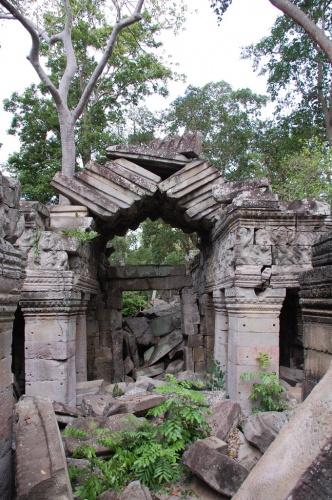 Bantheay Chhmar - Temple entrance
The massive temple of Banteay Chhmar, along with its satellite shrines and reservoir (baray), comprises one of the most important and least understood archaeological complexes from Cambodia's Angkor period.
Second Angkor Wat.
Banteay Chhmar​ (Khmer: បន្ទាយឆ្មារ) is in Thma Puok District in Banteay Meanchey province in northwest Cambodia. It is located 63 km north of Sisophon and about 20 km east of the Thai border.
What drove Jayavarman VII, regarded as the greatest king of the Angkorian Empire, to erect this vast Buddhist temple about 105 miles (170 kilometers) from his capital in Angkor and in one of the most desolate and driest places in Cambodia remains one of its many unsolved riddles.
At its height in the 12th century, the empire extended over much of Southeast Asia, its rulers engaging in a building frenzy which produced some of the world's greatest religious monuments.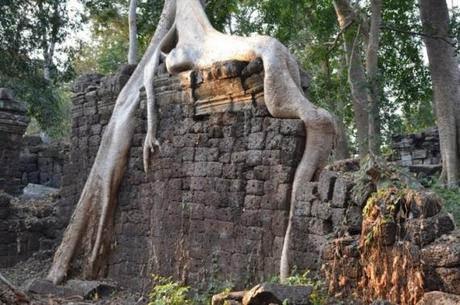 Bantheay Chhmar
Global Heritage Fund.
Abandoned for centuries, then cut off from the world by the murderous Khmer Rouge and a civil war, Banteay Chhmar didn't welcome visitors until 2007, when the last mines were cleared and the looting that plagued the defenseless temple in the 1990s was largely halted.
A year later, the California-based Global Heritage Fund began work at the site under the overall control of the country's Ministry of Culture and now spends about $200,000 a year on the project.
If You Go…
BANTEAY CHHMAR: Ancient Cambodian monument: http://www.visitbanteaychhmar.org. There are no hotels, but Community Based Tourism runs six modest, clean homestays in Banteay Chhmar village, also arranging meals and tours. Rooms are $7 a night. Details and contact information on website.
GETTING THERE: Located about 105 miles (170 kilometers) from Angkor. Cars can be hired in nearby Siem Reap, site of an international airport, for the drive to Banteay Chhmar.

WHEN TO GO: November-February are the cool, sunny months followed by scorching heat and then monsoon rains when some roads to Banteay Chhmar become impassable.