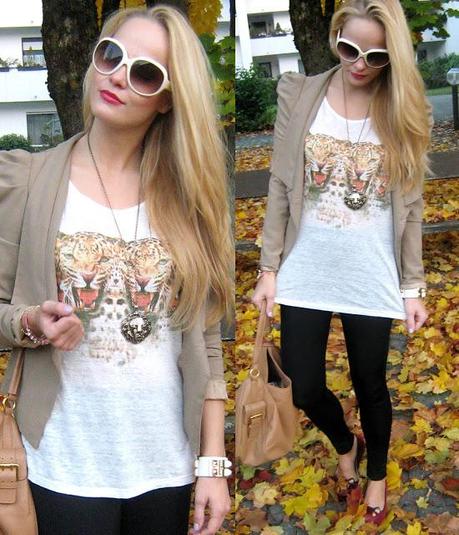 shirt with tiger print: Zara (new) 

|| beige blazer: Machima 

|| leggins: American Apparel  

|| Kitten Shoes: Mirapodo (new) 

|| bag: Furla 

|| Lion chain: H&M 

|| white studded leather bracelet: Lookbook Store 

||  rosé woven chain bracelet with Rhinestones: ForwardForFashion-Design 

|| cross bracelet: Asos 

|| peace bracelet: Fourth Dimension 

|| white sunglasses: H&M

love the look:

FACEBOOK 

||

 LOOKBOOK 

||

 CHICISIMO 

|

|

BLOGLOVIN


Do not forget to participate in my contest! Best of luck!
Vergesst nicht bei meinem Gewinnspiel mitzumachen! Viel Glück!
Here I show you again a more casual outfit with my beloved Kitten Shoes that are just as sweet as sugar and an ever-popular animal print shirt and a Lion-Chain - animal gone wild in the whole outfit.
Tomorrow it goes first to the Jennifer Lopez concert, as I got tickets by chance and on Friday I am invited to the Stella & Dot Fashion Show, which I'm looking forward especially. Next week, you'll also  be able to see an interview with a popular German designer here on my blog, so right now we are working on the video!
Hier zeige ich euch wieder ein eher casual gehaltenen Outfit mit meinen heißgeliebten Kitten Shoes die einfach zuckersüß sind und denn allseits beliebten Animal-Print Shirt und einer Löwenkette - animal gone wild im ganzen Outfit. 
Morgen geht es erstmal auf das Jennifer Lopez Konzert, da ich durch Zufall an Karten gekommen bin und am Freitag wurde ich zur Stella&Dot Fashion Show eingeladen, auf die ich mich schon besonders freue. Nächste Woche werdet ihr auch ein Interview mit einem bekannten deutschen Designer zu sehen bekommen; an dem Video wird gerade noch gefeilt!
love,
Verena