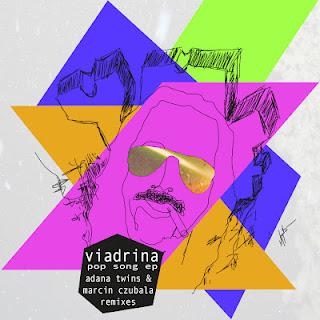 Marcin Czubala's Your Mama's Friend
veröffentlicht am 27.Juni die EP
Pop Song
von den Landsmännern
Viadrina
, neben zwei Tracks von den beiden befindet sich noch ein Remix von den
Adana Twins
und vom Labelhead
Czubala
selbst.
Your Mama's Friend 004
Der Remixtitel von den Adana Twins "Pop is not dead" trifft es eigentlich am besten um diese EP zu beschreiben. Angesichts solcher Releases ist Pop schon lange nicht mehr so stark gewesen. Ein verdammt groovendes Monster ist das Original geworden, eine gelungene Verschmelzung von Deep House, Pop und Acid House der 90er Jahre ist dieser Track geworden. Tomorrow fällt zwar leider nicht ganz so stark aus aber hat durchaus seinen Charme. Großartig ist die treffende Bezeichnung für den Adana Twins Remix und oben drauf gibt es noch einen bezaubernden techy Deep House Remix von Marcin Czubala.
Fazit:
Großer Wurf des noch jungen Labels aus Polen.
Viadrina - Pop Song ep
Format: digital
Release date: 27th June
Distribution: Beatport / Intergroove GmbH
Catalogue #: YMF05
1. Viadrina - Pop Song
2. Viadrina - Tomorrow
3. Viadrina  - Pop Song (Adana Twins' Pop is not Dead rmx)
4. Viadrina  - Tomorrow (Marcin Czubala rmx)
Having taken a trip to the UK for release number 004, Marcin Czubala's Your Mama's Friend heads back to its native Poland, to catch up with label regulars, Viadrina.
Konrad Slazyk and Mateusz Kazula are the fresh-faced pair hailing from the banks of the River Odra. Having made a crushing impact with their debut release, the 'Better EP' earlier this year on Pets Recordings, Viadrina have been working away tirelessly in the studio refining and polishing their sounds and skills. An endearing innocence can be heard in their music and their versatile, warm and uplifting style is immediately attractive to the ear. Matching that aural lure with an impressive and mature use of 'bass' has seen them create some of the smoothest and funkiest tracks of recent times.
Their "Shining" ep, the label's second release, is still one their most popular to date. Today the duo unveil their latest work, "Popsong" / "Tomorrow". The A side sees Viadrina dropping some 80's break-beats, warm R&B vocals, wrapped in a warm layer of bass. On the remix are another duo who are currently enjoying a blazing run of form off the back of their recent ep on Exploited. The Adana Twins stay true to the track title, upping the 'Pop' ante with their driving electro bassline.
On the flip "Tomorrow"
drops
its silky vocal, handclaps and gorgeous synths before again being bedded by their subby bassline. Label chief Marcin Czubala delivers his vision of "Tomorrow", brilliantly bringing together some Motown'esque drums and percussion with modern uplifting synth chords. Perfect for this summers
outdoor
parties.