Time for me to write about my experience on a Lufthansa flight once again. This time about the flight LH 778 from Frankfurt to Singapore with the Lufthansa Airbus A380 "Berlin" and the time on the new Lufthansa Senator Lounge on the new Terminal "Z" in Frankfurt – the new Lufthansa hub for their 747-8 and their Airbus A380 opened just month ago.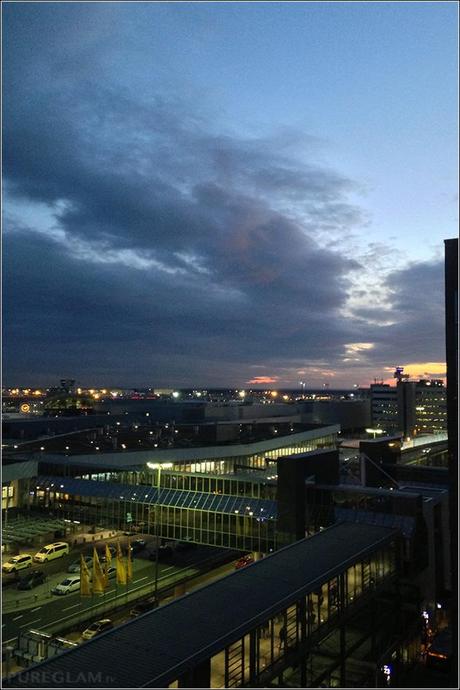 My flight from Frankfurt to Singapore left Frankfurt International Airport on a Saturday evening at 9.45pm and the arrival to Fraport was this time very easy, as I stayed at the Sheraton Frankfurt Airport Hotel since Friday evening (arrived with the Deutsche Bahn railway connection from Munich) – so just a five minute walk to their Lufthansa first class checkin and you are checked in within minutes. A short walkway to the security control and I think it was the first time I flew from Frankfurt where it was completely empty – people of the security service of Fraport were waiting for passagiers  (I know only the opposite way…

) – but due to Saturday evening, less business people and no vacation period, really quick and friendly processing of the safety process.
Lufthansa Business and Senator Lounges Z-Gates:
The new Z-gates of Lufthansa and Star Alliance contain all the things you need and you will enter it with the new typical "Duty Free Area and Shopping Experience" – but after it, you will also find different labels and famous fashion stores (e.g. Gucci). For me – on my trip to Asia, I was not interested in Shopping, just wanted to enter the new lounges by Lufthansa (Business and Senator Lounge have the same entrance, but very modern, friendly and also very empty).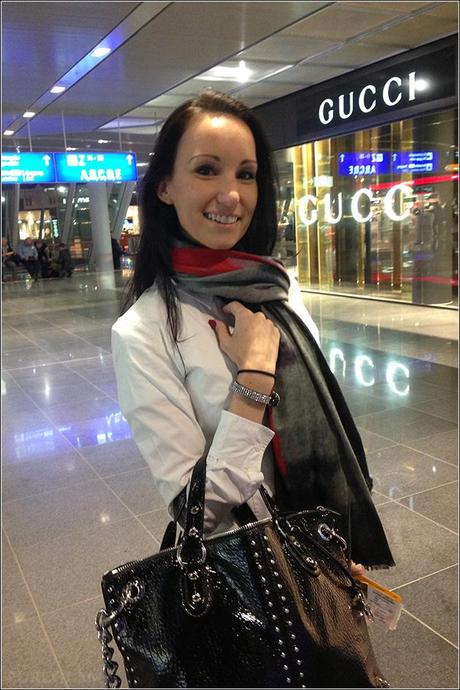 Compared with the old business and Senator lounges of Lufthansa at the Frankfurt Airport – this change is a milestone – the new Senator Lounge is really huge, huge number of sitting or relaxing possibilites and every chair contains power connection for your mobile phone or laptop. Perfect! A lot of fresh food and self service drinks and coffee machines placed frequently on the lounge – so no space for negative aspects – also new bathrooms and shower possibilites which I tried. These new Lufthansa Lounges are a huge plus for Lufthansa at Frankfurt Airport. (My opinion: 5/5 stars)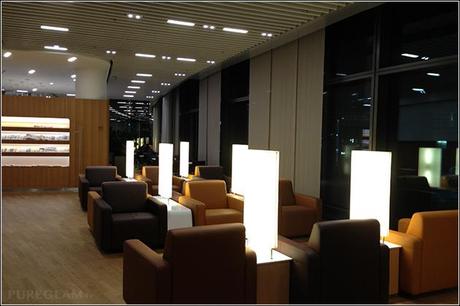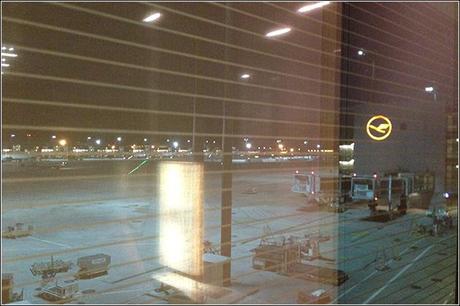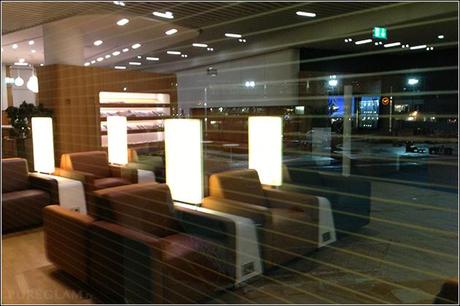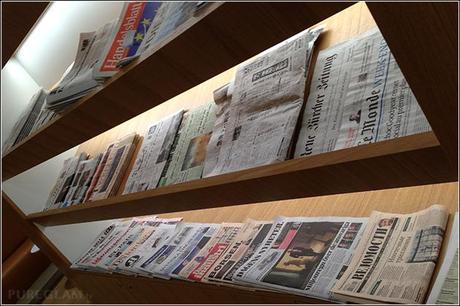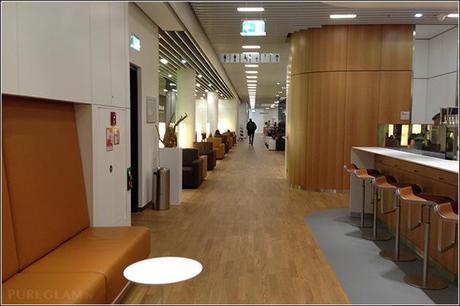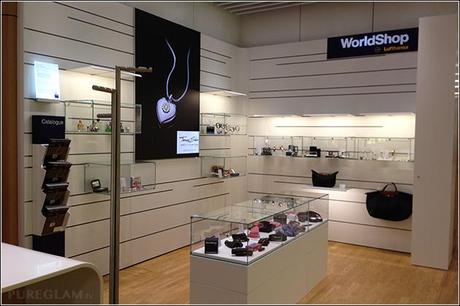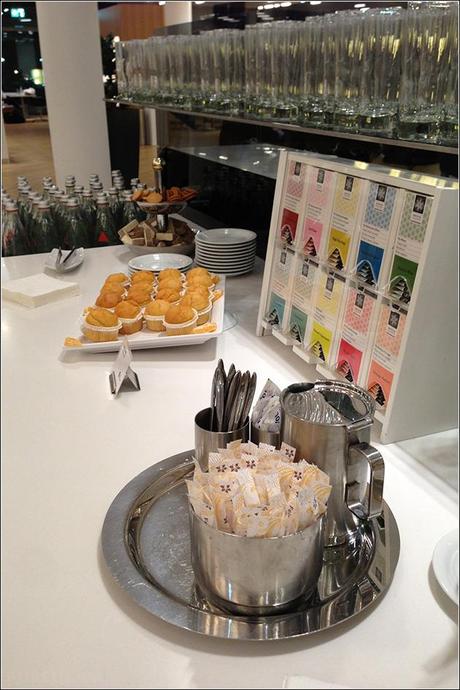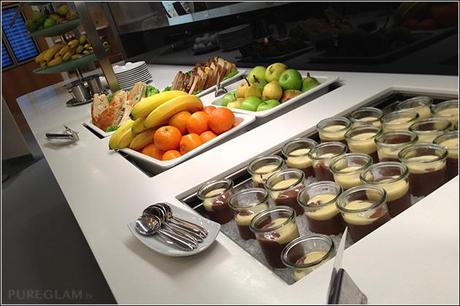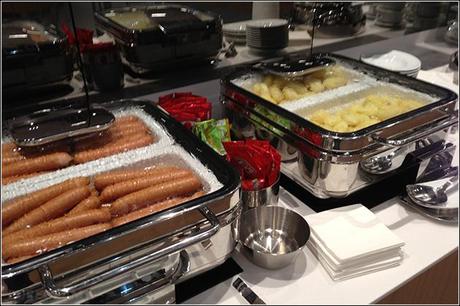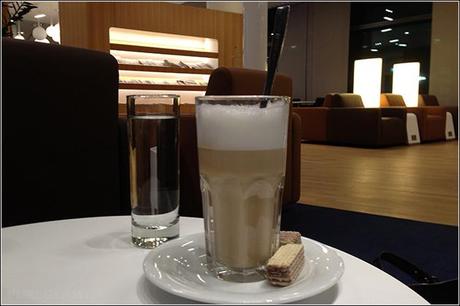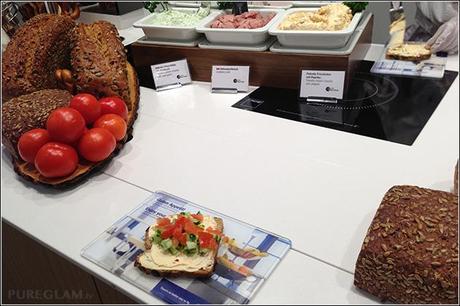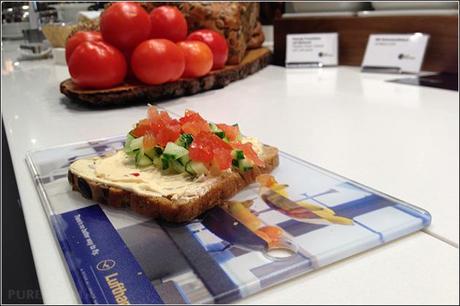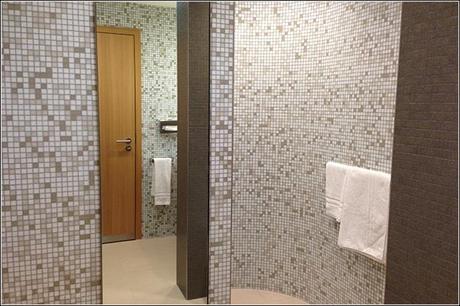 Lufthansa flight LH 778 review / gate Z58:
Boarding was announced for gate Z58 for my flight LH 778 Frankfurt to Singapore with A380 "Berlin" – so I was in the lucky situation just to walk 10 minutes to the gate – but these new Z-gates and walking ways are really long. So you better expect to walk up to 15 minutes to your gate if your gate is Z68 or Z69.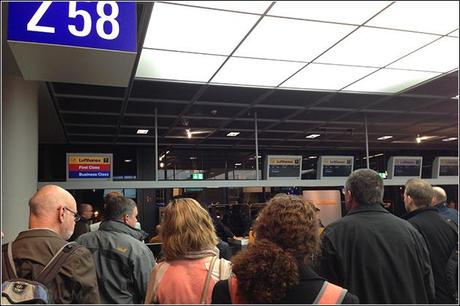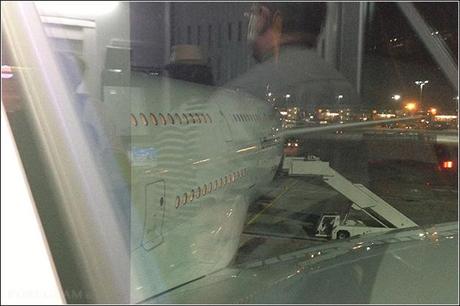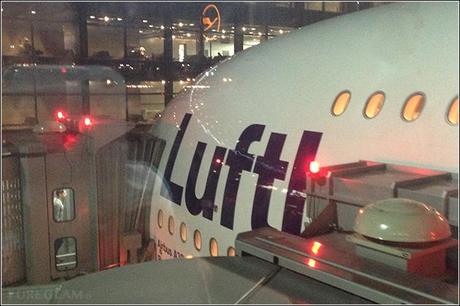 My flight from Frankfurt International Airport to Singapore Changi Airport started boarding process approx. 35 minutes prior scheduled departure time and boarding was a bit chaotic due to the limited space on the entrance gates, but never mind – I had plenty of time and my favorite seat 28A at the end of the A380. I prefer to select this seat, as you have additional storage possibilities next to your seat (important for my shoes

laptop, etc. ) – the seat on the opposite side 28K is in front of the lavatory – so not the best place to sleep, but still o.k. – On the Lufthansa A380 it is not so crowded on this place of the business class section of the Lufthansa plane compared to rows 10-21 without seperations is a bit louder)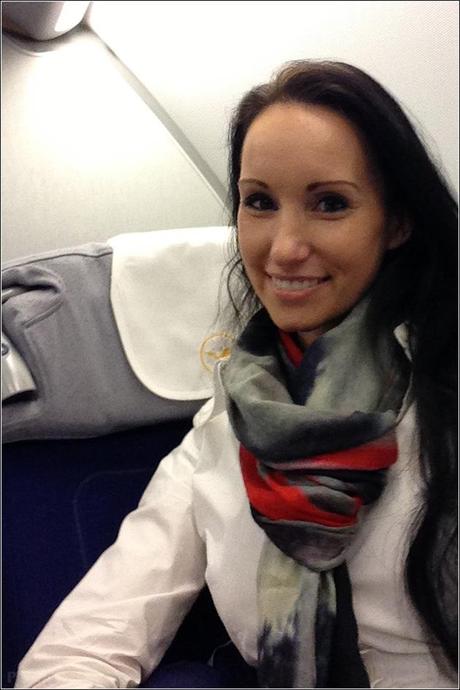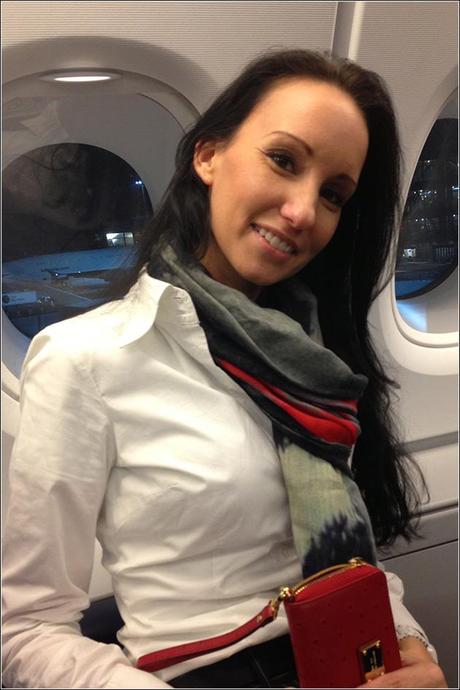 I was really interested in the flight and especially the service – as everyone told me, that the service on the Lufthansa flights, especially to China, Singapore and Japan should be much better than the service on all North-America flights. If it is true, you will find at the end of the post…

Business class was nearly full and after the typical orange juice, water and sparkling wine – next on list – de-icing. Waiting time about 20 minutes and ready to leave Frankfurt with a delay of 30 minutes on our 10h50m flight to Singapore Changi Airport.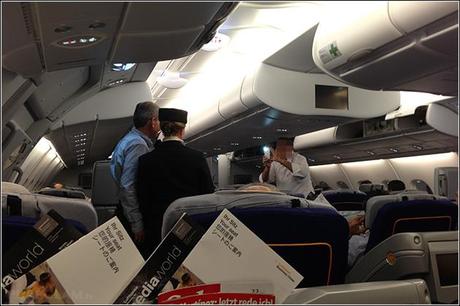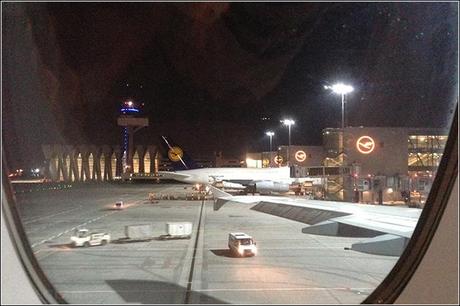 Seats on this Airbus A380 of German Lufthansa still the same and famous 170° seat – no flat bed (but the new business class of Lufthansa with the V-design isn't much better, but with a flat-bed) – but you get used to it over the years to find your comfortable sleeping position. The entertainment program not to compare with other Asian or Arabic airlines, but the inflight-camera system for departure and arrival is always interesting.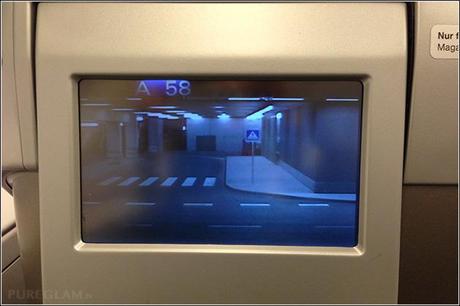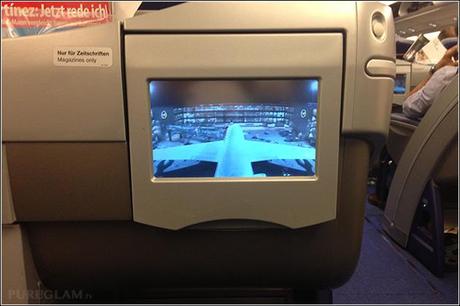 After reaching the cruising altitude, you received first drinks and this time the, I think for Asia selected, nuts with Mango and Vanilla (a real special snack – but after you get used to it – really delicious…) and directly after it, time to select your dinner  (not to compare with Airlines offering a cook on the flight and make your meal right to order, but still o.k.)
I decided this time for the following courses:
- Prawns with Potato Salad, Tomato Jelly and Avocado Cream
- Wok fried chicken breast in black bean sauce
- Chocolate and coffee cream, caramel mousse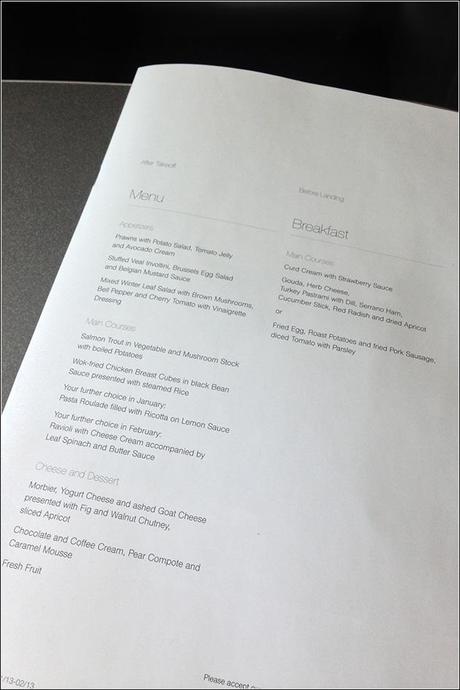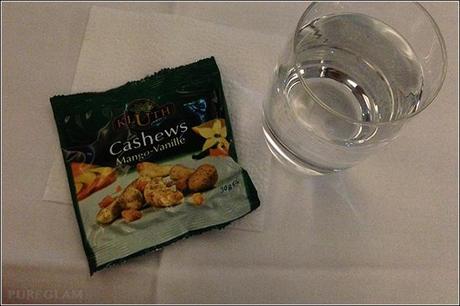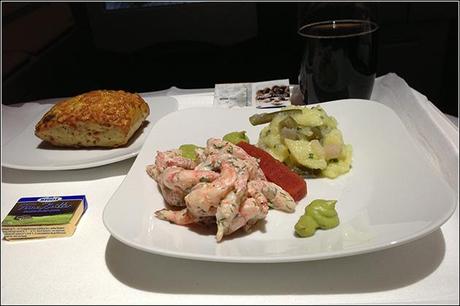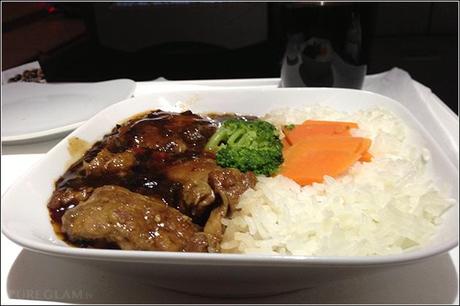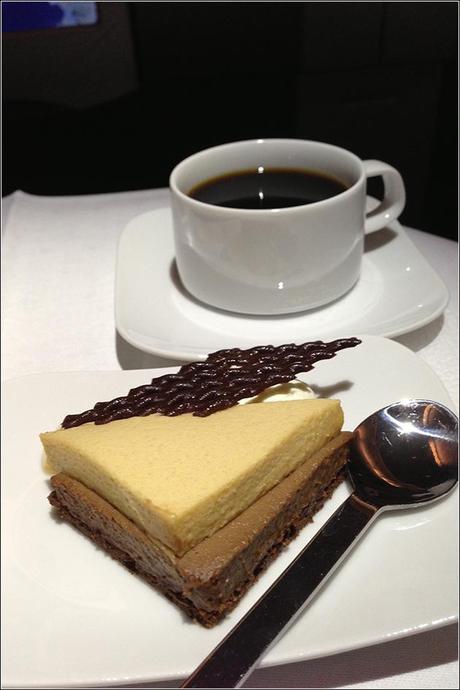 Comparing with the Lufthansa flights from Munich or Frankfurt to Los Angeles or New York, there is no change on the food on board or on the service during the flight – it is still the same…
As I found the time to sleep nearly 6 hours on the flight, one of the big advantages on evening flights – and a very silent cabin of the A380 by Airbus, ready to wake up for breakfast.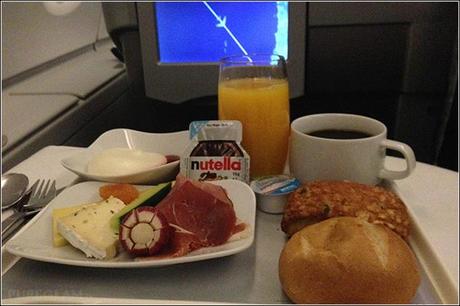 Two choices again (and frequent travellers on LH flights know, not to select the microwave egg

)
- So I selected the plate with bread, cheese and Nutella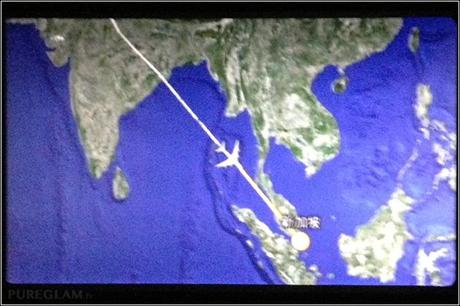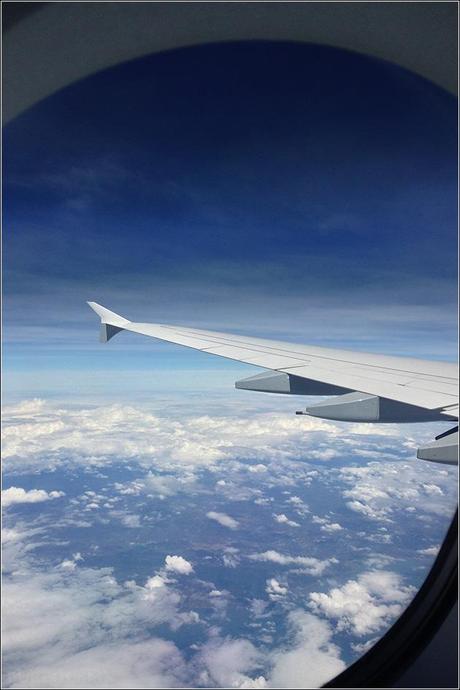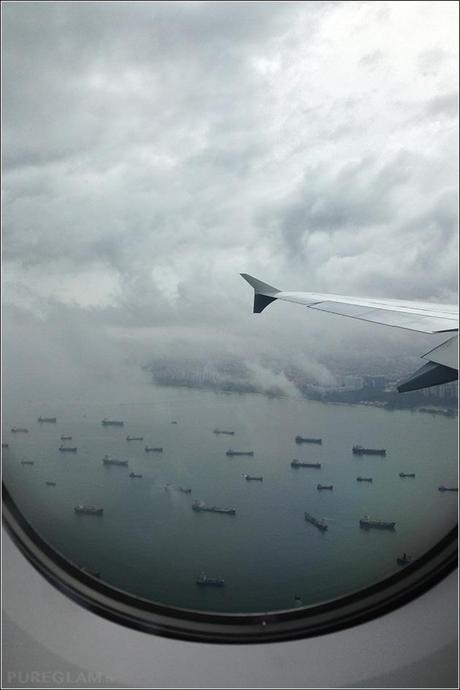 Final 30 minutes to Singapore airport were with a bit of turbulences (same on the first 30 minutes after start), but still o.k. – arrival in Singapore was a few minutes before estimated arrival time on a real rainy day (but that was what I expected). Lufthansa plane will arrive at Terminal 1 at Changi Airport and it is still a beautiful Terminal (compared to many other US and European Airports) and immigration is really quick. (All lines open – waiting time also after a lot of arrivals below 5 minutes). Baggage was already on the belt – so just grabbing your belongings – leaving through customs and looking for the first UOB Foreign Exchange.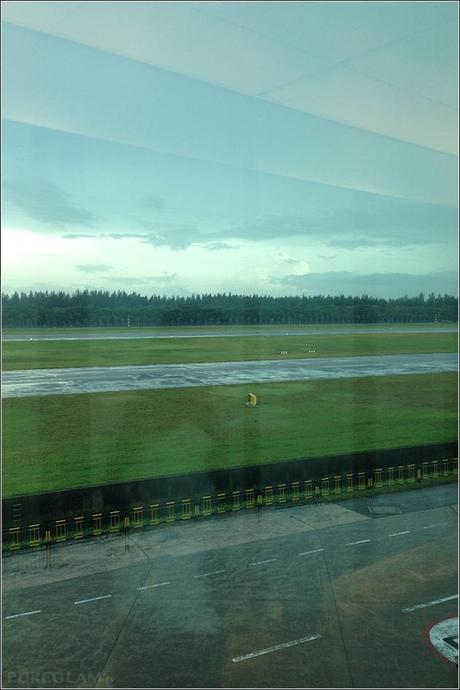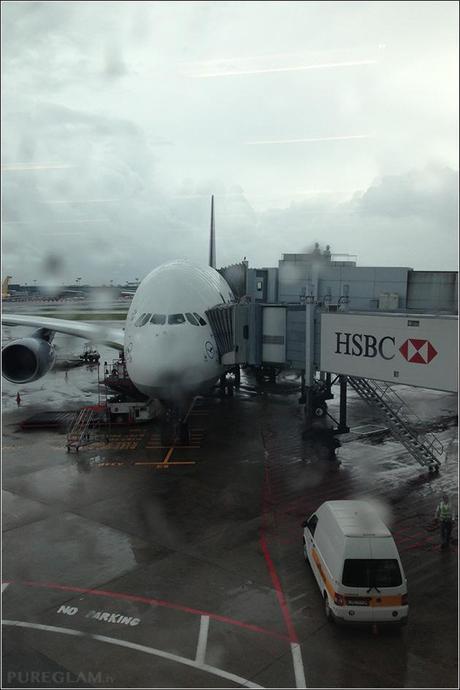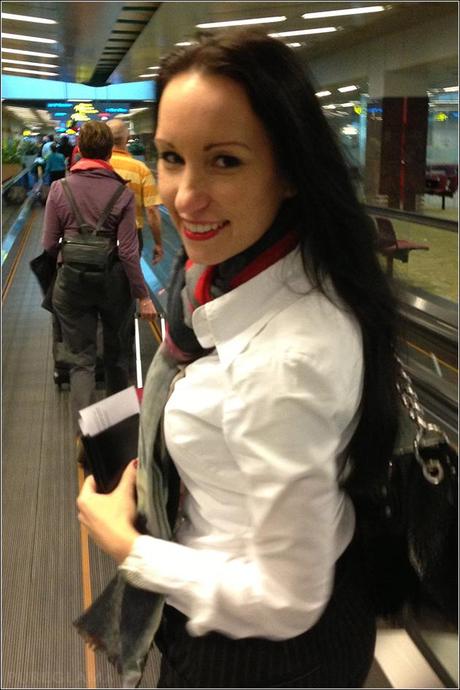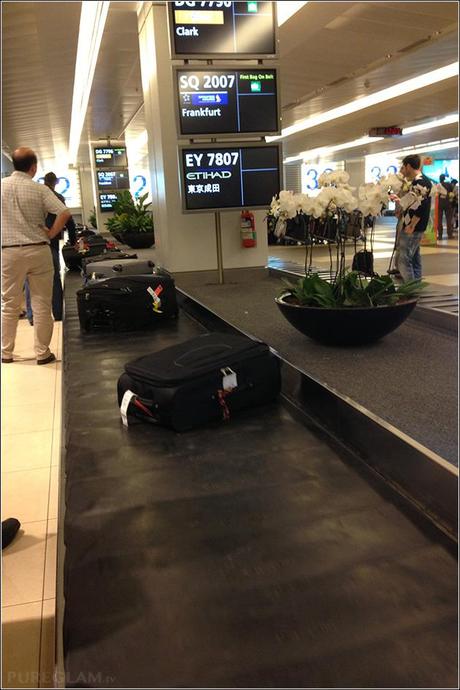 UOB offers you phonecards for your cellphone, and I so I wanted to  buy my first Singapore sim card for my Iphone (rate is usually approx. 25 SG$ / Iphone5 nano sim card at Singapore Changi Airport is approx. 50 SG$ including data packages for up to 1GB) – please make sure to go to an ATM before (exchange rates are better) and you might have to pay fees when using credit card at UOB offices. They will replace your existing SIM card and give you detailled instructions how to handle your new card. Within 10 minutes new sim card in Singapore for my Iphone, luggage arrived completely and taking a taxi to a hotel close to Orchard Road (rate is approx. 20-30 SG$) – service is very friendly, taxi operator will also try to offer you a limousine to Orchard Road for nearly double the price with a bit more space – but taxi is fine and rate is brilliant.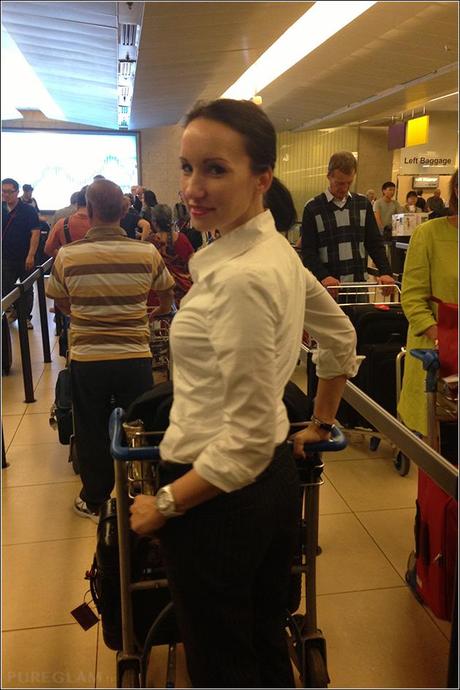 My personal opinion and review:
Flying with the new A380 by German Lufthansa might be a good experience, but you cannot compare the service and space you have on board with Singapore Airlines, Etihad, Emirates, Qatar Airways or also one of my favorite airlines Thai Airways. Also the two Lufthansa partner – Swiss Airlines and Austrian Airlines offer a better catering on board and depending on the plane also a much better business class. When comparing the prices Lufthansa will offer you to the airlines above, I can recommend to select another airline. 
The new Lufthansa Lounges at the Z-Gates in Frankfurt are very nice and the new gate area is well done, but that shouldn't be the reason, why you select a Lufthansa flight to Singapore or from Frankfurt.
For me – I redeemed points of my Miles & More account (collecting most times on other airlines

) – so I just had to pay taxes and fees for this flight and it was o.k. – if you had to pay the regular fee – I recommend a different airline (also from Star Alliance if possible)
Final result of the Lufthansa A380 flight – compared to other airlines on that route and the regular price (3of5)
 The reviews about my flights with Thai Airways from Singapore to Bangkok and with Austrian and Tyrolean Airlines from Bangkok to Vienna and to Munich will follow during the next days…