I'm so excited to share my 5 things to do in Amsterdam with you guys. It was my first time visiting the Dutch city and honestly, I have no idea why it took my 27 years to visit the city for the very first time. Considering the fact that it's only a 4h car drive away from my home and I love to travel that's pretty odd. Last year, before heading of to Hong Kong, I already planned visiting Amsterdam, which somehow didn't turn out. However, the drama turned into a love story with a happy end during the past week. In a heartbeat I fell in Love with the Dutch Capital.If I would need to describe Amsterdam in 3 words, these would be: beautiful, free, slowed down. I think Paris and London just got company in being my favorite cities in Europe - and the new kid on the block is definitively Amsterdam.
You can't believe how sad I was when we arrived in Amsterdam on Friday night and it was simply pouring down, same situation Saturday morning. A boat tour around the "Grachten", biking around town and getting lost in the tiny street around those picturesque houses suddenly seemed so far away. Eventually around midday the grey skies broke open and some sunshine emerged, turning Amsterdam into an even prettier place. We stayed at Hotel V Fizeaustraat, a bit outside of town with an absolute stunning interior and a huge room, but before I'm sharing a hotel review with you, there are 5 things to do in Amsterdam, including things to see & eat, you shouldn't miss.


5 things to do in Amsterdam
1. Explore Jordaan & 9 straatjes
Amsterdam is probably one of the most picturesque cities in Europe besides Paris & London. Every corner is just beautiful, the little houses have so much character and the canals make it just perfect. While the city center is similar to pretty much every big European city, try to get lost in Jordaan & 9 Straatjes. We stopped by at Coffee & Coconuts (thanks for the lovely recommendation by one of my readers), but we didn't get lucky enough to get a table in time. However, I would definitely come back to Coffee & Coconuts the next time around. Plus, the entire neighborhood De Pijp looks very hip and I saw a ton of other places that seemed really nice - so it's definitely worth a visit.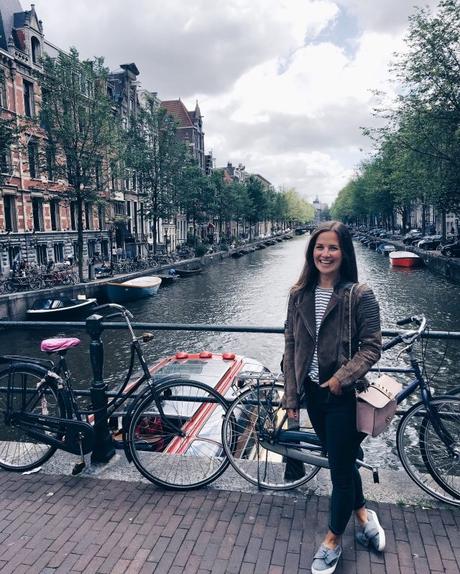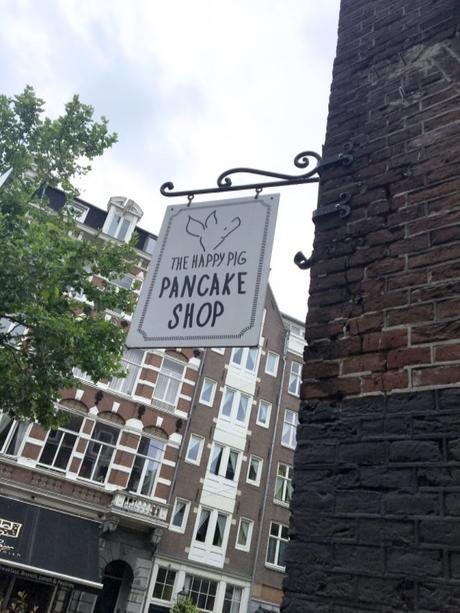 2. Eat pancakes
Pancakes are just as much part of the Netherlands as the canals in Amsterdam. My dear friend Laura, who's a regular Amsterdam visitor and a real foodie just like me, shared a huge list of to do's for Amsterdam with me right before I left and recommended to have pancakes at The Happy Pig. Since I trust her with my life, I knew this place will not disappoint - and it did not. Repeat after me: pancake with bananas and chocolate hazelnut sauce, please. You can thank us later.
The Happy Pig (€€)
Rosmarijnsteeg 12
1012 RP Amsterdam
10am - 6pm
(super heavy & a bit pricey - one portion is definitely enough for 2!)
It sounds cheesy, well it is cheesy, and very touristy, but there is absolutely no better way to explore the city than by doing a canal cruise. We did our tour with Luxury Cruises as they served drinks on board and we had an amazing time on board cruising along the small canals and various neighborhoods. It's probably been my favorite activity while in Amsterdam and I would do it over and over again. You'll see so much of the city, learn about its history and how the entire canal system works. Apparently, Amsterdam has around 4000 bridges.
no need to book tickets in advance - 15€
Living in London is fortunate because you make friends all over the world, which comes in handy when you travel. A dear friend of mine recommended Venus & Adonis - a look at the website & the menu was enough to convince me. The food was amazing and the bottle of house red was delicious and went very well with our meat. Nothing for vegetarians or vegans, but perfect for everyone else (read = steak lovers). It's tucked away on the Princengraacht, very cozy and had excellent service.
Some might find it weird, but the red light district is just part of Amsterdam and if you have the chance to visit it, you shouldn't miss it. While it was the weirdest thing for me to see so many girls offering themselves in a window, the entire neighbored gets super lively and has a lot of fun places to go out to, have a drink & dance.