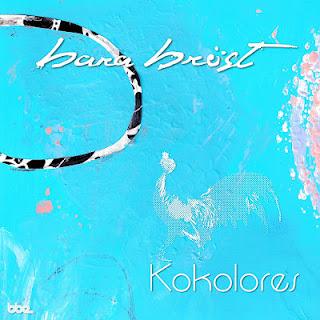 Bara Bröst haben vor einigen Wochen, genauer gesagt am 09.07. ihr Album Kokolores auf dem Londoner Label BBE Records veröffentlich. Ein mit 14 Track gut abgestimmtes Album mit housigen Pop ist es geworden.
BBE Records 221
Wenn es ein Album gibt was ich in den letzten Wochen immer wieder gehört habe, dann ist es Kokolores von Bara Bröst. Die beiden Berliner Herren haben ein sehr reifes, abwechslungsreiches und vor allem gut gelauntes Album veröffentlicht. Das Geheimnis der beiden ist schnell gefunden, bekommen wir meist auf Alben nur Tracks geboten, haben Bara Bröst Lieder produziert, die von Anfang bis Ende funktionieren und mit einer ordentlichen Portion guter Laune ausgestattet sind . Die Vocals passen in das Klangbild und machen beim zuhören Spaß, denn die Vocals schaffen es auch auf emotionaler Ebene zu überzeugen, da man ihnen die Stimmung anhört. Die Tracks sind vom Compiling super aufeinander abgestimmt aber klingen nicht gleich. Melodien und der Gesang prägen sich schnell. Die Tracks sind sowohl Club und als auch alltagstauglich. Mein persönlicher Favorit ist Juicy Lady.
www.facebook.com/barabrostmusic
www.barabrost.eu
Label:BBE Records
Release number: BBE221
Artist: Bara Bröst
Title: Kokolores
1. The Gunman feat. Conan
Kowalski
2. Juicy Lady feat. Capey Cash
3. My Mess Part 1 feat. Igid Pop
4. My Mess Part 2 feat. Conan Kowalski
5. Let Go feat. Domonique
6. Jimmy feat. Conan Kowalski
7. Tiger Milk
8. Like We Do feat. Capey Cash
9. Faces feat. Conan Kowalski
10.
Tony Curtis
11. Aerobic feat. Igid Pop
12. All Over Now feat. Domonique
13. Stupid Little Story Of A Bass Drum feat. Conan Kowalski
14. Meli Melo feat. Igid Pop
2012 sees the release of Bara Bröst's second album on BBE Records
Benjamin Quint and Markus Schwarzbauer aka Bara Bröst are looking forward to the summer: warm and melodious sounds dominate the tracks on the new album. "Kokolores" is a German word for 'nonsense", but pure nonsense is not the (only) theme of this album… the word derives from the sound of a rooster's crow and it was used to describe the sometimes brilliant sometimes tedious chatter of the cocaine-driven hipsters/bohemians of
Berlin
in the Golden Twenties…
Working with musicians Jonathan Moore (piano), Michael Neuber (drums) and Philipp Stevens (guitar) was, for Bara Bröst a very fruitful creative exchange.
As it was for the songstress Domonique and the singers Conan Kowalski and Capey Cash all the featured artists had the chance to enrich the tracks with their ideas. "In-your-face" is easy – but the Bara Bröst guys are looking for more subtle ways to reach
the audience
. That's the artistic credo the former class mates now 'House' mates stick to. This is also true for their critically acclaimed live shows, which grew the audience for their debut album "Elephancycle" and will do for their second album "Kokolores".
The result of this hard work is hand crafted, meticulously arranged, percussive Deep- and Funkyhouse. The stylistic spectrum ranges from complex Pop tracks to melody driven Disco hits. While listening to Bara Bröst's new album you can already sense the coming of summer: dancing the night away… in other words: the lightness of being!
Released by: BBE Records
Release/catalogue number: BBE221
Release date: Jul 9, 2012