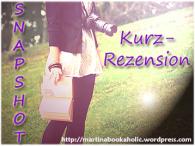 .
Snapshots sind kurze Rezensionen, um einen Einblick zu geben, wie mir ein Buch generell gefallen hat.

'Ten Tiny Breaths' by K. A. Tucker


.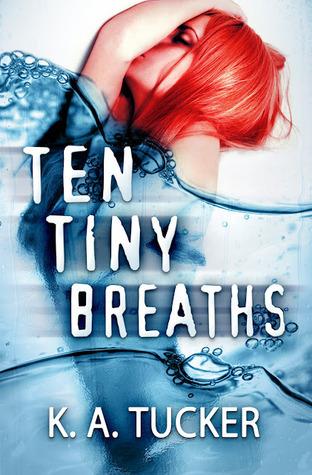 (© goodreads)
Inhaltsangabe: Kacey Cleary's whole life imploded four years ago in a drunk-driving accident. Now she's working hard to bury the pieces left behind—all but one. Her little sister, Livie. Kacey can swallow the constant disapproval from her born-again aunt Darla over her self-destructive lifestyle; she can stop herself from going kick-boxer crazy on Uncle Raymond when he loses the girls' college funds at a blackjack table. She just needs to keep it together until Livie is no longer a minor, and then they can get the hell out of Grand Rapids, Michigan.
But when Uncle Raymond slides into bed next to Livie one night, Kacey decides it's time to run. Armed with two bus tickets and dreams of living near the coast, Kacey and Livie start their new lives in a Miami apartment complex, complete with a grumpy landlord, a pervert upstairs, and a neighbor with a stage name perfectly matched to her chosen "profession." But Kacey's not worried. She can handle all of them. What she can't handle is Trent Emerson in apartment 1D.
Kacey doesn't want to feel. She doesn't. It's safer that way. For everyone. But sexy Trent finds a way into her numb heart, reigniting her ability to love again. She starts to believe that maybe she can leave the past where it belongs and start over. Maybe she's not beyond repair.
But Kacey isn't the only one who's broken. Seemingly perfect Trent has an unforgiveable past of his own; one that, when discovered, will shatter Kacey's newly constructed life and send her back into suffocating darkness. (Source: Goodreads.com)
..
Meine Meinung zum Buch:
Auf das Buch habe ich mich lange gefreut, weil ich mir davon eine mitreißende und knisternde New Adult Contemp. Romance – Geschichte erhofft habe. Zum Teil habe ich das auch bekommen und besonders der Anfang hat mir gut gefallen, sowie war die Hauptfigur Kacey meist auch nachvollziehbar. Aber trotzdem komme ich später noch zu ein paar Kritikpunkten.
Besonders der Beginn war sehr traurig und melancholisch angehaucht und hat mich mitgenommen. Auch die Begegnung mit Trent war interessant, wobei mich hier diese 'instant love' genervt hat, genauso wie der weitere Verlauf, indem er zu ihr in den Stripclub fährt, wo sie kellnert und noch mehrere solche Begebenheiten, die mich zusammen genommen gestört haben.
Trotz der ersten guten Hälfte, hat es mir im späteren Verlauf immer weniger gefallen und das meiste war von Anfang an klar und wieder einmal vorhersehbar von der ersten Seite an und am Ende lag ich damit sogar fast komplett richtig, was ich nur als schlecht bewerten kann, denn ein wenig Überraschung möchte ich schon in einem Buch haben.
Die Figuren waren okay, obwohl auch manchmal etwas zu extrem in ihrem Verhalten. Außerdem war es mir zu übertrieben, dass Trent wieder als ein sexy bad boy präsentiert wurde, obwohl er nur nett zu ihr war – aber ja, er hatte ein Motorrad und ein Tattoo – klar das er ein bad boy ist. Okay *Kopf schüttel*.
Das Ende war mir dann viel zu schnell da und zu einfach gestrickt für die schwerwiegenden Probleme die Kacey gehabt hat. Jahrelang trauert sie und kommt mit ihren Problemen einfach nicht klar und dann diese leichte Lösung, die sie die ganze Zeit haben hätte können. Außerdem war es einfach nur creepy, wie Trent sie gestalkt hat und damit bin ich überhaupt nicht klar gekommen. Noch dazu die Absicht, die er von Anfang an hatte, war einfach nur falsch, es hat sich nicht richtig angefühlt.
Daher auch nur die 3 Punkte, obwohl ich am Anfang ziemlich schnell darin versunken bin. Trotzdem werde ich diese Reihe weiterverfolgen und ich plane auch die Geschichte von ihrer kleinen Schwester Livie zu lesen.
Quotes: (© Tucker)
"Just breathe," my mom would say. "Ten tiny breaths … Seize them. Feel them. Love them."
Every time I screamed and stomped my feet in anger, or bawled my eyes out in frustration, or turned green with anxiety, she'd calmly recite those same words. Every single time. Exactly the same. She should have tattooed the damn mantra to her forehead. "That makes no sense!" I'd yell. I never understood. What the hell does a tiny breath do? Why not a deep breath? Why ten? Why not three or five or twenty? I'd scream and she'd simply smile her little smile. I didn't understand it then. I do now.
"Our past isn't who we are. I'm me and you're you and that's who we need to be," Livie reminds me. She leaves and I know exactly what she's thinking. I'm not Kacey Cleary anymore. I'm an empty shell who cracks inappropriate jokes and feels nothing. I'm a Kacey imposter.
Trent starts to speak and stalls several times. "When you left your place with that goon, Livie stormed out and chased me around the commons, screaming at me that I broke your heart. Then she hauled back and punched me, and told me I better go and make you happy again. Forever."
My head flops down on Trent's bare chest as I laugh. "I think my temper may finally be rubbing off on her." I replay her words in my head as I nuzzle against Trent, inhaling his scent. "Forever's a long time." Trent's arms squeeze around me. "Forever's not long enough when it's with you.