Starting the week with a special CD/DVD combination I found today in my mailbox – the new album by Rihanna called "Unapologetic" and after playing the new CD a few hours in the office and also in my car – I wanted to give you a short review.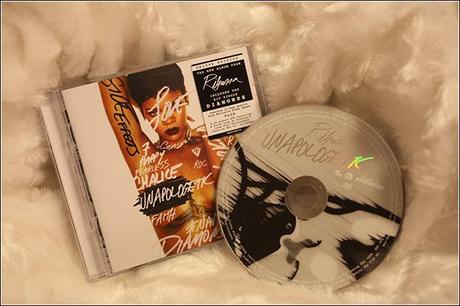 I really like the new album, the song "Diamonds" is already on every chart worldwide – and I am sure, you will also find your personal favorits. On the first impression – I really enjoy "Jump", "Right Now – feat. David Guetta" and most of the rest is a 9 of 10… – so if you are a fan of RnB and like the style, the show and the music of Rihanna, the new album "Unapologetic" is a must have…
I decided for the Deluxe Album (usually I prefer ITunes-Downloads or Amazon-Downloads) but I was also interested on the Bonus-DVD, because it contains approx. 20 minutes of the last Rihanna Tour "Loud" from the O2 Arena in London and I watched the concert last year a few days before christmas live in London… it was  a great show and a great add-on on this special CD/DVD combination.
For all of you who didn't get an invitation to her 7-7-7 concerts during the last 7 days in 7 cities and also want to go to the next Rihanna Concerts and the "Unapologetic" tour here are a few special dates…
USA & CANADA
March 08th – Buffalo, NY First Niagara Center
March 10th – Boston, MA TD Garden
March 12th – Baltimore, MD 1st Mariner Arena
March 14th – Philadelphia, PA Wells
March 18th – Toronto, ON Air Canada Centre
March 21st – Detroit, MI Joe Louis Arena
March 22nd – Chicago, IL United Center
March 24th – St. Paul, MN Xcel Energy Center
March 25th – Winnipeg, MB MTS Centre
March 27th – Edmonton, AB Rexall Place
March 30th – Calgary, AB Scotiabank Saddledome
April 01st – Vancouver, BC Rogers Arena
April 03rd – Seattle, WA Key Arena
April 06th – San Jose, CA HP Pavilion
April 08th – Los Angeles, CA Staples Center
April 11th – San Diego, CA Valley View Casino Center
April 12th – Las Vegas, NV Mandalay Bay
April 15th – Houston, TX Toyota Center
April 16th – Dallas, TX American Airlines Center
April 19th – Tampa, FL Tampa Bay Times Forum
April 20th – Ft. Lauderdale, FL BankAtlantic
April 22nd -  Atlanta, GA Philips Arena
April 29th – Washington, D.C. Verizon Center
May 02nd – Ottawa, ON Scotiabank Place
May 4th & 05th – Brooklyn, NY Barclays Center
EUROPE
May 26th – Bilbao, Spain – BEC
May 28th – Lisboa, Portugal – Pavilhao Atlantico
June 01st – Barcelona, Spain – Palau San Jordi
June 02nd – Montpellier, France – Montpellier Arena
June 03rd – Lyon, France – Halle Tony Garnier
June 05th – Antwerp, Belgium – Sportpaleis
June 08th – Paris, France – Stade de France
June 10th – Cardiff, Wales – Millennium Stadium
June 12th – Manchester, United Kingdom – Manchester Arena
June 15th – London, United Kingdom – Twickenham Stadium
June 17th – Birmingham, United Kingdom – LG Arena
June 20th – Sunderland, United Kingdom – Stadium of Light
June 23th – Amsterdam, Netherlands – Ziggo Dome
June 26th – Cologne, Germany – Lanxess Arena
June 29th – Zurich, Switzerland – Hallenstadion
July 02nd – Berlin, Germany – O2 World
July 09th – Vienna, Austria – Stadthalle
July 20th – Helsinki, Finland – Hartwall Arena
July 22th – Stockholm, Sweden – Globen
July 25th – Oslo, Norway – Telenor
July 26th – Bergen, Norway – Bergenhus Castle
I will try to update this list frequently, also with the possible locations for Asia (especially Bangkok, Tokyo, Shanghai, Kuala Lumpur) and also for Australia and New Zealand.
I am sure I will also try to visit one of the following events – my current favorite is Berlin – the O2 World as I am not the biggest fan of Open Air Stadium Tours… – but I am sure, I will visit one Open Air Concert in the next year…
The rumours here in Munich already confirmed – Robbie Williams will come back to Germany and many other European Cities for the Robbie Williams 2013 tour – in Germany locations might be Jahn-Wiesen Cologne and Olympic Stadium Munich (where Robbie Williams got the record with three totally sold out concerts at Olympic Stadium in 2006)
Wishing you all a great time, whereever you visit a concert of Rihanna, Robbie Williams or your favorite music star… have fun! Tomorrow back to fashion, travel and lifestyle on my blog…