I will review this collection in color group and not in finishing because there's such an obvious difference between the bright, sunny-kisses colors and the muted, neutral shades of the second part.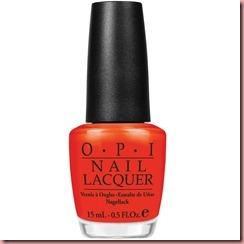 A Roll in The Hague: sun-lit orange, crème
A vibrant, sun kissed bright orange. Very bold and vivid, you have to love this color, I do!!! The perfect orange for the summer. No compromises, no commitment, just orange. Pure and simple.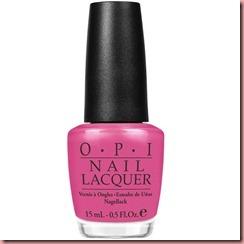 Kiss Me on My Tulips: shocking pink, creme
Again a vibrant, bright color. If you have been in Holland you can imagine how colorful and bright it's up there. Although I was a couple of time up north, I can't remember to have seen a Tulip so bright as this lacquer. Or maybe this kind of Tulip has yet to be created. Two coater, gorgeous.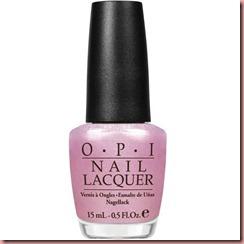 Pedal Faster Suzi! pale pink, shimmer
Full with silver-blue fine shimmer, this pale pink is lightly sheer. For a full coverage you need three to four coats. I don't mind if you see through the lacquer, in fact I like the silvery effect on my nails with this stunning pink. Very, very nice.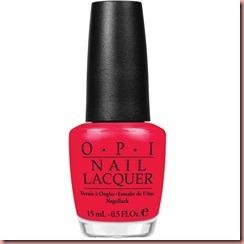 Red Lights Ahead… Where? bright coral-red, creme
Ok, the name says it all here! Red light, where? On you nails, where else! I Love this coral-red and will wear it on my toes this summer. Just the right shade for brown bronzed feet and of course glowing brown hands. I just wonder: if OPI brings out such bright color for spring, what will happen with the Bright collection? As shabby as last year Pirate of the Caribbean collection?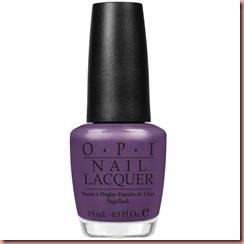 Dutch 'Ya Just Love OPI? dark purple, shimmer
It seems that this amazing color is a dupe of Zoya Tru, according to some blogger and to Google. Even way this color look like, I love it. For me it's something new. A dark grape purple with a fine gold shimmer, in my eyes more a winter color, but it can work in spring/summer to.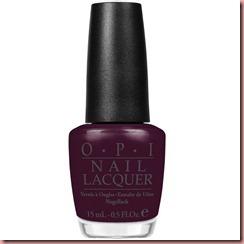 Vampersdam: dark plum-raisin purple, shimmer
I don't know about you, but I am not so in to the dark shades for the hot season. I love the sun way too much to put on such a creepy shade in spring, and for the summer I want brightness and sunshine, not dark night kind of color. Anyway, although it's not my color, this dark plum-raisin purple is still very nice. The fine purple-gold-brown shimmer gives this shade a frosty touch
Opacity and Texture:
The "red-purple" in this collection are high pigmented with outstanding coverage to the creams and a bit less on the shimmers. Nevertheless they are all fabulous in texture. I tried all of them with two coats and for me was enough. The creams are a dream to apply: smooth, not to thing or to runny, just perfect. The shimmer are more challenging; Dutch'Ya Just Love OPI? has the best coverage, the light Pedal Faster Suzi! can afford tree to for coats for a full opacity and Vampersdam needs definitively tree coats to archive the best of it.
The bottom line:
OPI is still amazing. After the boring "Touring America" muted-greys collection I am happy to see that the Brights in this collection are very promising. The purples are very nice, the pinks are both bright and sweet and the reds are the dream of this collection.
I am positive surprised to see new shades (Dutch'Ya Just Love OPI?) and old well-known colors (A roll in The Hague, Red Lights ahead…where?) and love this part of the Holland Collection. "Goed uitgevoerd" =well done!
Launch: Official launch in Switzerland is February 15th
…and remember, have always nice manicured hands, think pink and just stay gorgeous as you are!!
Please consider that the colors can differ from the reality depending on the resolution and calibration of you screen.
Spezialisiert auf die Bedüfniss natürliche Nägel. Specialized on natural Nails.