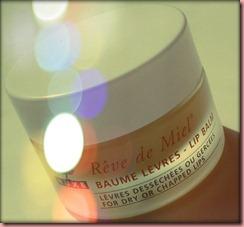 I always have a lip balm in my purse, since I was a teenager or for better understanding… since I carry a purse with me. There are different types of lip balm on the market: the classic stick, the tube and the pot. I believe the stick is the most purchase of the tree although the pot has much more product for the price, and the tube is generally more fluid.
There are time when the lips are cracked in the angles, like after eating very salty food or when you yawn to much and the mouth open up much more than normal. These cracks are painful and arduous to care, and since I have this type of cracks every now and then I decided to buy a lip balm that can help my lips.
So I purchased Nuxe Rêve de Miel, ultra-nourishing lip balm and I wanted to review it since is such a good product.
I love the packaging! Is simple and environment friendly. No waist of paper for product information and the glass pot is small enough to bring it with you no matter where you hidden.
The texture is thick, creamy and very nourishing; you really don't need too much because it's stretch out very well on the lips. I use it day and night time. After applying my day cream I massage it in the lips and when it's time for my lipstick it doesn't smear or smudge. It has a gold honey color and smells like grapefruit and honey.
Normally I have my lips cracks for about 5 days until they heal, not with this balm. It took only 2 nights and the crack was gone! For god!
I am definitely buying another pot for home, since this one is in my purse.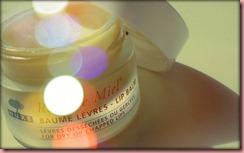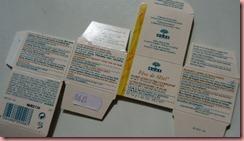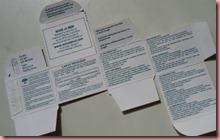 Packaging:
- The box has all the information printed in the in and outside of the carton. You can open the pre-cut folding carton recycle like paper.
- No supplementary instruction paper in the inside.
- The pot is matt glass with a plastic lid.
Active Ingredients:
- Beeswax, Plants oil, sweet almond, shee butter, honey, grapefruit extract.
Content and Price:
- 15g 0.52 OZ. NET WT.
- CHF 17.90 (CHF 1.19 pro gram)
- € 14.90, GBP 12.05, USD 18.60 (Currency 09.06.2012)
Rating:

…love, Melanie!