KLAUS BEYER COVERS
OSAKA
POPSTAR:
DIE SHAOLIN AFFEN EP
IN STORES JULY 17TH
PRE-ORDER NOW!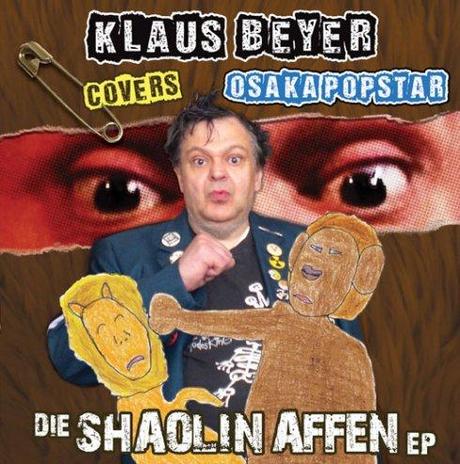 KLAUS BEYER COVERS OSAKA POPSTAR
In one of the most unusual and eclectic musical team-ups in contemporary punk-rock, German outsider artist Klaus Beyer, infamous worldwide for his off-beat, lo-fi, cover versions of Beatles classics, (often utilizing the original music track), now sets his sights—and sounds—on inimitably crooning adapted German language lyrics to the anime inspired punk-pop stylings of NYC's Osaka Popstar.
Pressed in a physical edition limited to 1,000 7-inch EPs worldwide, the blind assortment offers a 50/50 chance at finding a "Monkey-brown" or "Banana-yellow" vinyl record inside.
All pre-orders at the Misfits Records Online Store (or the Osaka Popstar Online Store) can specify the color of their choice, AND at a price below you'll find in stores!
Also available for pre-order is the ultra limited "Monkey/Banana Mash-Up", a brown/yellow transitional vinyl blend. ONLY 100 pcs worldwide! Not sold in stores, order exclusively from Misfits Records Online—while supplies last!
Those who find themselves quickly endeared to the cult of Klaus Beyer join a discerning fan base that includes Osaka Popstar's John Cafiero himself, and the likes of Sonic Youth's Thurston Moore.
The same lo-fi techniques applied to Beyer's 13 year mission of covering the entire Beatles catalog stands true to form. Utilizing the original instrumental music beds of "Osaka Popstar & the American Legends of Punk" (featuring guest appearances in the backing band by members of theMisfits, Ramones, Black Flag, & more), Beyer delivers an oddly appealing & wholly unusual vocal performance sure to please fans of his eccentric Beatles work, the "Adult Swim" generation, & those with an appreciation for the truly unusual.
Title track "Shaolin Affen" even boasts a music video shot on Super 8 film by notorious cult director Jörg Buttgereit (Nekromantik, Der Todesking, Captain Berlin vs. Hitler), transforming 60-year-old Beyer into an 80's punk. The video & the EP itself was produced in association with Frank Behnke, former Mutter guitarist, and documentary filmmaker whose credits include the making of David Lynch's film "Blue Velvet".
Digital EP featuring three music videos available worldwide @ iTunes starting July 17th, 2012.
Click Here to watch the "Shaolin Affen" music video online now.
Beyer's work isn't limited to any single form of media either. His visual artistry, (sold & exhibited in galleries worldwide), materializes here in the form of original illustrations representing the songs on the EP's sleeve art. These illustrations interact with photos by Behnke and Buttgereit, to visualize the surreal world of Klaus Beyer and "Die Shaolin Affen" EP.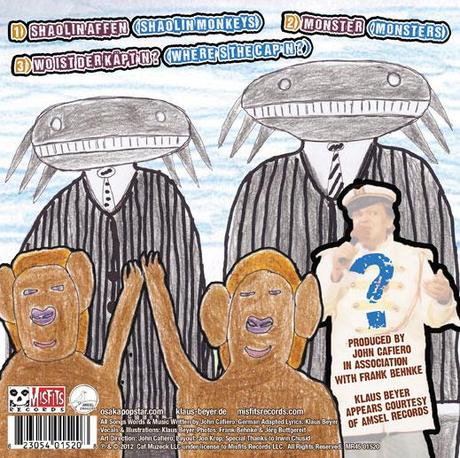 Track Listing:
1.) Shaolin Affen (Shaolin Monkeys)
2.) Monster (Monsters)
3.) Wo ist der Käpt'n? (Where's the Cap'n?)
Order individually, or pick up all three in the Autographed Collector's set and save! Collector's guarantees you:
(1) "Monkey-Brown" 7-inch
(1) "Banana-Yellow" 7-inch
(1) "Monkey/Banana Mash-Up" Online Exclusive Vinyl variant, (not sold in any store—only 100 pcs available worldwide)
PLUS: (1) Signed 5″ x 7″ full-color, glossy card, (featuring "Die Shaolin Affen EP" sleeve art), suitable for framing and personally autographed by Klaus Beyer, John Cafiero (Osaka Popstar), Jörg Buttgereit (Director of the "Shaolin Affen" music video, horror cult classic "Nekromantik" & more), and Frank Behnke (Producer and ex-Mutter guitarist).
Get all 4 items in the collector's set for less than the price of the three 7-inches when purchased individually!
Each pre-order includes instant MP3 download of the title track "Shaolin Affen" (aka "Shaolin Monkeys") + MP3s of 2 additional tracks to follow on the release date of July 17th.