Vattanac Capital Tower is designed in the shape of a dragon with particular attention to the Chinese art of placement for maximum fortune called feng shui.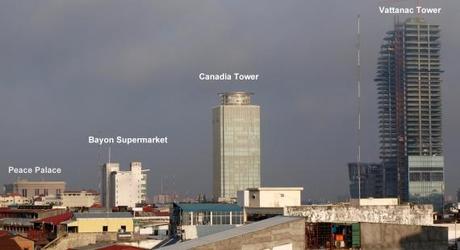 Vattanac Capital Tower – The tallest building in Cambodia, © by awmeier.
A ceremony marked the substantial completion of the structure of the 39-storey building facing the riverside.
The Vattanac Capital Tower building  is shaped like a dragon for good luck. The shape of the tower, the way it curves down into the podium and the small building on the back represents the pearl on the dragon and the way the dragon faces the river is also very important. That's why it is oriented toward the river, for good luck. Within the building there are no floors with the number four, no fourth or 14th or 24th.
The tower had reached so far a height of 172.7 metres with 14.6 metres remaining of high steel structure, which will complete for a total height of 187.3 metres.
The building would have 134,000 square metres of space including Grade A offices, luxury retail and world-class serviced apartments.
The podium area of the tower will contain 11,500 square metres of premium retail space and levels 25 to 33 will contain about 150 serviced apartments.
The first phase of the project is scheduled for completion at the end of this year.
Source:
11.569925
104.929635