Capital rotisserie ban has heads spinning.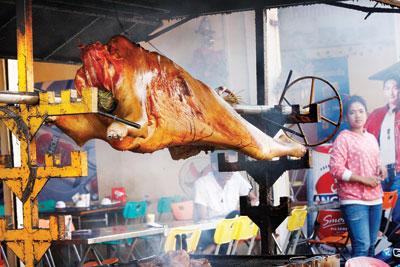 The familiar sight of cow torsos slowly turning on rotisseries in front of Phnom Penh's restaurants and beer gardens will soon be a distant memory if government officials have their way.
As of yesterday, however, owners of outdoor dining establishments in the capital were continuing to grill cows in front of their shops despite a notification issued by the Council of Ministers last month that advised people not to grill cows publicly or openly at restaurants and markets.
The notification, signed on January 10 by Council of Ministers secretary of state Sim Vanna, states that grilling cows in public or in front of shops displayed a "cruel activity" which was in contravention of Buddhist principles of non-violence.
The notification from the Council of Ministers was issued after a congress in Phnom Penh in December at which Buddhist monks requested that the government take action on the grilling of cows in public streets.