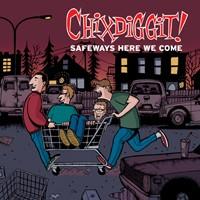 chixdiggit-safeways-here-we-come
After a number of years away from the limelight, these Canadian pop-punks make a dramatic return to the world of music. I thought that they would have possibly matured and found that they had no more use for songs about girls, girls and more girls. Oh, how wrong was I?!
This seven-track EP (or mini-album?—you decide) opens with…a song about a girl. "Miso Ramen" is classic Chixdiggit!—KJ Jansen's distinctive vocals over hook-laden, powerful pop-punk with a buzzsaw guitar sound that is immediately a joy to the ears. With the excellent lines "There's an airport in Japan that's not on the mainland / It's on an island in the sea put together by folks like you and me," it shows that time in the wilderness has done nothing to diminish the humour/fun/amusement value of the band.
With an ode (I think it's derogatory!) to a haircut, "Swedish Rat", next, it shows that the obscure and unusual keeps cropping up as song titles/themes for this quartet. Keeping this going is "Since You Got a Dog", a song about a friend of singer KJ's, who since obtaining a dog seems to be left out in the cold due to people not caring for the mutt.
"Found Love" and "Hot 'n' Horny" are songs about girls, as one would expect, with the latter proving that Chixdiggit! are still base teenagers at heart (although lustful feelings should not just be for the young!).
"I Hate Basketball" had me laughing out loud. I'm not sure how this will go down with fans of the sport but I find it hilarious. Basketball seems one of the dullest sports on earth, so I salute Chixdiggit! for this song.
Finally, "I Hope Things Will Turn Around" brings the album to a satisfactory conclusion and one which is on a high, as this is the best song on the album and, strangely, the one which contains the least amount of humour. One might imagine that Chixdiggit!'s return could be fairly uninteresting, but that's not the case—they've got back on the horse and do what they do best, which is to produce some memorable pop-punk tunes for all to enjoy.
http://www.punknews.org/bands/chixdiggit