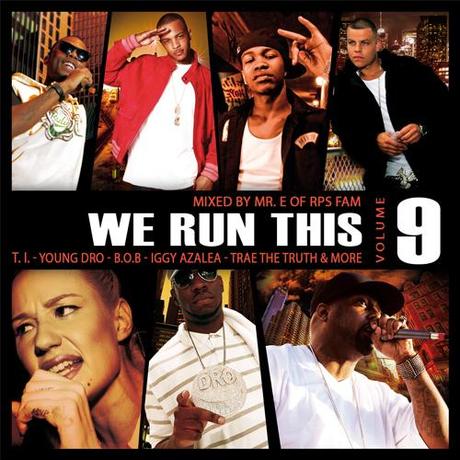 Mr. E of RPS Fam hat vor Kurzem Vol. 9 seiner "We Run This"-Reihe rausgebracht. Nachdem er hierfür in der Vergangenheit bereits solch bekannte Namen wie Talib Kweli, Mobb Deep und Ace Hood verpflichten konnte, arbeitet er diesmal mit T.I.s Label "Grand Hustle". Der deutsche DJ und Produzent mixt hier 29 der neuesten Tracks von T.I., B.o.B, Young Dro und den Neuen bei Grand Hustle: Trae The Truth, Iggy Azelea & Chip!
Außerdem gibt´s natürlich auch exklusive Songs wie "Dynomite", "Atlanta Smokers Only" oder T.I.s neue Single "Ball" mit Rap-Heavyweights wie Lil Wayne, Juicy J, Bun B, Young Jeezy, Meek Mill und Rittz.
Das Album gibt´s für knapp 10 € bei iTunes & Amazon.
Eine Snippet zum vorab reinhören findet Ihr unter www.werunthis.net/2012/11/28/we-run-this-vol-9-t-i-b-o-b-trae-the-truth-iggy-azalea/
Mr. Es "We Run This" serie stands for mixtapes that has been mixed together clever and on a high level. Tracks, Exlusives, Shoutouts and Freestyles switching with several added skits, scratches and blendings, which gives you a unique listening experience. A must have for every Hip Hop fan who loves southern rap, energy loaded raps & quality lyrics! Get your copie on iTunes or Amazon today!
Weitere Infos unter www.werunthis.net.
Tracklist:
1. Intro – Mr. E
2. Dynomite – B.o.B
3. I Do This – Trae The Truth feat. T.I., Rico Love
4. Big Beast – Killer Mike feat. T.I., Bun B, Trouble
5. Real Nigga Shit – DOPE feat. Chip
6. Atlanta Smokers Only – Killer Mike feat. Rittz, Lil Scrappy, Pill, Scotty, Runway Richie, Back Bone, C Bone
7. Killer Mike calls his mom
8. Flexin and Finessin – Iggy Azalea feat. Juicy J
9. Sacked Up – Big Kuntry King
10. Every 24 – Bryyce feat. King
11. Ball – T.I. feat. Lil Wayne
12. The Cypher – Grand Hustle feat. Trae The Truth, Chip, Iggy Azalea, T.I.
13. T.I. speaking about Grand Hustle
14. Golddust – Iggy Azalea
15. Check Me Out – Young Dro
16. Turning Heads – D.O.P.E feat. Yung Booke, Spodee, Rich Kid Shawty
17. Fuck it So What – T.I.
18. We still in this bitch – B.o.B feat. T.I., Juicy J
19. On 4 Life – Yung Book feat. T.I.
20. Tell Me that I can`t – Trae The Truth feat. Meek Mill
21. Chez of Grand Hustle speaks
22. Bac 2 the Future – Iggy Azalea
23. Studio Life – T.I. feat. Iggy Azalea
24. 1 800 Bone – Iggy Azalea
25. Choppa Talk – Trae The Truth feat. Young Jeezy, Yo Gotti
26. Fightin Words – T.I. feat. Juicy J
27. So Right – Rich Kid Shawty feat. Cash Out
28. Trap Back Jumpin – T.I.
29. Roll One Up – B.o.B