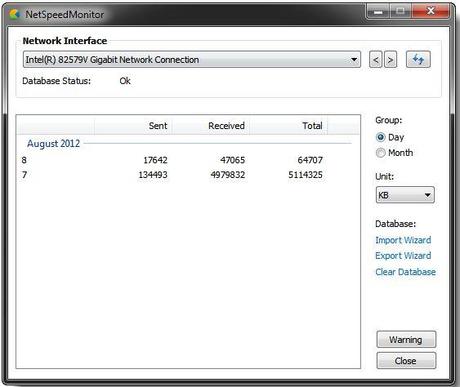 Some mobile networks offers unlimited data plans, Are they really unlimited? You can check your PC bandwidth by using NetSpeedMonitor (32bit | 64 bit). It helps you to find out how much bandwidth you are actually using in your smart phone or in your computer.
This service is made particulary to check the data usage if you tether your PC to your smartphone and check how reliable your mobile service provider is.
After installing this NetSpeedMonitor you can able to see the sent and received data in the task bar. By clicking on the NetSpeedMonitor from the taskbar, it will dispaly your upload and download data for the session, day and month.
You should have to keep in mind that, If you use a home media server and stream data to your PC, NetSpeedMonitor will count that traffic in its usage totals.
Related Topics Technology Tips
How to Find Out Where a Picture Was Taken
Eco-friendly LED was developed
Monitor your PC bandwidth usage with NetSpeedMonitor
Covert Host Name to IP Address and IP to Host Name
How to Check, Working of Samsung Touch Phones