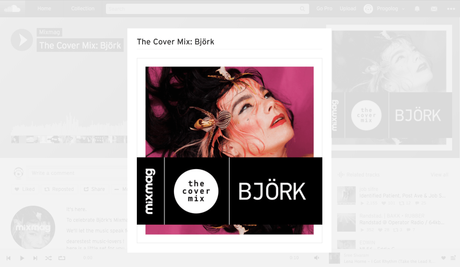 Nächste Woche erscheint mit Utopia das zehnte Album von Björk. Der The Cover Mix für das Mixmag dient der Promo der neuen Platte und wird hier als Soundtrack für das Wochenende behandelt. Da es bei Björk eben doch manchmal sehr experimentell zugeht, ist es nicht die Sonntagsmusik geworden. Mit einem Spaziergang durch die herbstliche Landschaft verträgt sich der Mix in jedem Fall.
dearestest music-lovers !
here is a little set for you. it is most definitely flute and air themed and perhaps reveals the sonic environment my ears were in last year. i thank all the musicians. kindness, björk.
The Cover Mix: Björk
Tracklist:
01. Carl Stone 'Shing Kee' (EAM Discs)
02. Caroline Shaw 'Partita II Sarabande' (New Amsterdam Records)
03. Steve Reich 'Vermount counterpoint' (Angel Records)
04. David Lang 'Death Speaks' (Cantaloupe Music)
05. Philippe Hurel 'Loops For Solo Flute' (Nocturne)
06. Anastassis Philippakopoulus 'Song For Bass Flute'
07. Sarah Hopkins 'Kindred Spirits' (Ellipsis Arts)
08. Arca 'Anoche' (XL Recordings)
09. Bjðrk 'Losss' (Flute Intro)
10. Tenores di Bitti 'Cantu a Ballu Seriu' (Robi Drolli)
11. Mesharyalaradah 'Tafakarto'
12. Duchegerm 'Augmented Flute Live'
13. Serpentwithfeet 'Four Ethers' (Tri Angle)
14. Mala 'Kotos' (Brownswood Recordings)
15. Lanark Artefax 'Virtual Bodies' (UIQ)
16. Lanark Artefax 'Glasz' (UIQ)
17. Russian Wind Instrument 'Smiryonushka'
18. Ravoi 'Bak, Borai'
19. Rian Treanor 'Pattern A1' (The Death of Rave)
20. Kelly Lee Owens Ft Jenny Hval 'Anxi' (Smalltown Supersound)
21. Loft 'Funemployed' (Wisdom Teeth)
22. Peder Mannerfelt 'Limits To Growth' (Peder Mannerfelt Produktion)
23. SD Laika 'Sanpaku Island' (Self released)
24. SD Laika 'Latent Fish' (Unreleased)
25. Master Sriram Roshan (Kanchana 2) 'Moda Moda (AP International)
26. Aby Ngana Diop 'Ndadje' (Awesome Tapes From Africa)
27. Rules 'Heat 2'
28. Emptyset (Roly Porter Version ) 'Function Vulgar Display Of Power' (Subtext)
29. SD Laika 'Dreadful John' (Self released)
30. Oxhy 'Burning Tories (Self released)
31. Kelela 'Take Me Apart' (Warp)
32. David Lang 'Child lV. Sweet Air' (Cantaloupe Music)
33. Various birdsong samples by Jean C.Roche from 'Oiseaux De Venezuela' (Edwards Records)
34. Various songs from 'Sacred Flute Music From New Guinea' (Quartz Publications/Ideologic Organ)
35. Various birdsong from Iceland
(via Ronny)
Mixmag: Björk – The Cover Mix erschien auf Progolog.de. Verfolgt Progolog auch auf Twitter und Facebook.