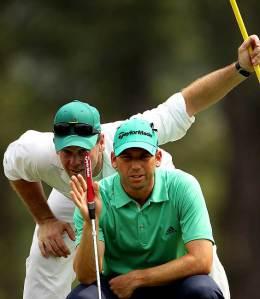 Juppp, es ist wieder so weit! Das erste große Golfturnier des Jahres steht ab Donnerstag auf dem Programm. Die großen Namen des Golfsports treffen sich alle in Augusta im Augusta National Golfclub zum Masters Tournament. Fast alle werden da sein, nur der Tiger muss in diesem Jahr passen. CBS Sports macht daraus auch wieder ein großes Ereignis im Netz. Mit dabei werden Bernhard Langer und Martin Kaymer sein. Martin startet schon um 8:40 Uhr Ortszeit und Bernhard Langer geht um 12:53 Uhr auf seine erste Runde am Donnerstag.
Wer sich noch mal das letzte Jahr ins Gedächnis rufen möchte findet hier meinen Beitrag zur Finalrunde! Aber schon im Februar 2014 machte Augusta "Schlagzeilen!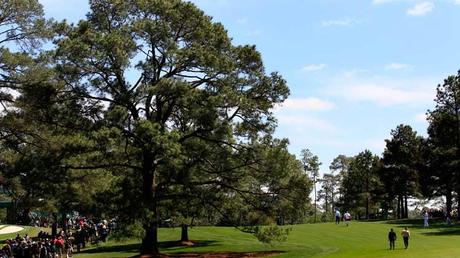 Knapp zwei Monate vor dem Masters hat der noble Augusta National Golf Club eines seiner Wahrzeichen verloren. Ein starker Eisregen hat am Sonntag (Ortszeit) den imposanten Eisenhower Tree auf der 17. Spielbahn so schwer beschädigt, dass der Baum gefällt werden musste. Die fast 125 Jahre alte Kiefer wurde nach dem ehemaligen US-Präsidenten Dwight D. Eisenhower benannt. Eisenhower, der von 1948 bis zu seinem Tode 1969 Clubmitglied in Augusta war, schlug seine Bälle unabsichtlich, aber regelmäßig in den riesigen Baum. Er soll sogar den Antrag gestellt haben, das Hindernis fällen zu lassen. Der Präsidenten-Wunsch wurde aber abgelehnt. Seitdem hieß die Kiefer nur noch "Ike's Tree". "Der Verlust des Eisenhower Tree ist schmerzhaft, aber wir müssen ihn akzeptieren", sagte der Clubvorsitzende Billy Payne. "Wir haben die besten Baumpfleger um Rat gefragt, aber alle waren der Meinung, dass er nicht mehr zu retten war." Auch US-Golf-Legende Jack Nicklaus trauerte der Kiefer nach. "Der Eisenhower Tree ist ein Wahrzeichen und symbolisiert die Tradition im Augusta National", sagte der 74-Jährige, der sechsmal das Masters gewinnen konnte. "Er war so ein wichtiger Bestandteil des Spiels, wir werden ihn sehr vermissen".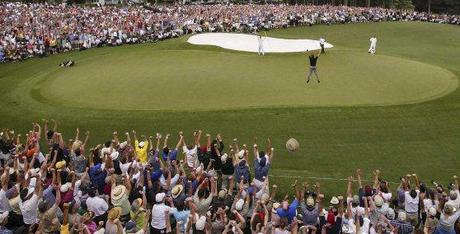 Aber auch ein anderer Herr blickt ein paar Jahre zurück. Ihr merkt schon vor dem Start blicken wir noch mal zurück! Vor 10 Jahren gewann Phil Mickelson sein erstes Major und obwohl er schon vorher und auch danach viele Turniere gewann, war und ist dieser Sieg ein ganz besonderer. Mit einem 18 Fuß Putt am 72. Hole gewann er damals gegen Ernie Els.
Hier ein Rückblick auf die letzten Löcher dieses besonderen Turniers in englisch!
Mackay: Ernie made eagle on 13, I think we were standing on 12 tee and as you know there are birdie roars and eagle roars. We knew that he'd made an eagle and Phil had a lot of work to do, so he felt like all of a sudden 12 was an aggressive play.

Mickelson: That hole has caused me some problems and I felt if I could get by the hole without damage, I had time to make a move.

Smith: The swing I really wanted to see as he got to 10, 11 and 12 was a swing that was a cut. The Sunday pin on 12 is back right and in previous years he'd sweep a hook in there. Frankly, it had cost him earlier Masters'. That shot had been a real problem. When I saw him hit that shot, a cut to about 12 feet, I said, 'the tournament's over.' That's the shot we worked really hard on. He started it right of the flag and just cut it back. I knew he was going to have some kind of back nine.

Mickelson: Walking to the green I knew if I could make the putt for birdie I'd be two back. And if I birdied 13 I'd be one back with five to play.

Mackay: He had the putt before and he'd missed it high and he'd missed it low. I know he said later on he felt sure he knew the break having had that putt several times before. The cool thing was, I think in '06 he went on to make that identical putt. His memory served him well there.

Smith: I'll never forget how he responded (the last six holes). He went after every flag.

Mackay: Phil stood on 12 tee knowing he was going to have to make a bunch of birdies to win, and he did.

Another of those birdies came on the par-3 16th, where Mickelson hit his tee shot to 20 feet but was above the hole. Nevertheless, he poured in the putt to pull even with Els and stayed tied with him until the final hole.

Mackay: When he made the putt on 16 to tie, I was trying to be as low-key as I could. Phil came over and hit me in the rear end really hard with the grip of the putter and said, 'Let's make one more,' and then he did to win by one, so it was cool.

Smith: It reminded me of Jack Nicklaus when he won in '86. We got lost in it. The walk up 17 my heart was beating fast. We weren't sure what Ernie was doing, but we heard a par clap not a birdie roar.

If there was something else working in Mickelson's favor that afternoon it was that he was playing alongside a good friend in DiMarco, who faded with a final-round 76. But DiMarco would be a factor as Mickelson stared down a birdie attempt on the 18th.

Mackay: DiMarco hit it in the front bunker and could hit 1,000 balls out of the front bunker and not have a ball end anymore directly toward Phil's coin than it did. It finished 3 or 4 inches behind Phil's coin on the identical line.

Mickelson: DiMarco's ball broke to the left more than I thought. I saw every inch of his putt, I saw every inch of break, and I knew the line. My putt caught the lip, and instead of falling off, it circled around the cup and fell in. I can't help but think my grandfather had something to do with that from above. That's what I thought about right after the putt fell in.

Smith: I could see Ernie on the putting green to the right of 18 getting ready for a playoff. Then Phil drains it. He had accomplished his goal, his dream. I always knew when he did that the door was going to be wide open. To me, that was the most monumental year of his career. It really turned him around.

Mickelson: When you go through what I went through, it was such a tough journey, to be so close so many times, to see other putts fall to beat you, that when you finally get that first major it makes it more special. You bet it was nice not to ever have to hear all that stuff about being the best player never to win a major.

Mackay: I remember he said to me, 'I did it.' It was so loud when he made that putt. But I will tell you a cool story: Phil gets done, he gets whisked away and he does the media thing, the member thing, he does whatever he does. I don't see him for 2-3 hours at least, but I'm in the parking lot to help him load up when he leaves. I left for a second to go to the restroom. It's 9 or 10 p.m. and I walk into the parking lot where his car is and there's Phil with three guys and he's hugging them all. I'm thinking to myself, 'If Phil's giving a guy a hug, I'm going to know who these guys are, having worked for him so long.' I didn't. I think, 'What in the world is this?' They all leave and I ask Phil, 'What's that all about?' As people know, Phil is a really big tipper. They were the guys from the lower locker room who were semi-despondent that they were losing him to the Champion's locker room. They were all kind of hugging him goodbye.

– Sean Martin contributed.
So jetzt müssen wir uns noch etwas gedulden, aber ihr könnt Euch sicher sein, ich werde Euch wieder über dieses Ereignis informieren! Das sind die Herren, die 2014 antreten: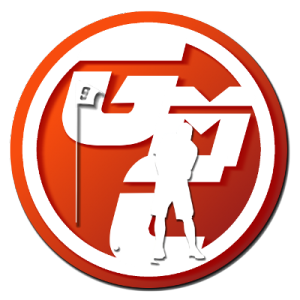 Stewart Cink, Tim Clark, John Huh, Kevin Stadler, Ian Woosnam, Jonas Blixt, Ben Crenshaw, Y.E. Yang, Steven Bowditch, Mark O'Meara, David Lynn, John Senden, Boo Weekley, Martin Kaymer, Craig Stadler, Scott Stallings, Billy Horschel, Tom Watson, Brendon de Jonge, Roberto Castro, Matt Every, Mike Weir, Angel Cabrera, Ian Poulter, Gary Woodland, Fred Couples, Webb Simpson, Rickie Fowler, Graeme McDowell, Jimmy Walker, K.J. Choi, Zach Johnson, Steve Stricker, Bill Haas, Miguel Angel Jimenez, Matteo Manassero, Jamie Donaldson, Hideki Matsuyama, Brandt Snedeker, Jim Furyk, Thorbjorn Olesen, Charl Schwartzel, Jason Dufner, Adam Scott, Rory McIlroy, Patrick Reed, Jordan Spieth, D.A. Points, Kevin Streelman, Branden Grace, Larry Mize, Ken Duke, Matt Jones, Sandy Lyle, Lucas Glover, Jose Maria Olazabal, Darren Clarke, Stephen Gallacher, Nick Watney, Thomas Bjorn, Ryan Moore, Vijay Singh, Thongchai Jaidee, Matt Kuchar, Louis Oosthuizen, Graham DeLaet, Oliver Goss, Trevor Immelman, Sang-Moon Bae, Derek Ernst, Gonzalo Fernandez, Chris Kirk, Bernhard Langer, Francesco Molinari, Jason Day, Dustin Johnson, Henrik Stenson, Luke Donald, Sergio Garcia, Bubba Watson, Marc Leishman, Joost Luiten, Hunter Mahan, Keegan Bradley, Victor Dubuisson, Peter Hanson, Ernie Els, Phil Mickelson, Justin Rose, Harris English, Russell Henley und Lee Westwood.
Was glaubt Ihr, wird in 2014 ein Europäer dieses besondere Golfturnier gewinnen? Wem habt Ihr auf der "Rechnung"?
Euer Stephan