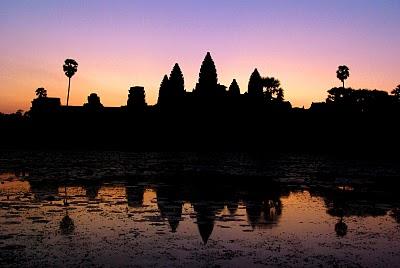 I answered everybody who asked about my longer stays in Thailand, I will never do such a stupid thing like a Visa-run. If Thailand don't want us foreigners to stay longer, I will travel the next country. There are plenty of countries like Thailand in SE-Asia with similar great locations.
I told this everybody who wants to know - until last week.
What happend?
Well, you know such a situation, you are not well motivated, but you have to do something, or you have to go to an event/a party and you aren't enthusiastic, may be you're not in the best mood. But then you meet there somebody special and your mind changed completely. You had this feeling before? You're already wallowing in memories?
Well guys, sorry for bringing you down to earth again. In case you expect a romantic story, sorry for disappointing you at this point. This story will not end up in a love story.
Back to the beginning and how it started......
I entered Thailand by plane at the end of July and got a Visa on arrival for 30 days.
Unfortunately my 
apartment search
 took advantage of nearly six days and I signed a contract for 30 days. So I was embarrassed this time.
The available options have been:
Doing a visa-run (takes one day, 2000THB)
Traveling further to the next country and resign one week of my contract.
Extend at the Immigration Office in the outskired area of BKK for 7 days. (takes 4-7 hours, 1900THB)
Staying longer without Visa and pay overstay at the departure. (takes time at the Immigration at the airport (plenty of bureaucracy, I know this already), 500THB/day=3000THB)
I ended up for the first alternative, doing a Visa-run to Cambodia, the closest border (four hours by big bus). There is another possibility going there by Mini-Van, but the observing reader of this blog knows already, I don't like Mini-Vans. Sometimes they are in very bad condition, the road could be bumpy, so it is very uncomfortable. And if you are lucky, you can get a suicidial driver. ;)
I prefer traveling by a big bus with more space and sometimes they are showing a good movie.
My choice was a company located at Ekkamai BTS-Station. Easy to reach in the morning, when Bangkok's
streets
are crowded by traffic-jam.
Most of the companies bringing their customers for a new Visa-stamp to 
Aranyaprathet
.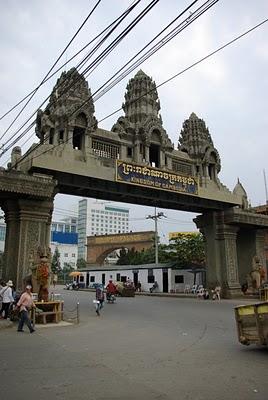 Poi-Pet, border of Cambodia, on Thai side Aranyaprathet.
I knew this checkpoint from my first travel to Cambodia in 2010. This checkpoint is the most popular gate to  Siem Reap, more precisely where Angkor Wat is located. So it is a very busy checkpoint and sometimes you have to queue up in a long line.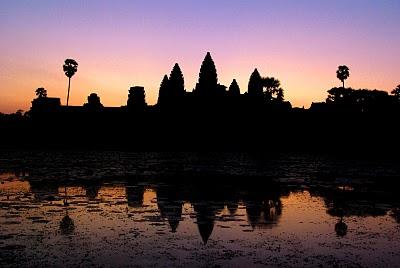 Sunrise at Angkor Wat.
For that reason, the company I choosed is using a more quiet checkpoint, south of Poi-Pet, it's called Ban Laem on the Thai side and Pailin is the next bigger city on the Cambodian side. 
The ride lasts at least as long as to Aranyaprathet (four hours, 250km) but no need to queue a long time.
Pailin was a mysterious place in the past. It was the fallback area of the Khmer Rouge after losing the power when Vietnam's army liberated Cambodia of their tartars. The high officials Ieng Sary and Nuon Chea lived there a good life and faught with guerilla units from Pailin against the new government in
Phnom Penh
till 1996.
In this time the Khmer Rouge signed under Ieng Sary a contract with prime minister Hun Sen. They gave off their armed resistance against the government. As compensation they got amnesty and are allowed exclusively to mine the rich existemce of gemstones and precious timber.
Meeting point is a cafe/restaurant at the corner in front of Ekkamai BTS-Station. I arrived there in time around 8.30am. The woman provided me after a warm welcome, all documents I need. Initially I did all formalities (filled out Departure card Thailand, Arrival card Cambodia, Departure card Cambodia, Arrival card Thailand). I was just presenting a picture for the Cambodian Visa, when I suddenly found myself in an interesting conversation with a guy from the table next to me. He is a Canadian who resides in
Bangkok
and did this trip already many times and was therefore familiar.
He is working online as an IT-expert, that allows him to live wherever he wants and this is the reason why he is living in Bangkok this time. However, we talked about his interesting "hobby", he likes to write short stories and publishes them as E-Book. But this will be an additional posting and I can promise today, he is such a brilliant interlocutor and writer.
One citation::
""You okay, Mr. Gerry?"....."Wonderful. Never been better. Why? Don't I look okay?"
"Your eyes red like tomato. Your lips purple like grape. And your face white like dead
jellyfish."
I had a ripping good time reading his books.
It was almost 9.30am and all the Visa-run-candidates went out of the cafe for entering the bus nearby. The first hint from my new companion was about the seats in the bus. "Try to get seats in the front of the bus, because of the bumpy roads." That doesn't sound better than a Mini-Van-ride and so I tried to catch one of the double seats in the front, but I failed. Small tip on the edge, try to be first in the queue if you think about doing this trip as well.
Apparently are Visa-runners generally loner. At least, it seems that the white colored participants are not interested in companions on their marginal marathon. They are more introverted and talking nearly nothing in compare to the other Asian border crossers
These guys showing a very clear rudel behavior, because they sit side by side with other Asians in the bus, not like the pale which claim a double-seat for themself. If you like to take the seat beside them you will probably not get the friendliest mimic-art and a warm welcome.
This is the real life - in Asia you are welcome with a smile and in the western world you will be checked first.
Unfortunatelly were all this double-seats in the front already occupied by long noses, at least with one of this lonely rangers and so we used two seats in opposite of the corridor. This was the only way to continue our interesting conversation without feeling the whole time like in a rollercoaster when sitting in the back of the bus.
First task in hand was to choose one of ten meals from a menu for my lunch. After this exhausting work we had two and a half hours for ouselves.
Despite of the very pleasant and informative conversation seemed the trip endless. We could take a nap, listen undisturbed to music, or exercise our eyes and brain by reading a book on this bumpy roads.
After a short break for toilette and shopping, we got our preselected lunch. However, you shouldn't expect too much. Of course, the quantity was enough, but quantity is not the same like quality.
Obviously I was with my opinion not allone, because nearly all of this styrofoam packages returned half full.
You should better buy something at the shop during the stop before, or bring something with you.
The showed
Eddie Murphy
movie "A thousand words" ended just in time, when we arrived at the border at 2pm.
Here is a big market and uncountable shops along the street till the checkpoint. I wonder why there is such a big market, if it is not high frequented? The checkpoint seemed indeed very quiet, no queue at the counters.
We got our passports back and had to be active again. The humidity is not as high as in Bangkok, although there are enough mosquitos in this Malaria-infected-area and even the raindrops during the drive showed that we have monsoon season in South-East-Asia.
So we walked to the Thai Immigration for stamp out. Even the Immigration opened two more counters. Very unusual, but they will definitely participate in person from us Visa-runners. We passed the Thai border quickly and handed out our passports to the stuff again. They will do the formalities on the Cambodian side for us.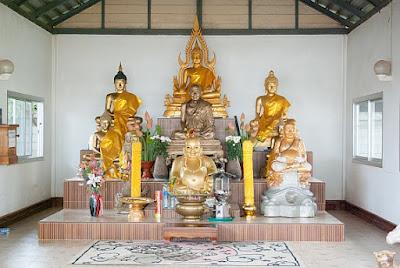 Important for a Buddhist.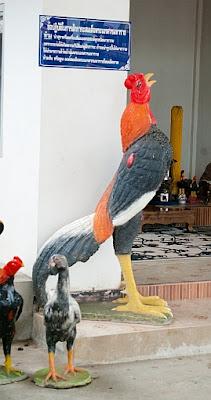 Thais have at their places for praying always animals.
In the meanwhile we had time to walk around and my canadian friend was showing me around.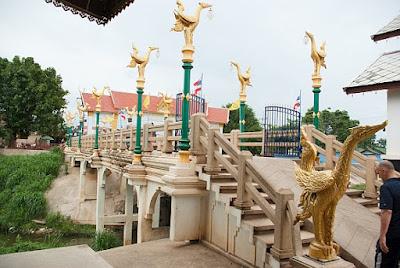 The bridge after the border of Thailand. Built with money from Thailand, also the street till the border. Completely new for the Thai gamblers.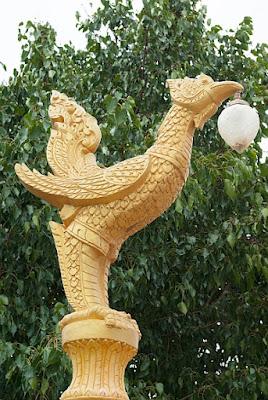 A popular motif for street lightning in Thailand.
We crossed the bridge to the no-man's-land and turned before entering Cambodia to the right, where the shops and the casino is located. The small town is called Daun Lem.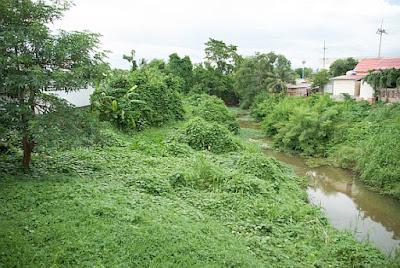 The small river is the border between Thailand and Cambodia.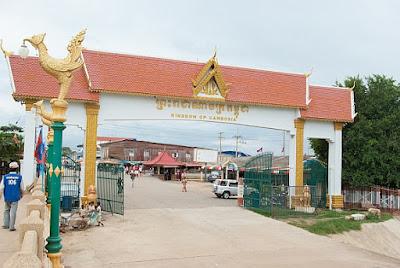 Border, Cambodian gate, view from Thailand.
Cambodia is a Third World country, but this is a duty free zone and you can get here everything.....and cheaper than somewhere else.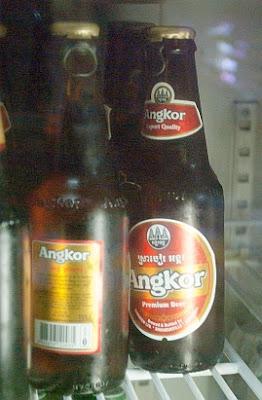 Angkor beer, I remember Angkor Draft beer. The most popular beer in Siem Reap, so refreshing and soooo cheap.
Plenty of alcohol, smokes, perfumes and magic
cure
for reinforcement of the virility (supposedly cheaper than in Pattaya). They
accept
Thai Baht and US-$.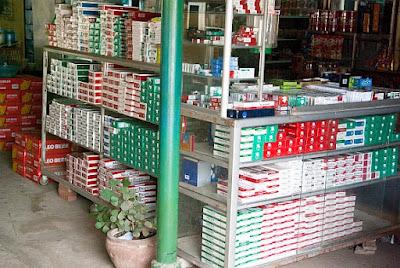 Smokes, every brand available.
It is also one of the closest checkpoints from Pattaya. The other one is called Ban Pakard (around 20km south of Ban Laem).
We visited the nearby casino which is built with money from Thailand.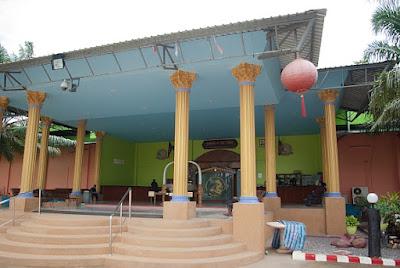 Casino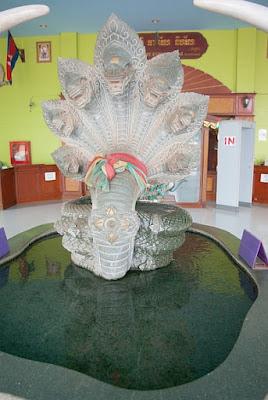 Naga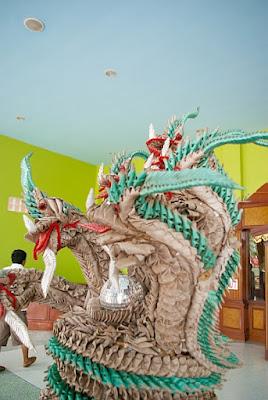 Naga with
seven
heads.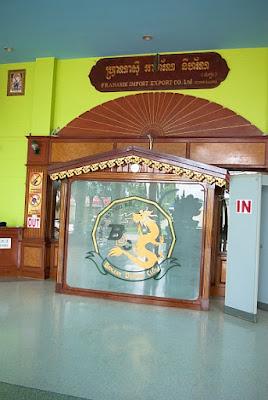 Entry of the casino.
Teng Bumma was the first Thai investor after the Khmer Rouge and is owner of a luxury hotel in Phnom Penh and of the wide spreadest newspaper in Cambodia. His son operates together with  ex-Khmer Rouge official Ieng Sary, the casino in Pailin.
Taking pictures inside the casino is not allowed so I left my camera at the entrance during our visit. The playroom for adults conveys a very cool and sober atmosphere. Totally different to the casinos I know from  the western world. No glance and glamour, nothing which awakes the impression of wealth. Thai men love to gamble and it looks like, the environment is hereby secondary.
I had rather the impression to be in a black and white tiled kitchen, where barely slot-machines, a few black jack and poker tables were ranked. There crowded an astonishing number of women in uniform around some Thai men. Obviously it was not the time for playing now.
Observing a croupier is not announced, otherwise one of the officials is immediately on our side, delving us into a conversation and animated us for gambling and others, like we divined because his inviting gesture pointing on the female croupier, which was supporting his inviting with a big smile on her face.
Suprisingly it was very quiet and well -mannered, although many mimik-art spokes a very different language.
There are two more rooms, one VIP-room with a very intense acting female, which made great efforts for her players at the table. The other room is ranked with computerised roulette tables with a slot for the notes, a touchpad for the entry and monitors.
Another visa-runner and my Canadian friend tried their luck in gambling at this tables and lost the whole stake. Strange to see roulette without a human croupier. I would prefer the human component, may be because of the attraction to catch the croupier while manipulating the game, than to be at the mercy of a computer. :D
Beside a lot of begging children on the Cambodian side and the Thai side I recognized also some women, which are earning their money in a different way. The demand regulates the supply. This is how our world works.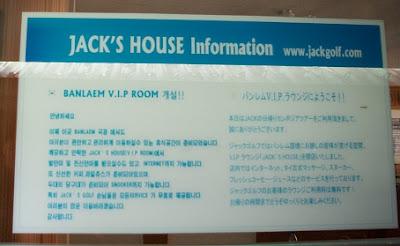 This is another Visa-run-company,but they don't go anymore to Ban Laem.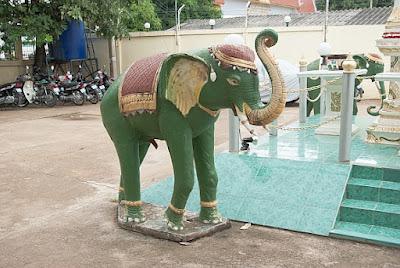 Elephant with a dick. Doesn't really fit.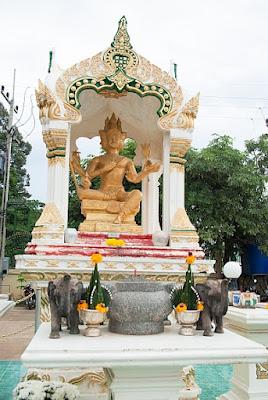 Khmer Style
After this short trip to a no-man's-land between a Third-World-Country and an ambitious emerging market country, we returned to Thailand and faced up ourselves for the entry-procedure with an new and already used marked Visa of Cambodia.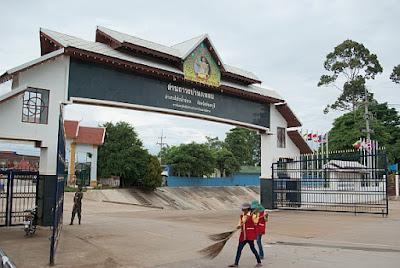 Thai Gate
This Visa-sticker needs a complete side in my passport, Now I have only eight pages left. It's time to ask for a new pass.
Immigration Thailand
The entry-procedure runs smoothly and I got a new Visa-on-arrival-stamp till September, 11th.
Ups, that was not calculated to fly out on 9/11......
In case somebody wonders why I didn't get 30 days. This was an entry by land, so I get only a 15 days Visa.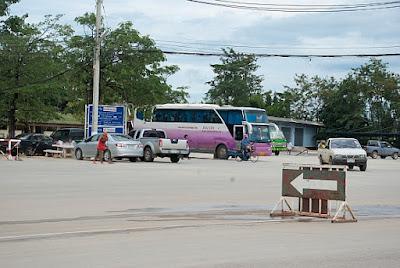 Our bus at the border.
The ride back to Bangkok was very unspectacular, beside a good talk with my companion, I had time for a nap. After a short break at 5pm I had the chance to watch American Pie Reunion again. By the way, to sit in front of the bus is another advantage for watching the movies. In the back you will neither see it, nor can you listen to it in lack of a second TV in the back.
In time to the nightfall we arrived in Bangkok and those who want to leave before the final destination at Ekkamai BTS-Station can do this. May be not the worsest idea in case there is traffic-jam like at this day. We arrived after 45 minutes at 7.45pm at our final stop.
Finally it was a very rewarding and interesting day excursion. A second time I wouldn't repeat it, because of the 9 hours bus-ride.