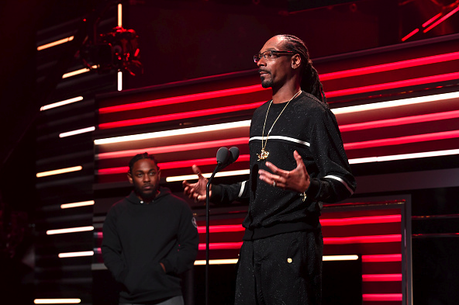 The 2016 BET Hip-Hop Awards made its network debut on Tuesday night (Oct. 4). Hosted by DJ Khaled, this year's show was filled with performances and memorable cypher moments. One of the highlights during the eleventh annual event came from this year's "I Am Hip Hop" Icon Award honoree, Snoop Dogg.
Presented by Kendrick Lamar, this year's award was dedicated to the music icon, who has pushed the barriers of Hip-Hop music and transcended time having been in the industry for over two decades. Dr. Dre, Pharrell Williams, YG, and Charlie Wilson all make appearances in a video dedicated to Snoop Dogg during the induction moment on stage.
Watch the moment below.
Continue after the jump....
Previously:
2015 BET Hip-Hop Awards Cyphers: Vince Staples, Tink, Redman, Rahzel & More (Video)
2015 BET Hip-Hop Awards Performances: Future, Puff Daddy and Lil' Kim, T.I., Travis Scott (Video)