What was the recording process like?
Oscar Holleman my producer and I work together now for almost 3 years, It took a long time to develop our own sound. We even went to the Egrim Studio's in Havana for recordings of the cover Libertango (I've seen that face before), we did this together with lovely Cuban musicians.
What can we expect from the EP?
It feels dark, deep and atmospheric sometimes. I'm Singing about my emotions, love, frustrations, and try to give it all a positive turn. You are going to meet a few sides of me and will hear the journey I've made by creating this EP.
You've been saying that your music has soul. What do you mean by that?
It has my soul into it. Within every song is a memory of me and some of the songs remind me of a moment I need to be remembered of.
I really like that kind of a vintage sound in your songs. Where does that come from? Does your academic studies have a lot of impact on your sound?
No not really, for me it was very difficult to develop myself at school. There were a few teachers that helped me trough my school time. They didn't really understand me or my music. I almost got kicked out of school when I met My producer but I graduated together with the guitar & bass player of my band The Strangers. I think That's the best thing that happened out of my music school experience.
 The old sound is coming from my love for old songs and singers.
I'm pretty sure, that you often get told that you're reminding people on Amy Winehouse. What does that mean to you?
I know that I have a Contralto dark and deep voice that's similar to singers like Amy. Only I am Kovacs, although I think it's a big compliment because she was a great singer.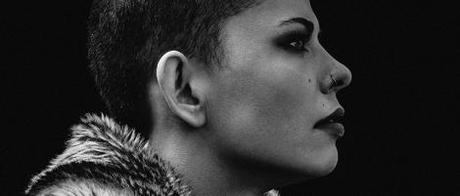 Your current EP is a mixture of different genres, like Soul, Pop, Jazz and even electronic elements. How would you describe your sound in three words?
Atmospheric and melancholic soul.
You're playing Lowlands and the Reeperbahn Festival this summer. What else can we expect from you?
At first I'll need to finish the Album. We also have Shows planned in Germany, Greece And a few `Dutch shows including an award show. The rest is still a surprise.
The style, the photographs, even the song titles. All that seem pretty artistic. Which other kind of art apart from Music do you fancy a lot?
I love making films and little video's. I also have a passion in photography. As long as I'm doing creative stuff I'm happy. I always try to create a total package, music, artwork and video's they need to fit in all together.
And a very last question; what would you call a perfect Friday night?
A good performance on a special location with nice people and after that a drink and a laugh to end the day falling asleep next to my boyfriend.
Hier kann man sich die aktuelle Single "My Love" der jungen Künstlerin anhören:
Yannick