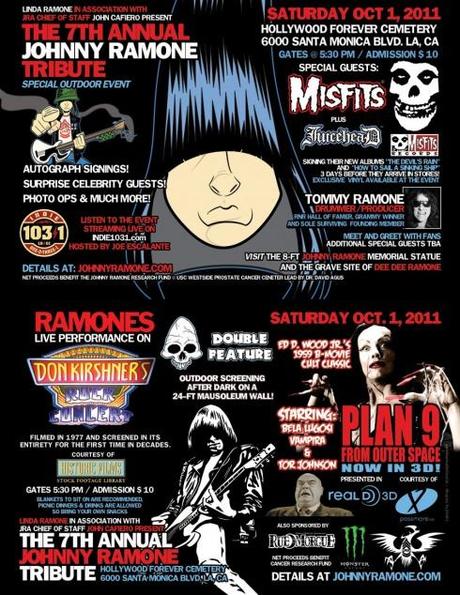 IN LOVING MEMORY OF JOHNNY RAMONE October 8, 1948 – September 15, 2004
LINDA RAMONE AND JRA CHIEF OF STAFF JOHN CAFIERO PRESENT
THE 7TH ANNUAL JOHNNY RAMONE TRIBUTE
SATURDAY, OCTOBER 1, 2011
HOLLYWOOD FOREVER CEMETERY
6000 Santa Monica Blvd. LA, CA
GATES 5:30PM, ADMISSION $10
SPECIAL GUESTS:
THE MISFITS
PLUS
MISFITS RECORDS RECORDING ARTISTS
JUICEHEAD
SIGNING THEIR NEW ALBUMS
"THE DEVIL'S RAIN" & "HOW TO SAIL A SINKING SHIP"
GET THEM BOTH—3 DAYS BEFORE THEY ARRIVE IN STORES!
+ EXCLUSIVE MISFITS VINYL AVAILABLE ONLY AT THE EVENT
GRAMMY AWARD WINNER & RNR HALL OF FAMER:
TOMMY RAMONE
DRUMMER, PRODUCER & FOUNDING MEMBER OF THE RAMONES
MEET & GREET WITH FANS
ON-SITE INTERVIEWS
LIVE STREAMING BROADCAST ON INDIE1031.com
HOSTED BY JOE ESCALANTE
DOUBLE FEATURE – OUTDOOR SCREENING – AFTER DARK
THE RAMONES: JOHNNY, JOEY, DEE DEE & TOMMY
LIVE ON DON KIRSHNER'S ROCK CONCERT
FILMED IN 1977 & SCREENED IN ITS ENTIRETY FOR THE 1ST TIME IN DECADES
COURESTY OF HISTORIC FILMS
AND
BELA LUGOSI, VAMPIRA & TOR JOHNSON STARRING IN
ED D. WOOD JR.'S 1959 B-MOVIE CULT CLASSIC:
"PLAN 9 FROM OUTER SPACE" —NOW IN 3D
COURTESY OF PASSMORELAB AND PRESENTED IN REALD 3D!
SURPRISE CELEBRITY GUESTS
AUTOGRAPH SIGNINGS, PHOTO OPS & LOTS MORE!
Visit the 8-Ft Johnny Ramone Memorial Statue & the Grave Site of Dee Dee Ramone.
Net proceeds benefit the Johnny Ramone Research Fund at USC Westside Prostate Cancer Research Center
CLICK HERE TO WATCH THE TRAILER FOR "PLAN 9 FROM OUTER SPACE"
CLICK HERE FOR COVERAGE AND EXCLUSIVE FOOTAGE FROM LAST YEAR'S EVENT
Bewerten:
Teilen Sie dies mit: