Eine "Kleinigkeit/Nichtigkeit" mit Matcha und Himbeeren, um Familie und Freunde mal so richtig lecker zu verwöhnen!
Quelle: http://www.raspberricupcakes.com/2011/12/green-tea-raspberry-trifles.html
Green Tea & Raspberry Trifles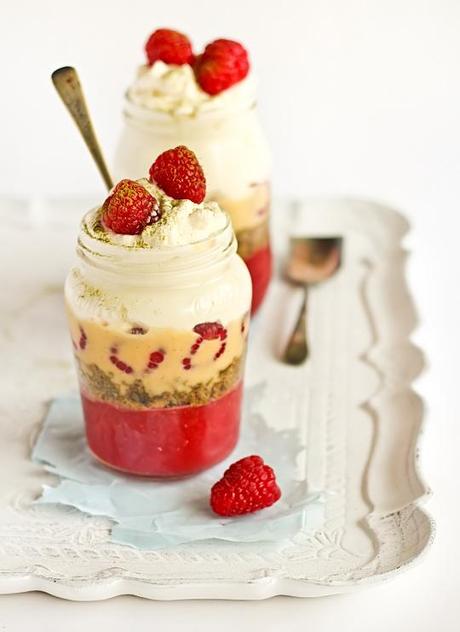 This weekend A & I braved the crowds at the shopping centres to do our last minute gift shopping. Of course we had left it until the last weekend, like we always do. I think we came out of it relatively unscathed, the slow walkers and gift indecision left A in a very cranky state but at least we got it all done (I think). I was just happy to get home and unwind by making these gorgeous Green Tea & Raspberry Trifles. I was testing out the recipe early since I'm planning to make it for my family on Christmas day and I want it to be just right. I wanted to make a red & green trifle and green tea sponge cake seemed like the perfect choice, plus there were these amazing looking fresh raspberries available at the fruit store so I had to get them.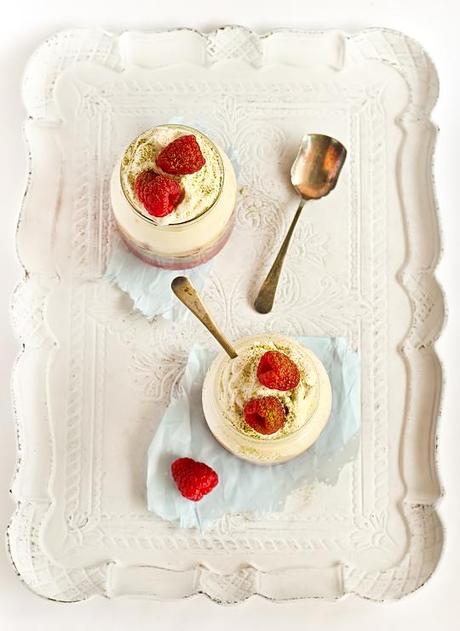 I really didn't mean to jump on the 'food in a jar' bandwagon with this recipe, it sort of happened by accident. Originally I was planning to present the trifles in these adorable little sundae cups from the 50s. I was running my dishwasher at the same time that I was making the raspberry champagne jellies for these trifles, and had no glasses left to pour the leftover jelly into so I grabbed a few spare jam jars in a moment of desperation. Then as I was adding the cake, fruit and custard I realised the jar trifles were just too damn pretty not to use. So forgive me if you're not a fan of the whole jar thing, but I couldn't help myself this one time.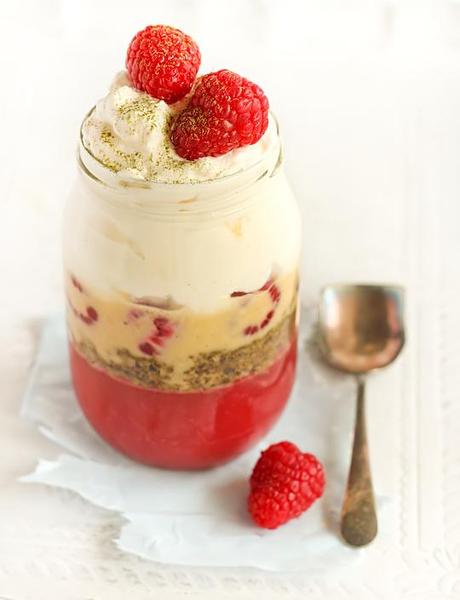 I actually struggled to write up accurate measurements for this recipe since I sort of made it up as I went along, so feel free to deviate from the recipe as much as you like. The one thing I like about trifles is that you can mix and match ingredients depending on what you have available and what you like. Originally I had planned to use strawberries and moscato but then I realised it was very similar to these trifles I made a while back (they are also very good, make them). As much as I love green tea sponge cake, I wish the colour of the cake was a little bit brighter and greener, so I think for my next trifle I'll use a pandan chiffon cake instead. And maybe some different berries. The point is, use whatever fruit and cake flavour you prefer!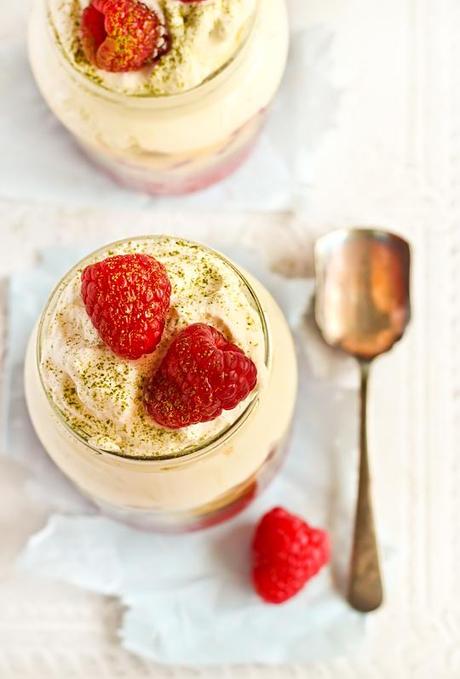 Other than the slightly dull green of the sponge cakes, I really do love the look and taste of these trifles. The slight bitterness of green tea in the sponge is such a good match for the tang of the raspberries and the sweet vanilla bean custard. Don't let the long ingredients list and instructions scare you off, trifles are pretty damn easy to assemble once you've got everything together. You can always make shortcuts here and there, by using store-bought sponge cakes from the bakery (trifles are the one instance where this isn't so criminal, it's getting soaked after all), or if you REALLY insist, you can use packet raspberry jelly to save you some time. But I think that the fresh fruit jellies are just so much more special. I can't believe Christmas is less than a week away, this year has flown by! I want to wish everyone a safe and happy holidays, hope you've got your elasticated waistbands ready for the holiday eatin'. I am hoping to squeeze in one more post before Christmas day, fingers crossed!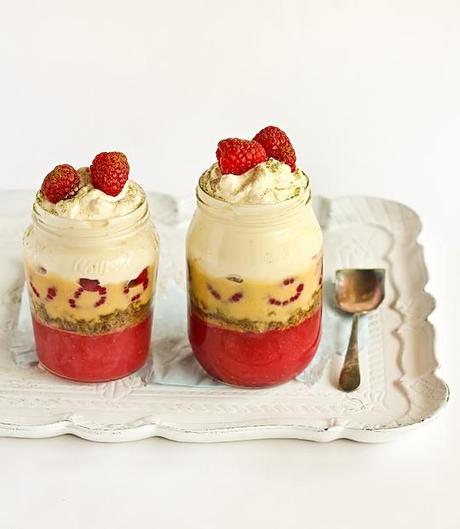 Green Tea & Raspberry Trifles
(makes approx 6 one-cup servings, can be adapted to make one large trifle, sponge recipe adapted from Gourmet Traveller)
For the jelly:
1 punnet (125g/4.4 oz) fresh or frozen raspberries (can be replaced with other berries), pureed and strained
350ml (approx 1.5 cups) champagne (or sparkling white wine, replace with fizzy (clear) lemonade if you don't want to use alcohol)
1 tbsp powdered gelatine
2 tbsp sugar
For the green tea sponge:
(Note: Sponges can be tricky, in fact mine didn't turn out as good as I would have liked. If you are unfamiliar with sponges, check out this article from GT for some great tips. Or if you want to save time use a green tea or pandan sponge/chiffon cake from an Asian bakery. I won't judge.)
4 eggs, room temperature
110g (1/2 cup) caster (superfine) sugar
65g (about 5 tbsp) cornflour (cornstarch)
1 tbsp green tea (matcha) powder
2 tbsp plain flour
1 tsp cream of tartar
1/2 tsp bicarbonate of soda
50g (1.75 oz) unsalted butter, melted and cooled
For the custard:
4 egg yolks
1/4 cup caster sugar
1 tbsp cornflour (cornstarch)
2 cups pouring cream (35% fat, whipping cream or pure cream)
1 vanilla bean, split and seeds scraped (replace with 1 tsp pure vanilla extract if unavailable)
To serve:
1 1/2 cups pouring cream (35% fat, whipping cream or pure cream)
Fresh raspberries or other berries, one punnet (125g)
Raspberry jam (about 6 tbsp)
Green tea (matcha) powder to dust
Prepare the jellies ahead of time; Place gelatine and 100ml of champagne/lemonade in a bowl and allow gelatine to soften. Put raspberry puree and sugar in a medium saucepan and stir on medium-low heat until the sugar dissolves, then add the gelatine mixture and stir on medium heat until the gelatine has completely dissolved. Remove from heat and then add the remaining 250ml of champagne/lemonade. Pour equal amounts into 6 serving glasses and refrigerate until set, at least 2 hours.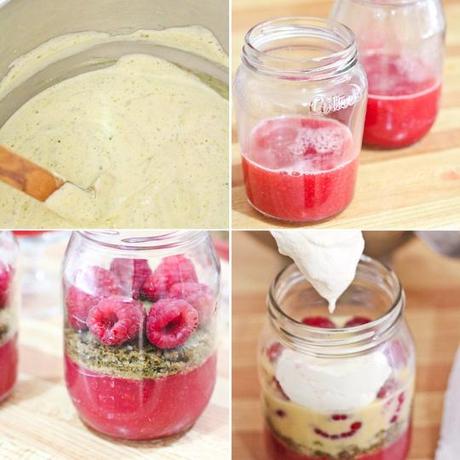 Prepare the sponge cake; preheat oven to 180°C (350°F) and line a 30cm x 42cm swiss roll tin with baking paper (you can also try using two square 20cm, but they will probably be a little thicker). Whisk eggs and sugar in an electric mixer on high speed until thick and pale (at least 5-6 minutes). Sift over cornflour, green tea powder, flour, cream of tartar and bicarb soda, fold in with spatula. Fold in butter and spoon into prepared tin(s) and smooth top with spatula, then bake for 10-12 minutes or until the cake springs back when lightly pressed. Remove from the oven and cool on a wire rack. Use a round cutter the same circumference (or slightly bigger) than your serving cups to cut out 6 rounds from the cake and press into each cup on top of the set jelly. Pour tsp of champage/lemonade over each sponge, then spread a thin layer of raspberry jam over each sponge. Top with a single layer of fresh berries and return to the fridge.
Prepare the custard; whisk egg yolks, sugar and cornflour in a bowl. Place cream and vanilla in a small saucepan and bring just to the boil. Gradually whisk hot cream mixture into egg yolk mixture until combined. Return to pan and stir continuously over low heat until mixture thickens and coats the back of a wooden spoon (watch it carefully or you'll get scrambled eggs). Strain out the vanilla bean pod and pour into a bowl, cover surface with plastic wrap and refrigerate for 1 hour. Pour equal amounts over each prepared glass, enough to cover the berries. Cover glasses with clingfilm and refrigerate until ready to serve, at least overnight.
To serve, whip cream in a large mixing bowl with an electric mixer on high speed until it reaches stiff peaks. Spoon a layer of whipped cream over each glass, top with more fresh berries (and some white chocolate curls if you like) and dust with green tea powder, serve immediately.