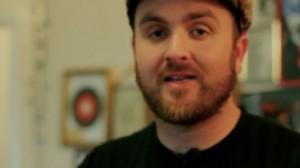 Click here to view the embedded video.
FLuD Watches hat eine schicke Serie mit dem Titel "Beats Per Minute". Diesmal erzählt Produzent Exile darüber, wir er in jungen Jahren gelernt hat, das Akkordion zu spielen, seine Liebe für´s Samplen und zeigt am Ende eine Wahnsinns-Outdoor-Performance.
Wer mehr von dem guten Mann hören möchte, dem empfehle ich sein Mixtape "Exile – Intro To The Outro".
Exile "Intro To The Outro" Mixtape by DIRTY SCIENCE
Track Listing:
1. Intro To The Outro – DAG SAVAGE aka Johaz & Exile (Exclusive)
2. Evolve – Pharoahe Monch
3. Leimert Park – Co$$ (Exclusive)
4. Growing Pains – DAG SAVAGE aka Johaz & Exile ft. Fashawn, Blu and Exile (Exclusive)
5. Brolic – Bun B (Exclusive)
6. Freedom Remix – Fashawn (Exclusive)
7. Slowly – ADAD (Exclusive)
8. Your Life – MED ft. Blu
9. Give It Up – Strong Arm Steady ft. Guilty Simpson and Talib Kweli
10. Flawless – J. Mitchell ft. Co$$
11. Count Your Blessings – Emanon aka Aloe Blacc & Exile
12. Below the Heavens Medley – Blu & Exile
13. Cold Hearted – Blu & Exile
14. Pearly Gates (Non-Album Version) – Mobb Deep ft. 50 Cent (Exclusive)
15. Disturbed Remix – Blame One ft. Sean Price and Fashawn (Exclusive)
16. Klepto – Exile (Exclusive)
17. Mic Jackson – DAG SAVAGE aka Johaz & Exile (Exclusive)
18. Wait For Me – Big Sean ft. Lupe Fiasco
19. Forgive Us – Emanon aka Aloe Blacc & Exile (Exclusive)
20. S.O.F. Remix – Fashawn (Exclusive)
21. Boy Meets World Medley – Fashawn
22. Samsonite Man – Fashawn ft. Blu
23. New Seasons – Blu & Exile (Exclusive)
24. Tema Do Canibal – BK-One ft. MF DOOM (Exile Remix) (Exclusive)
25. And They Say / Outro – MED (Exclusive)
via