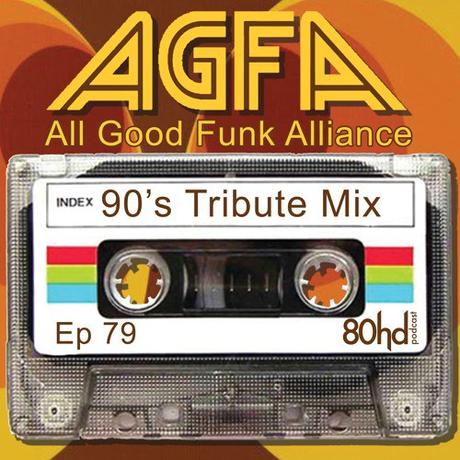 Ep 79 ~ All Good Funk Alliance - 90's Tribute Mix // free download
Tracklist:
1. Zhane "Hey Mr DJ" (Casual Connection Remix)
2. Notorious BIG "Hypnotize" (MVXXA Remix)
3. The Pharcyde "Ya Mama" (Pigeon Hole Remix)
4. The Pharcyde "Passin Me By" (Altered Tapes Remix)
5. LL Cool J "Around the Way Girl"
6. Will Smith "Fresh Prince" (Casual Connection Remix)
7. Naughty By Nature "It's On" (Ross Go Remix)
8. Positive K "I got a man"
9. Salt N Peppa "Let's talk about sex" (Casual Connection Remix)
10. TLC "Creep" (Lemi Vice and Action Jackson Remix)
11. Blacksheep "The Choice is Yours" (DJ Soo remix)
12. Dj Kool "Let me Clear my Throat" (XM remix)
13. Wreckx N Effect "Rumpshaker" (JM Jackmaster Re-edit)
14. Wreckx N Effect "Rumpshaker" (Zebo Remix)
15. DJ Cable "Work it Til Infinity"
16. Totalcult "Wooden Horse Boot"
17. Nice & Smooth "Sometimes I Rhyme Slow (Copycat Remix)
18. Canosis "Breakadisco"
19. Prosper "If You Leave the Party" (Rory Hoy Remix)
20. Ginuwine "Pony" (AYO! Remix)
21. Freqnik & WDRE "Mama said knock you out Remix"
22. Wu-Tang Clan "Da Mystery of Chessboxin (Gram of Fun Edit)
23. Fatboy Slim "Praise You" (Kovary Nu Jump Up Booty)
23. Missy Workout outro



13 Monate nach dem "RÄUBERLEITER"-Mixtape feiert GoldRoger heute mit seinem offiziellen Debut-Album "AVRAKADAVRA" Releaseday. Komplett produziert von Dienst&Schulter in Köln und mit Artworks von YAWN. "Auf 13 qm haben wir eine 13 Song starke Parallelwelt geschaffen, die von der reinigenden Kraft des Galgenhumors, den Generatoren ... weiterlesen ...

Es gilt als das beste englischsprachige Rap-Album aus deutschen Landen. Zum 15-jährigen Jubiläum von Square One's "Walk Of Life" ist das Album nun in allen digitalen Kanälen und auch auf Vinyl mit zusätzlichem Beat-Tape verfügbar. Im Erscheinungsjahr 2001 feierte der Deutsch-Rap seinen ersten Höhepunkt. Ein denkbar ungünstiger ... weiterlesen ...