Oh my gosh... I love Halloween. Halloween is my favorite holiday.
The only time of the year, you can wear your "Creepy Me", without 
being strange.
Bones in my kitchen, black forest graves in my fridge;-)
-------------------------------------------
Oh jaaaaaa... Ich liebe Halloween. Halloween ist mein absoluter
Lieblingsfeiertag und wohl die einzige Zeit im Jahr, an der ich mein
"dunkles Ich" 
 zeigen kann, ohne als verrückt zu gelten.
Knochen in meiner Küche und Schwarzwaldgräber in meinem 
Kühlschrank;-)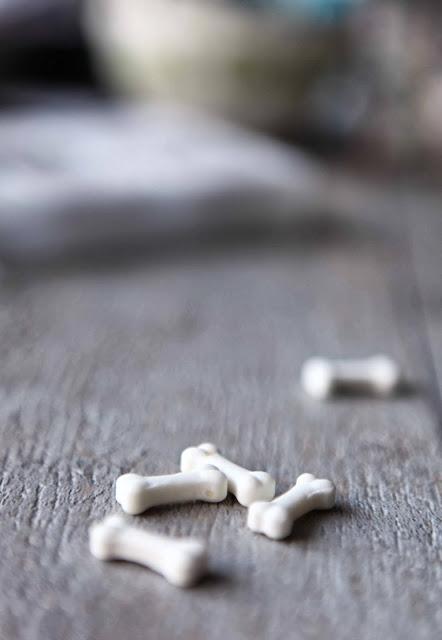 Today I made some delicious-creepy black forest cupcakes for you.
Topped with little sugar bones and the gravestones they look
like little scary Halloween graves. 
-------------------------------------
Heute habe ich euch ein paar köstlich-gruselige Schwarzwald
Cupcakes mitgebracht.
Mit den kleinen Zuckerknochen und den Grabsteinen, sehen sie
aus wie kleine, leckere Halloween Gräber.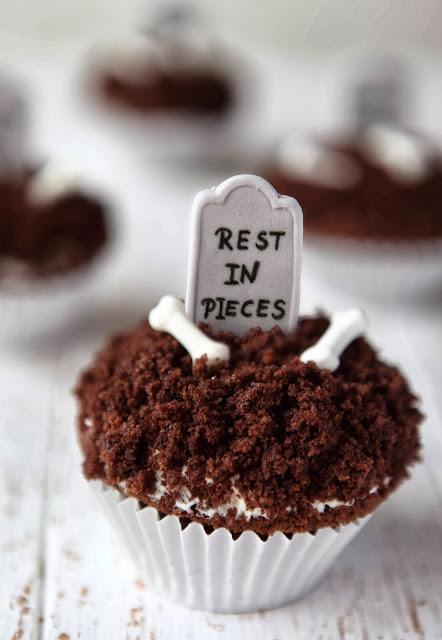 Chocolate cupcakes filled with sour cherries, topped with fluffy
whipping cream and chocolate crumbs.
Scary, but sooooo unbelievable delicious.
Creepy-chocolate Halloween for everyone...
----------------------------------------
Schokoladenmuffins gefüllt mit Sauerkirschen, getoppt mit süßer Sahne 
und Schokokrümeln.
Einfach gruselig und dabei soooooo unglaublich lecker.
Macht euch die gruseligen Tage Schoko-lecker;-)
In diesem Sinne... Creepy Halloween...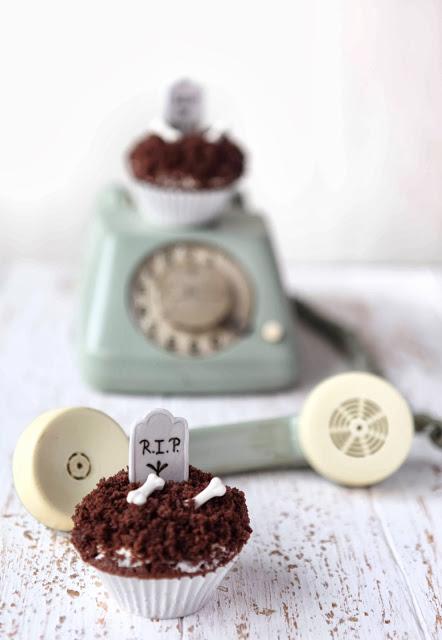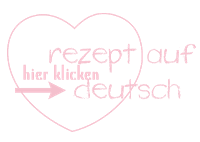 black forest graves
Ingredients:
(makes 12 cupcakes)
for the dough
200 g butter, soft
150 g sugar
1 package vanilla sugar
3 eggs
1 pinch salt
200 g flour
3 teaspoons baking powder
2 tablespoons cocoa 
3 tablespoons milk
for the filling
36 conserved sour cherries (glass)
200 g whipping cream, cold
1 package vanilla sugar
1 package whipping cream stiffener
decoration
2 Wilton cupcake decoration kits
Directions:
Preheat oven to 350°F. Line muffin pan with paper cupcake wrappers.
In a bowl stir butter, sugar, vanilla sugar and salt creamy.
Add on egg after another.
Mix flour, baking powder and cocoa together and add to the egg mixture.
At last stir in milk.
Transfer dough into muffin pans and bake for about 20 minutes.
Beat whipping cream with vanilla sugar and whipping cream stiffener 
stiff and refrigerate.
Let sour cherries drip off on a paper towel.
After baking let muffins cool down on a wire rack.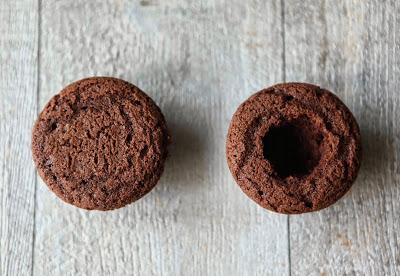 With a teaspoon scoop out muffins and crumble dough in a bowl.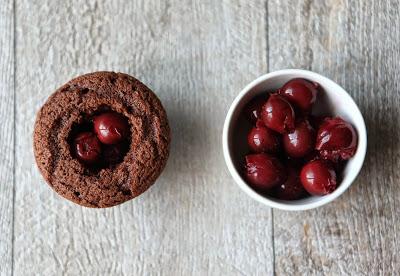 Fill each muffin with 3 cherries.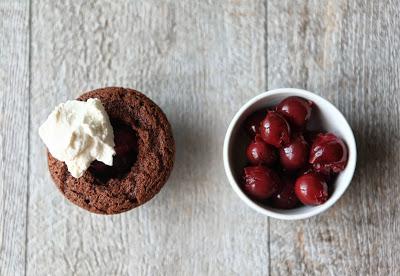 Spread with whipped cream and sprinkle with dough crumbs.
Decorate with spooky cupcake decoration.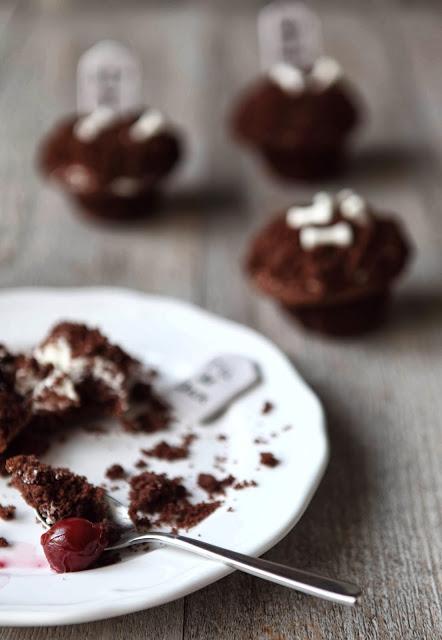 Creepy Halloween...