COMMANDO: THE AUTOBIOGRAPHY OF JOHNNY RAMONE
AVAILABLE IN STORES & ONLINE NATIONWIDE APRIL 2012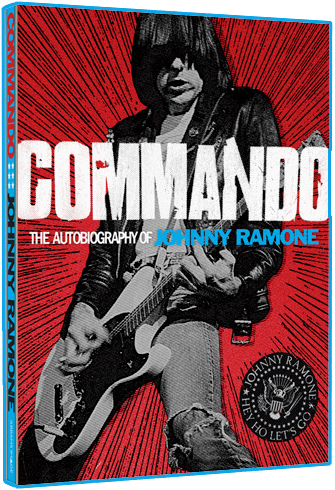 Commando
The ultimate music autobiography arrives at last in the form of Commando: The Autobiography of Johnny Ramone out nationwide on April 2nd, 2012 from Abrams Image. THE definitive book on The Ramones, Commando is the first and only truly autobiographical work written by a founding member of the legendary
Ramones
chronicling his life, and the story of the band itself, from start to finish. Johnny authors a brutally honest and detailed firsthand account of the band, from inception and their humble beginnings at CBGB in 1974 all the way through to their retirement in 1996 and beyond. This is the real deal, straight from the source—a razor
sharp
stiletto from the grave delivering the story that has never been told before.
Tommy Ramone recently shared some insight on "Commando" with the Associated Press:
"Johnny Ramone's autobiography is a no holds bared, straight forward book written in a no-nonsense style that is Johnny personified. His story is written in his own actual words, so the reader gets an insight into what made him the unique, charismatic and exciting individual that he was. It also gives a great view of the Ramones from Johnny's perspective." - Tommy Ramone
The Ramones emerged from New York City's underground rock scene in the mid 70′s to become a global, genre-defining force for rock & roll. Johnny Ramone, (born John Cummings 1948–2004), found his reprieve from a dead-end life through rock and roll as a founding member of one of the most influential bands of all time. Despite his ultimate success with The Ramones, Johnny never really strayed from his working-class roots and attitude. The tough guy from the streets of Queens assumed the role of the tough guy in the band who kept The Ramones focused and moving forward, ultimately securing the seminal band's place in rock history. The Ramones were inducted into the Rock and Roll Hall of Fame on March 18, 2002, and nearly a decade later, the seminal band was awarded a Grammy for lifetime achievement.
Commando is Johnny's story and the story of The Ramones told in his own words. Insightful and introspective, the 176-page, visually driven memoir walks through Johnny's days as a founding member of one of the world's most iconic bands and also chronicles his personal life beyond the stage. Never afraid to speak his mind, it includes raw and unflinching opinions of the band as well as his fellow peers in music and even the struggle with cancer that ultimately took him. Grounded in decades of his own meticulous records and notes, Johnny also shares his personal assessment of The Ramones catalog, several of his brilliantly eccentric Top Ten Lists, rare historical artifacts and scores of personal and professional photos, most of which have never been seen before.
Commando: The Autobiography of Johnny Ramone will be released in stores and online nationwide on April 2nd, 2012 from Abrams Image for $24.95 with pre-ordered copies available through the Johnny Ramone Army Online Store. E-book will be available on Kindle, iPad, Nook, Kobo and Sony Reader. Global demand for the book is already such that rights have been pre-sold in four different languages throughout Europe and Brazil with more soon to be announced.
Among other incredible offerings, "Commando" includes a foreward written by sole surviving founding member, drummer, Tommy Ramone, and an epilogue written by Johnny's close friend (and daughter to the King), Lisa Marie Presley.
For more, including additional insight from Johnny's wife and companion of over two decades, Linda Ramone, read the exclusive feature article by the Associated Press on "Commando: The Autobiography of Johnny Ramone" arriving April 2012.