Today I wake up without voice but with a headache. I stayed home, drink tea and slept a lot, and after lots of sleep and even more tea, I had to make something to bright me up. So I made a Caviar manicure. Really nothing special: one color on 9 nails and black micro-beads on 1 single nail. I choosed King of Greens from Catrice witch turn out to be a little to sticky and dries not so fast as other lacquer. The result is ok, god enough to cheer me up.
Since I was in a "green" mood I sortet out my greens and belive it or not I have 113 greens at the moment. The cheepest was 1 Fr., the most expensive was Chanel Pédriot witch I purchase in Italy for 28.- €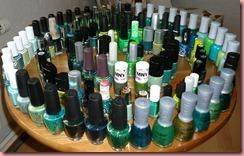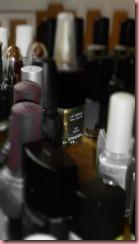 Please consider that the colors can differ from the reality depending on the resolution and calibration of you screen.
…and remember, have always nice manicured hands, think pink and just stay gorgeous as you are!!
…love, Melanie!