Cambodia spends a lower percentage of its GDP on education than any of its three neighboring countries.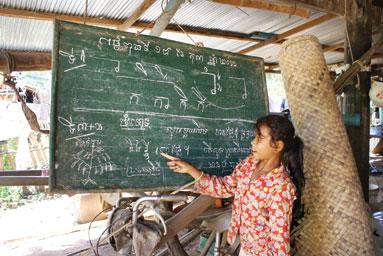 Photo by: Save The Children - A girl studies last week at a temporary learning space that was set up under a villager's house in Kampong Cham province.
In 2011 it is ranked last among them in key related indicators, statistics from the latest United Nations Development Program Human Development Index show.
In addition, Cambodia fared poorly in health indicators, recording the highest rate of mortality among children under five years of age and the second-lowest percentage of GDP expenditure on health – just 1.7 percent.
Read the full story:
Comment:
These figures are alarming, but not really new, since they were not different in recent years.
As long as there is hardly public investment in training and in the health of people, at least two things are clear:
the political system must have no fear of being overthrown by well – trained opponents.
But there would hardly be significant incentives for foreign investors to invest in the mainly young, uneducated Cambodian workers.
11.565922
104.911065