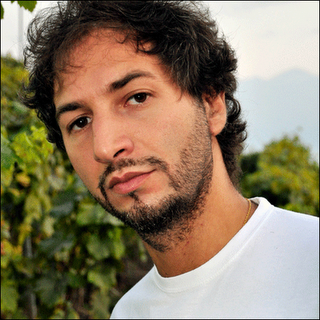 Die 24te Ausgabe des Cadenza Podcasts liefert uns der Produzent Salvatore Freda, viele werden ihn von Labels Trapez, Music Man Records, Liebe Detail, Freerange, Area Remote und natürlich auch Cadenza kennen. Der in der Schweiz lebende Herr bedient sich in seinem Mix einer herrlich entspannten Reihe von deepen Tracks die sich irgendwo zwischen Techno und House bewegen, auf jeden Fall ein sehr gelunges Set.
Empfehlung
Stil: Tech House
Cadenza Podcast | 024 - Salvatore Freda
Download Cycle
Download Source
With the machine-driven futurism of
Detroit
in his step, and the bounce of
Chicago
in his shadow, Salvatore Freda is a pure vinyl DJ from Lausanne, Switzerland.
With a production career that began in 1997, Freda has built up an impressive discography over the years. His music has touched some of techno and house's most respected labels including Trapez, Music Man Records, Liebe Detail, Freerange, Area Remote, Push Communications, Dessous, Nightvision, and of course Cadenza, when in 2009 he dropped the two tracker Uva Fragolina which he produced with Michel Cleis.
Here on his Cycle podcast, Salvatore mixes black gold bombs from Kerri Chandler, Deetron, Mirko Loko, Marc Poppcke, Technasia, and Todd Terje, plus he works in two cuts from himself - the new 'Insane Truth', and 'Sassicaia', which appeared on his and Cleis' Cadenza EP.
One of the recurring themes throughout his Cycle mix is synthesisers, with their warmth radiating up through the beats as they pulsate, throb and bleep. There are also plenty of funky techno moments to do Detroit proud, as well as some more dubby textures and groovy drums.
On Freda's Source mix, the Swiss DJ works in seminal electronic moments and funky floor fillers from Kraftwerk, Jean Michel Jarre, Ennio Morricone, Future Sound of London, Aphex Twin, Joey Beltram, LFO, Depeche Mode, Pink Floyd, Crazy P, Deelite, Herbie Hancock, and even
James Brown
.
Tracklist
Cycle:1) Marteen Mittendorff, Jasper Wolff - The Second Expression
2) Kerri Chandler - The Invaders
3) Eric D. Clark, Joe Alter - Rules of Love (DJ Qu re-touch)
4) Mindreaders - Marimba
5) Deetron - Threee beatz
6) Mirko Loko - On Fire
7) Larsson - Terms
8) Langeneberg - Pasnt & Present
9) Dixtrit - Bassfort
10) Marc Poppcke - Mind Revolution (Cosmic Cowboys rmx)
11) Heiko Laux - Namib
12) Neeito - Neeito (Mirko Loko rmx)
13) Martin Patino - Make Luv
14) Vernon & Igor - Don't Feel No Way
15) Technasia - Hearth of Flesh
16) Todd Terje - Snooze for Love
17) Salvatore Freda - Insane Truth
18) Salvatore Freda & Michel Cleis - Sassicaia
Source:
1) Kraftwerk - The man-machine
2) Jean Michel Jarre - Arpegiator
3) Ennio Morricone - Once upon a time in the west
4) Pulshar - Nosferatu
5) Noir Désir - Le Vent L'emportera
6) Future Sound of London - Omnipresence
7) Goldie feat Metalheadz - Innercity Life
8) Aphex Twin - Windowlicker
9) John Beltran - Earth & Nightfall
10) LFO - LFO
11) Herbie Hancock - Rock It
12) James Brown - Sex Machine (Live)
13) Deee Lite - Groove Is In The Heart
14) Nirvana - Come As You Are
15) Cock Robin - The Promise You Made
16) Depeche Mode - Enjoy The Silence (outro)
17) Salvatore Freda - Ambient Interlude
18) Pink Floyd - The Happiest Days Of Our Lives
19) Crazy P - Heartbreaker
20) Lykke li - A Little Bit
21) Jocelyn Pook - Masked Ball (Eyes Wide Shut)
22) Ravel - Bolero
23) Salvatore Freda - Ambient Outro
http://www.salvatorefreda.com
http://www.facebook.com/SalvatoreFredaMusic
https://www.twitter.com/#!/SalvatoreFreda
Salvatore Freda
http://www.cadenzamusic.net