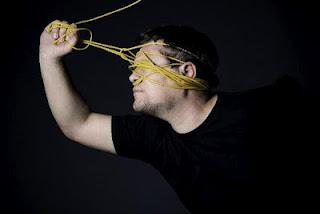 Deeper perkussiver Tech House, dass kann Reboot besonders gut und passt somit besonders gut in die Reihe des Cadenza Podcasts.
Empfehlung
Stil: Tech House
Cadenza Podcast | 019 - Reboot
Download Cycle
Download Source
Cadenza Music Podcast 019 selected and mixed by Reboot
The ever jolly Reboot mixed this week's Cadenza Source To Cycle podcast, and on his Cycle the Frankfurt-based producer lays down one of his infamous live sets that features live re-edits of his own music and some killer grooves from the wider scene.
With corners of
darkness
- electronic rhythms, warped vocals, pulsating grooves, and
Chicago
beats - contrasting with shafts of light - sweet melodies, pure chords and elevating synths - the chiaroscuro journey that he creates is uniquely Reboot.
Loops, samples, kick drums
and one
shots are stitched together by the delicate ears of Reboot into a living breathing beautiful whole, that is full of emotion and dance energy. The organic polyrhythms that he is known for work wonders on the dancefloor, but here they also do wondrous things to the mind.
On Reboot's Source, Frank Heinreich rewinds through some of his musical influences that includes downtempo rhythms, sultry jazz, classic soul, soft guitar moments, and even a chill out version of Inner City's 'Good Life'.
Tracklist Cycle:
Vlad Caia – Probe This / Darkroom Dubs Records
Sascha Dive – From The Dark Into The Light
Macromism – Bless Your Bass
Acid Mondays – Svenkins (DJ Sneak Remix) / Circus Records
Chante - Delicious Inc. (Tuccillo Rework)
Martinez – The Lonely Crowd / Etruria Beat Records
Sante – Mothership / Cecille Records
Oscar Barila and Maiki – Too Delirious (Daniel Stefanik Remix) /Kling Klong Records
Rhauder – Acid Jam / Polymorph Records
Tolga Vidan – Rogue / Vakant RecordsTracklist Source:
Unknown Artist - Ace
Manasseh – Angry Dub (Regge Rost Rec)
Black Uhuru – Boof n Baff n Biff (Island records)
Paul Hunter – Pauls Pal
Brace – Domestic Transfer
Unknown – Unknown
Unknown – Unknown
Unknown – Unknown
Commodores – Brick House
Unknown – Unknown
Bo Saris - She`s on fire
Incognito – Everybody loves the sunshine
William Fitzsimmons – The Tide pulls from the Moon
Mercedes Sosa – Unknown
Kevin Saunderson – Good Life (Ian Pooley RMX)
John Lee Hooker - Goin`to Lousiana
facebook.com/pages/Reboot