I have heard about the Phuket Vegetarian Festival and so I packed my brandnew backpack and will try to get there.
There were three options to head to phuket: By flight, by bus, by train and bus combination. I choose the flight, cause I never tried the domestic airlines. It`s Nok Air and Oriental Airways. Nok had a better price and so I booked a flight with the colored painted aircrafts.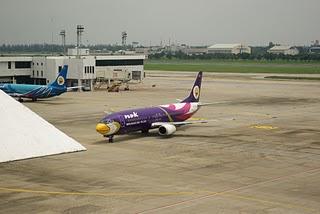 Nok Air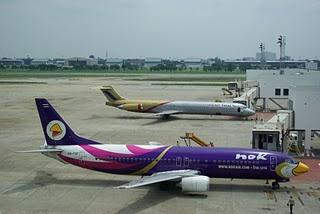 and behind Oriental Airlines
Beware that the schedule will be sometimes changed! I got a sms on my thai-number four hours in front of departure for revising my flight one hour later. It looks that there are to less passengers for one flight and so they combined two flights together. These domestic flights starting at the old airport Don Muang in the north of Bangkok. However, easy to reach by taking the BTS to Mochit and further by taxi for 100 THB.
Anyway, you will get a snack and water for free on board and it`s for this short flight very convenient, at least you get the row at the emergency exit :D
On the flight I met a nice guy from Switzerland. He cycled from Europe to Asia. Take a look at his website and you will be equally suprised as me. http://www.waedisveloreise.ch
As I reached Phuket Town with the Airport Bus, I saw the old portuguese colonial style of the buildings again.