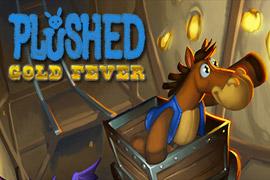 vergrφίern

Quelle: Blacksmith Games
Der deutsche Entwickler Blacksmith Games, im November vergangenen Jahres mit dem Titel Floop (

AppStore) aufgefallen, όber den wir damals mehrfach berichtet haben, hat ein neues Spiel angekόndigt. Der neue Titel Plushed Gold Fever ist bereits bei Apple eingereicht und wird, wenn nichts mehr dazwischen kommt, dementsprechend in den nδchsten Tagen im AppStore erscheinen.

Das Spiel bietet drei verschiedene Minispiele, in denen du mit drei unterschiedlichen Charakteren όber 30 Kuscheltiere einsammeln musst, die "Voodoo Mouse" quer durch den Wilden Westen verteilt hat. Wie das Spiel genau ausschaut, kannst du dir schon einmal im offiziellen Trailer und ein paar Preview-Screenshots anschauen.
Plushed Gold Fever wird in Kόrze als Freemium-App fόr iPhone und iPod touch erscheinen. Das bedeutet, das du den Titel kostenlos herunterladen und spielen kannst. Fόr ein schnelleres Vorankommen kannst du Plushed Coins via In-App-Kauf erwerben, musst du aber nicht.

Beschreibung (englisch):

Info:
The Voodoo Mouse has scattered all the Plush Toys over the Wild West. A lone horse rides to the rescue, searching from mine shaft to mine shaft to free them all from the Voodoo Mouse's curse. Join him in his quest to make things right, while satisfying your craving for gold, in Plushed Gold Fever.
Unlock items in the shop with Plushed Coins which will aid you in the three games. For example you can
blast
rocks with the dynamite from the shop. You can get Plushed Coins by simply playing the game or you can purchase them in the bank. (IAP)
Unlock the gathered plush toys in the library. In the library, you can also learn about the life of the plush toys in the Wild West.
In the tradition of Plushed the art style of Plushed Gold Fever is a mix of handdrawn graphics combined with classical 2D-Animations. The Old West appears bright and colorful with a lot of atmosphere in a really appealing cartoony style. With a great love of detail the art of the many locations like the goldmine, the saloon or even the vast lands of monument valley drag the player into the time of the old wild west. He can almost feel the heat of the desert.
Game descriptions:
Gold Cart: The player drives an old lorry and can hop or duck. When hopping he can collect gold coins and plush toys and when ducking evade different obstacles. To hop, the player has to swipe the finger upwards, to duck he has to swipe downwards on the screen.
Gold Grabber:A claw is mounted to a fixed, old lorry. The claw is swinging from right to left and back and the player has to tap the screen at the right moment in order to fire the claw in the desired direction. When the claw hits an object, it draws it toward the lorry.
Gold Smasher: Destroy rocks of the same type (3 Match Game) in the gold mine.
Facts:
- Play with 3 Characters: Horse, Cow or Pig
- Play 3 different games (with leaderboards) to collect plush toys and Plushed Coins
- Collect over 30 Plush Toys
- Retina support
- Worldwide Leaderboards with Game Center integration
- Unlock over 70 Achievements