The International Mönchengladbach Military Skills Competition (IMM) sees its 29th anniversary in September and units are being encouraged to submit entries.
Any unit, including TA units, can take part in this very challenging and popular multi-national event, which requires brains, brawn and fitness in equal measure.
The organisers are particularly keen to recruit more female teams to the competition, which is taking place on Saturday, September 8 in JHQ.
There are a number of prizes up for grabs, including 1st, 2nd and 3rd places overall, best mixed team, best female team, best mixed-NATO team.
As the field in the ladies competition is likely to be narrower, any units thinking of entering an all-female will have a very good shot at winning the ladies' cup.
Organised by the Bundeswehr Military Regional Command 31 and run by the Reservists, the IMM comprises a wide range of skills like shooting, marching, navigation, military vehicle and equipment recognition, first aid and a rubber dinghy race.
It is expected that, once again, 40 to 50 teams from more than ten NATO nations will take part in the event, which is supported by the Technisches Hilfswerk (technical emergency corps), the fire service and the Red Cross.
Launched in 1984, the competition is open to both active and reserve members of the Bundeswehr and other NATO forces and aims to promote and enhance the links and the co-operation between different NATO forces.
The one-day competition aims to promote and enhance links between different NATO andneutral forces.
"Highly motivated and efficient soldiers represent the backbone of our safety and security. This is true for active duty
soldiers and reservists alike", says Admiral James G. Stavridis, the Supreme Allied Commander Europe. "For almost three decades, the International Military Competition in Mönchengladbach has played a significant role in this context."
At the 28th IMM around 240 soldiers,policemen and members of rescue-services from seven nations competed for the champion's trophy, presented by the German Minister of Defence, Thomas de Maizière.
The teams are coming for example from Greece, France, the Netherlands,Great Britain and Germany; it is obvious that this year's competition will be keenly contested. Whilst most of the teams of four competitors consist of military personnel, the German police and fire-fighting services are also represented.
One year, the competition commenced with a control of entry exercise featuring personnel with fake military passes and a booby-trapped vehicle.
This was followed by an orienteering course and a simulated shooting. Fire and light rescue were the next skills to be tested, as the teams had to rescue "casualties" from a smoke filled room, which was followed by a stand at which the teams had to correctly identify the nationality of various flags, aircrafttypes, uniforms and armoured vehicles.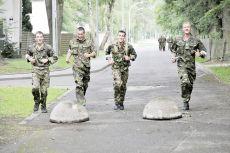 A stamina-sapping obstacle course was next and whilst it featured such traditional challenges as a high-wall, a high wire and a zip-wire, it somewhat unusually culminated with a grenade throwing challenge. The final tasks faced by the competitors involved a first-aid stand and an observation post.
At the end of a hard day's competition the teams gathered for the awards ceremony. With international pride at stake, the standards set during the competition had been exceptionally high.
In his foreword to the event programme, GOC BFG Maj Gen Nick Caplin said that the IMM "is a fantastic opportunity for you all to display determination, professionalism and a wide spectrum of military skills. This competition embodies all the strengths of NATO".
He added: "The Internationaler Mönchengladbacher Militärwettkampf will allow you to compete, measure your technical capabilities and learn from one another."
Please contact Stabsfeldwebel Markus Stroka on 02161 185 1703 or e-mail moenchengladbach@reservistenverband.de for entry forms as soon as possible.