The text, a performance poem titled 1700% by Anida Yoeu Ali, is an unapologetic response to injustices directed at the Muslim community. The poem is a Cento (100 lines of found writings) based on filed reports of hate and bias crimes against "Arabs" and "Muslims" since 9/11. The narrative-based poem is the original text to which all other iterations of this project is created upon.
Anida Yoeu Ali (Project Director / Interdisciplinary Artist)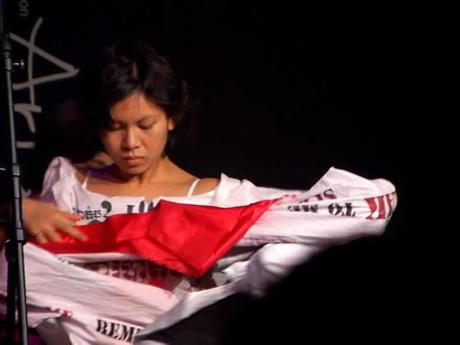 Performance artist, writer and global agitator, Anida Yoeu Ali is a first generation Muslim Khmer woman born in Cambodia and raised in Chicago. Her interdisciplinary performances use Butoh to examine the poetic potential of the body and collective healing. Her performance work transforms loss into conversations about reconciliation. Since 1998, Anida has toured over 300 colleges and venues with the spoken word ensemble, I Was Born With Two Tongues, and the multimedia collective Mango Tribe. The Tongues' pioneering live performances and critically-acclaimed debut CD, "Broken Speak", ignited a new generation of Asian American voices. She is also a founding member of Young Asians With Power!, Asian American Artists Collective-Chicago, the National APIA Spoken Word & Poetry Summit, and MONSOON fine arts journal. Her artistic work has been the recipient of grants from the Rockefeller Foundation, Ford Foundation, National Endowment of the Arts and Illinois Arts Council. From Copenhagen to Ho Chi Minh City, Anida lectures, exhibits and performs internationally.
[text & video:

http://1700percentproject.wordpress.com/]
---
Pic source: http://www.uic.edu/depts/oaa/AARCC/images/anida_livabs.jpg